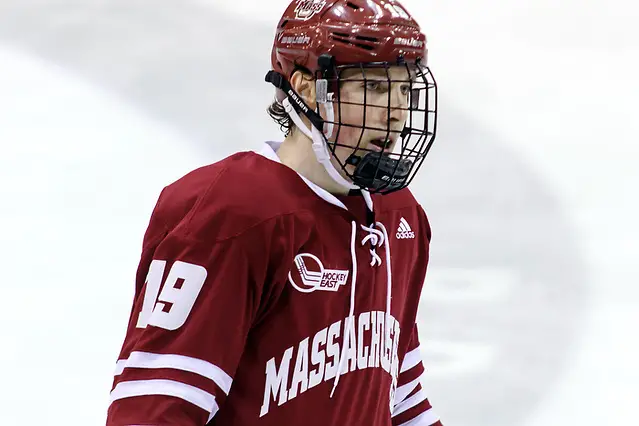 Two years ago, Massachusetts opened play in December with a 5-4 win over Notre Dame.
There was little significance about that game. Rather, it was what didn't come after it that was significant.
The Minutemen won only one more game for the rest of the 2016-17 season following the win over the Fighting Irish, ending the year with a 16-game losing streak.
Now, Massachusetts begins December as the No. 1 team in the latest USCHO.com Division I Men's Poll. It's the first time in program history that the Minutemen have been the top team in the rankings.
That rise came thanks to the strength of a 7-0 November, which pushed Massachusetts' record to 12-1 entering this weekend's home-and-home matchup with No. 8 Quinnipiac. It was also the first unbeaten month for the Minutemen since the 1970-71 season, while the team's nine-game winning streak is the longest active streak in the nation in addition to a program record.
Even with all the accolades, the Minutemen know that a No. 1 ranking in a subjective poll in early December only means so much.
"It's an honor; we're super humbled by it," said UMass junior captain Niko Hildenbrand. "It's one of those things that you never thought you would do coming here to play college hockey. But we've got to keep focus on this weekend."
Still, coach Greg Carvel acknowledged the publicity that the No. 1 ranking can bring to the program.
"When we first got here, it was tough to get kids to want to come to campus," Carvel said. "This ranking, the nice part of it, is that it helps you in recruiting. Kids want to be here."
Carvel said the program still has a hard time getting Massachusetts kids to come to campus, as they are often drawn to schools like Boston University and Boston College. While that may look like a disadvantage, it means that the Minutemen are getting a certain type of player that fits the way Carvel wants his team to play.
"They haven't been 'the guy' for their whole life – they have a bit of a chip on their shoulder," he said. "[Assistant coach] Jared DeMichiel and [associate head coach] Ben Barr do a tremendous job of finding kids with that character and edge. First and foremost, we want to outcompete our opponent. It takes a certain kind of kid. Skill level is great, but if you can't balance it with an edge to your game, it can only take you so far."
That combination of hustle and skill has served the Minutemen well this year. But it's been the consistency – and playing the game the right way – that especially impresses Carvel.
"Our kids don't dive, they don't do all that gamesmanship stuff," Carvel said. "They go out and compete and play hard. And we've got good hockey players, too."
Prior to the hot start this year, the Minutemen steadily progressed over Carvel's first two seasons as coach, going from five wins during his first season two years ago to 17 last year.
"We won 12 more games last year and you go home in the summer and you're like 'That was a pretty good year, how much better can we get? If we can win 20 games, we can put ourselves in the NCAA picture,'" Carvel said.
There are only five players left on this year's team who played on the five-win team two years ago. The core of the Minutemen is made up of its sophomore class, led by forwards Mitchell Chaffee and John Leonard, NHL draft picks Cale Makar and Mario Ferraro on defense, along with Matt Murray in goal.
"The nice thing about last year's freshman class was that they didn't lose 29 games the year before – they were fresh," Carvel said. "We were able to depart from that team pretty quickly."
Hildenbrand is one of the few players left from that team. He assisted on the game-winning goal in the Minutemen's last win that season, a 2-1 overtime victory over Alabama Huntsville on Dec. 30.
"No matter where you are, you try not to get too high or too low," Hildenbrand said. "But it was definitely a hard season. To be able to look back on that and be where we are now, it's awesome. It's just a testament to all the guys in that locker room, to the coaching staff, and to everyone involved, and how hard they've worked."
This isn't the first time that Carvel has built a program into a contender. Prior to coming to Massachusetts, he spent five years as head coach at his alma mater, St. Lawrence. During that time, the Saints went from a bottom team in ECAC Hockey to a top-four finisher by the time he departed.
"I think the best thing he does is he builds a culture that is great to be a part of," said senior forward Jacob Pritchard, who played for Carvel as a freshman at St. Lawrence and spent two more years with the Saints before coming to Massachusetts as a graduate transfer last summer. "It's all about teamwork and good values, and that really goes far for us."
The team's improved play has helped fill the stands at the Mullins Center, as 7,124 people watched the Minutemen beat Connecticut last Friday. It was the largest home crowd since the 2012-13 season.
"It's very rewarding because my first year here, we'd have about a 1,000 people or less," Carvel said. "It's a big building to play in with only a 1,000 people."
Support has been especially strong among the student body, as 3,500 students attended Massachusetts' 3-2 win over Providence at the Mullins Center on Nov. 8. That number is large enough to sell out 22 other college hockey arenas.
"I think what really enjoy seeing that that student body has really caught fire with it," Carvel said. "When we recruit, we're like, 'Just imagine when we fill this place,' and then you're like, 'Oh god, I hope we fill this place.' We're getting there; it's a fun building to play in."