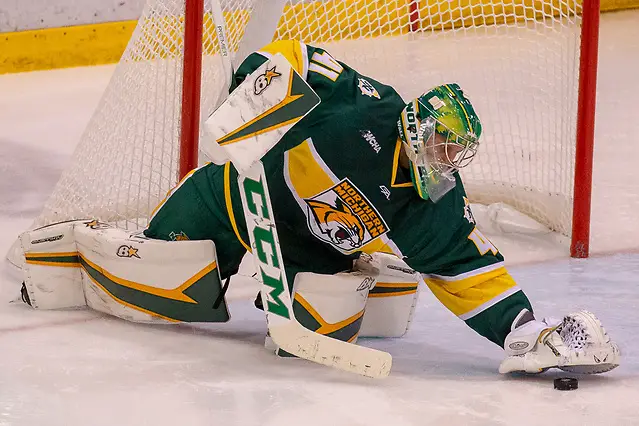 While top-ranked teams losing Friday night is certainly noteworthy, the fact Northern Michigan topped No. 20 Michigan Tech 5-3 takes the cake.
That's because a rarity happened in the game – NMU goalie Atte Tolvanen scored an empty-net goal at 18:53 of the third period.
It was the first such occurrence in NMU history.
Here it is. The video you've all been waiting for. The first goalie goal in program history and 11th in NCAA history by @NMUHockey Atte Tolvanen! @espn @SportsCenter @ESPNAssignDesk #SCtop10 #NMUwildcats #ShareNMU pic.twitter.com/QCX60MAUZI

— NMU Athletics (@NMU_Wildcats) December 8, 2018
Tolvanen made 23 saves in helping the Wildcats hand Michigan Tech its first WCHA loss of the season.
Denver Pierce, Ty Readman, Darien Craighead and Troy Loggins scored for Northern Michigan, who improve to 7-9-0 (6-3-0-0 WCHA).
No. 8 Quinnipiac blanks No. 1 UMass
The Minutemen saw their program-record and nation's-best nine-game winning streak come to an end on Friday night, falling on the road to No. 8 Quinnipiac 4-0 at a sold out Frank Perrotti Jr. Arena.
The loss leaves the Minutemen at 12-2-0, while the Bobcats improve to 14-2-0 on the year.
Wyatt Bongiovanni scored 42 seconds into the game to start the scoring.
Check out the crowd going NUTS on Wyatt's goal just 42 seconds into tonight's game against #1 UMass! #BobcatNation was electric tonight! pic.twitter.com/MWEvaGShtn

— Quinnipiac Men's Ice Hockey (@QU_MIH) December 8, 2018
"Quinnipiac came out very hard and we weren't quite ready to compete at that level," said UMass coach Greg Carvel. "It's very discouraging to let up a goal on the first or second shift of the game. We had a lot of pucks bouncing around the goaltender. I think the fact that none of those found the back of the net was kind of indicative of our compete level. We went into this game highly respectful of our opponent. I was scared to death of this team. I know how well they're playing. I know how well they're coached. I think we had a handful of guys that weren't ready to play tonight. Their goaltender played extremely well and we missed a couple wide-open goals that would have made a big difference if we could have tied the game at one or at least got it to 2-1.
"I give a lot of credit to Quinnpiac. They were excited to play us."
Andrew Shortridge pitched the 32-save shutout for the Bobcats, his third of the season as the Bobcats extended their winning streak to a season-best seven games.
Niagara keeps home winning streak alive
Niagara extended its undefeated streak at Dwyer Arena to four straight games following a 4-2 victory over Colgate.
Brian Wilson made 37 saves in net to help the Purple Eagles (8-8-1, 7-4-1 AHA) snap a three-game losing streak.
With his second period assist, Noah Delmas now has 15 points (six goals, nine assists) in his last eight games for the Purple Eagles.
Western Michigan upsets No. 4 Minnesota Duluth
Colt Conrad netted the game-winning goal with 9.9 seconds remaining in the third period as Western Michigan upset No. 4 Minnesota Duluth at Lawson Ice Arena.
WATCH Colt Conrad give the Broncos a 3-2 lead with 10 seconds remaining!!!!#WeWillReign pic.twitter.com/h4Tj2HEalY

— WMU Hockey (@WMUHockey) December 8, 2018
Trevor Gorsuch made 29 saves for his seventh win of the season.
No. 2 St. Cloud State, Hrenák shut out Omaha
On the strength of 18 saves from David Hrenák and goals from Jimmy Schuldt and Jack Poehling, second-ranked St. Cloud State knocked off Omaha 2-0.
Evan Weninger made 36 stops for the Mavericks in suffering the defeat.
Sun Devils get back in the win column
Joey Daccord stopped all 45 shots as Arizona State defeated Princeton 4-0 on the road.
Johnny Walker scored his 13th goal of the season just 15 seconds into the game and ASU never looked back.
"'Dacs' was tremendous and he was the reason he won," said Arizona State coach Greg Powers. "Our guys got a nice, gritty, gutty road win and we'll take it all day. But we can be better and that's what is exciting about tomorrow. I know we will be better – we'll be a lot crisper, a lot sharper, and we'll manage the puck much better than we did tonight. But he was tremendous and it was good to get a Friday win on the road and play downhill tomorrow."
Ryan Ferland made 26 saves for Princeton, who outshot Arizona State 45-30.
No. 3 Minnesota State drops Alaska Anchorage
Jared Spooner registered a goal and an assist as four different players found the back of the net in Minnesota State's 4-1 win at home over Alaska Anchorage.
🎥🎥🎥 Jared Spooner started the party for the Mavericks midway through the first. 1-0 Mavericks lead. 😈 pic.twitter.com/KtqoMqrRq9

— Maverick Hockey Weekend (@MaverickHW) December 8, 2018
Josh French, Walker Duehr and Alec Vanko also scored as Dryden McKay needed to make just 10 saves for Minnesota State.
Notre Dame edges Penn State in battle of B1G ranked teams
Five different players scored for No. 5 Notre Dame and Cale Morris made 44 saves as the Irish defeated No. 9 Penn State 5-4 on Friday night at the Pegula Ice Arena to push its winning streak to seven games.
Matt Hellickson opened the scoring and finished with a career-high three points on a goal and two assists, while Cam Morrison (goal, assist) and Dylan Malmquist (three assists) also had multi-point efforts for Notre Dame (11-4-1, 5-2-0-0 B1G).
Morrison now has three goals in his last three games.
Cam Morrison's third goal in the last three games gave the Irish a 2-1 lead! pic.twitter.com/pGsCaaD3gI

— Notre Dame Hockey (@NDHockey) December 8, 2018
Michigan knocks off Minnesota in OT
After the Wolverines and Gophers tied 2-2, Josh Norris gave Michigan the extra Big Ten point when he scored in the 3-on-3 overtime.
For the extra B1G point, @joshnorris10 scores during 3v3 overtime! #GoBlue #MGoTroops pic.twitter.com/Hi28Vm3740

— Michigan Hockey (@umichhockey) December 8, 2018
Strauss Mann made 24 saves for Michigan, while Mat Robson stopped 36 for the Gophers.
"We've been in the situation before, which is good for the next time we get it," said Michigan coach Mel Pearson on Michigan's fifth overtime game in its last six contests. "We've learned to manage the puck in 3-on-3, which is also good for us."
Luke Morgan and Will Lockwood scored for the Wolverines and Rem Pitlick and Sammy Walker for Minnesota.
St. Lawrence upsets No. 16 Clarkson
On a night dedicated to two former St. Lawrence hockey coaches, the Saints downed No. 16 Clarkson 4-2 at Appleton Arena.
"That was a sweet one."

🎥 | Live from the Saints locker room following tonight's 4-2 win over Clarkson. #herewegoSAINTS pic.twitter.com/wQvq3ttAi2

— St. Lawrence Hockey (@SkatingSaints) December 8, 2018
Ted McGeen scored his first collegiate goal to get the Saints on the board and Ryan Garvey, David Jankowski and Michael Laidley followed with goals of their own in the win.
Daniel Mannella made a career-high 48 saves, including 19 in both the second and third periods, to earn his first win of the season and help snap a four-game winless slide for the Saints both on the season and in the series against Clarkson.
St. Lawrence inducted the newest Legends of Appleton Paul Flanagan and Mike McShane during an on-ice ceremony following the first period.
No. 14 North Dakota clips No. 6 Denver
North Dakota scored twice in the first and third periods to defeat No. 6 Denver 4-1 on Friday at Ralph Engelstad Arena.
"I thought you saw us start playing on our toes a little more as the game when on," DU coach David Carle said. "At the end of the day, we couldn't make enough plays in and around the scoring areas. We have to find a way to be harder at the net front and do it for a full 60 minutes tomorrow night."
Four different players scored for the Fighting Hawks – Gavin Hain, Mark Senden, Matt Kiersted and Colton Poolman – and Adam Scheel made 21 saves for the win in goal.
Denver outshot North Dakota 22-15.