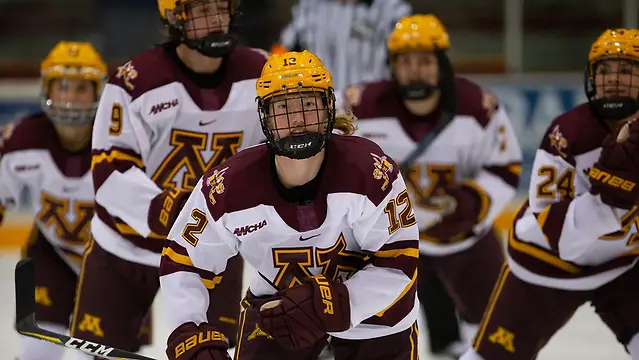 Arlan: Nicole, we've reached the holiday break for all but Mercyhurst and Ohio State, as the former visits the latter for a pair of games next weekend. In light of that and a lighter than normal schedule this past weekend, I'd like to focus on our conclusions from the first half as a whole, rather than starting out talking about what we saw this week.
Most people would agree that over the first semester, a clear No. 1 team has emerged in Wisconsin. It shouldn't be a surprise. Over the last six seasons, the Badgers have carried a single loss into the holiday break three times, and the other three years, they've only suffered a pair of losses by that point. That's pretty remarkable consistency when it comes to fast starts for Mark Johnson and his staff, with a total of only nine first-half losses over six years.
The pollsters and the computer rankings also have Minnesota solidly in second. The eye tests shows a definite gap between the Badgers and the Gophers, but at least in my opinion, it has narrowed slightly since the two teams met at the end of October.
After that, the picture is much less in focus. No matter who one tries to defend as being the third-best team, it gets reminiscent of a saying from Texas hold'em: "There's at least four different ways to play pocket jacks, and they're all wrong." I'm not sure that we have a No. 3 team at this point.
There's a group of teams whose records are likely better than we expected during the preseason, but the results along the way leave us wondering just how good these teams are. Personally, I've opted to go with Cornell at No. 3, despite the Big Red not yet reaching double-digits in wins. Princeton, my No. 4 team, also hasn't reached 10 wins yet, and most of the victories it does have are over lesser teams. However, I can easily excuse the Tigers' losses, they avenged their worst tie at Syracuse, and they trounced a talented Colgate team. Providence is the biggest unknown for me. The Friars have 15 triumphs, but they've also lost to Penn State early on and Connecticut this month. I have a hunch that they'll be an improved team under Matt Kelly, but I need the Friars to prove it to me. Finally, there is Northeastern, a team that I've placed fifth, because its overall body of work is not strong enough to totally offset an inexcusable loss to otherwise winless Holy Cross.
We also have a group of teams that we've discussed a lot so far this season, who were four of the top five teams at the end of last year, but have combined for a high total of 21 losses this year. For Clarkson, Colgate, Ohio State, and Boston College, the mystery doesn't just revolve around the quantity of losses, it is the opponents that have inflicted some of them.
We also have teams that seemingly won't have the records to receive at-large bids to the NCAA tournament, but have shown themselves capable of playing spoiler if nothing else. In this category, I'd include Merrimack, Boston University, Minnesota State, Minnesota Duluth, and St. Lawrence.
Last, but not least, we know that someone from the CHA is going to make the national tournament. I'm expecting that to be either Mercyhurst or Robert Morris, because the rest of the league hasn't shown the consistency needed to advance through three straight tournament rounds, and the standings suggest that they will have to do that to earn a championship.
Where would you like to begin, or do you see some of these teams much differently than I do?
Nicole: My top five looks exactly the same as yours does. One thing that raised my eyebrows a bit in the past few weeks is Minnesota getting votes for first. It's nit-picky, but even if we take out the subjective view that the Badgers are the best team, they have a single loss and it's to Minnesota. The Gophers have an additional loss — to Ohio State — and a tie with a Minnesota Duluth team that isn't as strong as we initially thought. I just don't see how those two flip positions until Wisconsin has more blemishes on their record.
That being said, statistically, the two teams are nearly indistinguishable. Minnesota has a slight goals per game advantage, but allows nearly a half goal per game more than Wisconsin does. The Badgers are better on the power play, but their penalty kill numbers are less than a percentage point apart.
I agree with you that the gap between the two teams is probably more narrow than it was — it seemed as though Minnesota needed a bit longer to find their stride, but they seem to be in a great position now. It might not make a huge difference, as the Badgers are just plain good, but the first half of the season had just three road series. Wisconsin has to head to Columbus, Minneapolis, Bemidji, and Duluth in the second half. How Wisconsin plays on the road will likely have a big impact in their position at the end of the season.
Let's start at the top. With Wisconsin as my most proximate team and the one I see play live most often, it's not always easy for me to keep their play in perspective relative to the rest of the country. They've made the last five Final Fours, but the program hasn't won a national championship since 2011. A case could probably be made as to why each of the past five squads could or should have won it all, and you mentioned how consistent those teams were, but none of them could take that final step. So I'll ask you, does this team have what it takes to win the title? From where we're standing right now, do you think they can? With such a narrow margin between the Badgers and Gophers, what do you think would make the difference for one of them over the other?
Arlan: To play devil's advocate as to why someone would vote for Minnesota over Wisconsin at this stage, there may be a few factors. If voters analyze results as you did, they may give Minnesota some slack for the early negative results due to the Gophers playing 10 people who weren't on the roster last season. It took a while to integrate so many new faces. Minnesota's loss was to Ohio State, a team that is always going to give its best effort when Nadine Muzerall returns where she both played and coached. Wisconsin has yet to play the Buckeyes. I'd say the most likely reason is that some voters, particularly in the East, have seen Minnesota in person and have yet to see Wisconsin.
The Gophers have had years where they had one big line. Opponents would try to survive those first-line shifts and then attempt to win the game when that line went off the ice. This year's edition can't compare with the Krissy Wendell line of 14 years ago or lines that Hannah Brandt centered more recently. The Taylor Wente line with Nicole Schammel and Grace Zumwinkle is the most dangerous, but there is a constant stream of former Under-18 national team players coming over the boards. Defenses are left wondering when they can relax a bit. In the second game at Yale, the Bulldogs shut down the top three lines, but the fourth line scored twice to win the game.
To my eyes, Wisconsin's systems are designed to take things away from the opponent. First take away scoring chances, next shots on goal, then take away time in the offensive zone, movement through the neutral zone, and then the ability to clear the defensive zone. Opponents are frustrated, smothered, and worn down, and the Badgers claim a win without ever being in serious trouble, because they've limited their own mistakes while waiting to pounce on the opponents' miscues.
Minnesota, like the best UMD teams, wants to attack. Particularly in an NCAA tournament, they'd love to come so hard and fast that the other team is in a hole before they've ever gotten a chance to settle into the game.
Wisconsin's system seems to work better in those years where it doesn't quite have the personnel that Johnson would like. The Badgers don't have the same slumps or bad losses that Minnesota has suffered in the previous two years. The flaws can be hidden by playing such a sound team game. However, I do think that the margin for error is a bit less for Wisconsin.
Almost halfway through Saturday's game in St. Cloud, the Badgers were cruising. They only led 1-0, but had held the Huskies to just five shots on goal, and the plan was working perfectly. Then senior defenseman Maddie Rolfes committed a cross-checking penalty away from the puck in the offensive zone on a nothing play. I like Rolfes; she's a great player. Her play, on the other hand, was ill-advised, and St. Cloud State got some rare chances via the resulting power play and tied the game. More than a period ticked away before Wisconsin could regain the lead.
Over the years, the Gophers make more mistakes, but I think that they're better able to overcome mistakes. Wisconsin plays a cleaner game, but the Badgers need to keep it very clean. I think that is especially true in a year like this where Wisconsin has a solid goaltender, but not a franchise goalie like those who preceded her. When both teams are fairly equal, Minnesota is better equipped to come back from a deficit.
I'm sure we'll talk more about those border rivals on a weekly basis, but let's look at the ECAC next. We both like Princeton, and the Tigers have taken advantage of an unbalanced schedule to build a five-point conference lead. They've played more games and have yet to go through the teeth of their schedule, but to their credit, the Tigers have taken away points from every contest. Do you think they can hold on, and if not, who is most likely to supplant them atop the league?
Nicole: It does feel like it's Princeton's conference to lose right now. They have two weekends out of the final month where they'll face Clarkson and St. Lawrence back-to-back. and I would think even a .500 record out of those game would leave them in the driver's seat. I also like Princeton's odds in the postseason more than I do, say, Cornell right now. The Tigers just seem capable of putting a more relentless pressure on an opponent. They're quick, and they're also adaptable. Just one of their top 10 scorers is a senior, and only three of them are upperclassmen. As an Ivy, they started the season about a month later than a lot of their opponents, but they didn't struggle with transition in the way you'd expect from a younger team. If you'd have told me they would be without Steph Neatby, I'd never have believed they would be leading the conference at the break. Rachel McQuigge has stepped up admirably. Their returning scorers are all on pace to have significantly better output than last year, and as you said, they're not leaving any points on the ice. In their case, it may be that steady wins the race.
Despite recent uncharacteristic struggles, I think anyone that doesn't keep an eye on Clarkson does so at their own detriment. They're eight points behind Princeton with two games in hand, which isn't going to be easy to surmount, but they do have those two head-to-head meetings, which I think probably make or break their conference championship hopes. Their offense has been fantastic in the wins and nonexistent in the losses. Some adjustments have to be made, but the Golden Knights have the talent and experience to make this comeback.
Cornell is probably the biggest question mark for me. All those ties make me wary to count on the Big Red down the stretch. A team and players aren't going to suddenly develop that killer instinct late in the season. I worry that if they couldn't find that extra little bit late in a game in November, it's going to be impossible to muster in February.
I do think Cornell has a bit more depth overall than Clarkson does. The Golden Knights will overwhelm you with their starting five, but a few teams have already figured out how to neutralize them, and the drop-off to the next group is pretty significant. Cornell's top line isn't as in your face, but the women behind them are capable of scoring and carrying the offense if necessary. I do wonder if tape of Clarkson's three losses will be help teams they face in the second half do the same thing.
Are you sticking with Princeton, or do you see the others are more of a threat than I do?
Arlan: For starters, I likely see Cornell as a bigger threat than you do. The Big Red's lone loss to Brown and their ties versus Mercyhurst came while missing blue liners Micah Zandee-Hart and Jaime Bourbonnais and forward Kristin O'Neill due to Four Nations. As their win over Clarkson suggests, they're a more dangerous team with a full bench. The tie at Princeton shouldn't be viewed as that much of a negative. The fourth tie was at Robert Morris when the Colonials battled back with a couple of power-play goals down the stretch. So I don't see the questions here that you do.
At least the questions aren't of a larger magnitude than they are for the other contenders. The schedule might favor Clarkson, even if the standings don't. The Golden Knights start 2019 with that strange road trip to Belfast to play Northeastern. I might be slow, but what is the purpose of this trip? To grow the game of ice hockey in foreign locations? Great! Let's do that with an off-season exhibition; the good folks of Belfast won't know the difference. At least Clarkson doesn't play another contender until February, but if its skaters don't have good legs and wind up losing at Rensselaer on Friday after flying home from Belfast on Sunday, it will just seem like a goofy idea to me. All of Clarkson's other games of note are in February, and there is still time if it is the best team. Right now, the computer rankings have Princeton slotted higher.
Colgate is also still firmly in the mix, but it has some bad results with the loss to Brown and tie with Quinnipiac on the heels of the blowout loss at Princeton. The key is likely the home-and-home series with Cornell late in January, if the Raiders wish to stay in the hunt.
I don't have to spin it a whole lot to find a way for any of Princeton, Clarkson, Cornell, or Colgate to win the ECAC, but the math definitely favors Princeton. It remains to be seen if such a young team knows how to close it out.
Did I successfully avoid answering your question? Great! Then let's move on to Hockey East.
As usual, BC has the title all but sewn up … oh wait! That's right; the Eagles have been paying homage to Rip Van Winkle. They're now three games behind Northeastern and will need help from some other team to close the gap. BC needs assistance to catch Providence as well, as the Friars are only two points behind and have four games in hand. Should the Eagles find encouragement from the fact that both the Huskies and Friars wobbled a bit heading into the break, or is BC in real trouble?
Nicole: I would think those stumbles mean that technically anything can happen, but it sure does seem like a regular-season title is in the cards for the Eagles. But I still think it's the Huskies' conference to lose. The thing about Northeastern's loss to Holy Cross is that while it's entirely baffling, at the moment it's an isolated incident. I mean, it's one of those games that I feel like we'll remember for a long time to come, but it could also be only a blip on the radar when we get to the end of the season. I fully admit that I may have a different view of Northeastern four games from now. They've got two against Clarkson overseas and two against BC, so they're probably going to drop a few points over that stretch. The loss was a stinker, but thus far it's a single anomaly.
BC's question marks doubled-down quickly and then quickly multiplied. As I write this on Monday, they're less than two weeks removed from the disappointing but not back-breaking loss to Northeastern. If the damage had stopped there, the conversation would be very, very different. It's all the collateral that came after that's made Boston College a seven-loss team before mid-December. I can't imagine what the morale is of this team right now, and coach Katie Crowley and staff have their work cut out for themselves over break. There is still plenty of season left for the Eagles to reposition themselves, but they basically need to become a totally different team in the second half. They aren't lacking in talent, so the problems are a lot more nebulous and difficult to diagnose, much less fix, right now.
I'm not sure I'm ready to jump fully on the Providence bandwagon. Right now, it feels like Northeastern has more of the pieces in place to make a run and be more dangerous. The Friars biggest advantage over the Huskies is on defense. Northeastern has been so prolific on offense that they can afford to give up more goals, though.
It feels to me like it's Northeastern's conference to lose, but I also think they've shown how they're vulnerable and ultimately beatable. I like the Huskies for the regular-reason title, but think Providence has a better shot against them in the one-and-done style of the Hockey East tournament. I also think the Hockey East is probably the tournament most likely to have a major upset and a lower seed advance.
That leaves us to talk about the CHA, where Robert Morris leads Mercyhurst by a single point. It certainly seems like this is just a two-team race again. Do you have any thoughts on how the CHA has looked so far, and what might play out in this conference in the second half?
Arlan: After this weekend, I've at least seen both the Colonials and Lakers in person a couple of times this year, which is a rare luxury for me when comparing the top contenders in any league but the WCHA. Granted, my viewings of Mercyhurst came back in September, and I doubt that they're the same team at this point.
Based on that small sample size, I'd say that RMU has more top-end talent. Mercyhurst doesn't have a Jaycee Gebhard, who is always a threat to make something out of not much. She's the only player on either team averaging over a point a game, and she's tied for seventh in the country at 1.5 points per game. The Colonials have two nice senior defensemen in Maggie LaGue and Kirsten Welsh, both of whom have over 80 career points. Welsh has missed several games, including this weekend, and I think Paul Colontino's team would have a different look if they weren't trying to get by playing only four people on the blue line. The other factor that worked against Robert Morris is that it was playing for the 11th straight weekend; that's quite the grind to open the year. In net, I think both teams would hope to be better going forward, with a slight edge to the Lakers in performance to date.
Robert Morris owns a one-point lead in the conference race, and will host Mercyhurst in the penultimate weekend of the schedule. Based on all those factors, I'd give the Colonials the edge, but it is a very slight advantage. I'd agree that it is a two-team race, but the others will have opportunities to play spoiler while readying for the all-important tournament.
This final series before Christmas figures to be more important for the Buckeyes than the Lakers, as OSU is better-positioned in the Ratings Percentage Index and sits just outside the top seven teams and the hope of an at-large berth. It's hard to imagine Mercyhurst moving into that top seven without winning the CHA tournament, and at that point, the Lakers would be advancing in any case. What do you think of the Buckeyes chances to reach the tournament, given they still have at least two games versus Minnesota and all four remaining against Wisconsin, plus the league playoffs?
And you mentioned a wide-open Hockey East postseason; how far down the standings would you concede teams having a realistic shot in that tourney? Could a team like the Terriers get hot and be that conference's representative?
Nicole: I had been planning to ask you about Ohio State after my last answer but didn't want to snub the CHA, so now of course I have to come up with an answer. I definitely think Ohio State has a chance, even with that tough schedule, but that has a lot more to do with how volatile and sometimes unremarkable some of the competition in that part of the rankings is. Filling out a ballot right now gets pretty difficult below about spot six, and there aren't necessarily 10 teams I want to rank. I think the door is pretty wide open for the teams just on the outside looking in.
Regardless of results, their strength of schedule will get a nice bump from those six games against the top two teams in the country. It's unlikely the Buckeyes will get swept in those six games, and any points they get in those six games will be very important toward their résumé when the end of the season decisions come for the selection committee. Honestly, how the Buckeyes perform in games against teams other than Minnesota and Wisconsin are the games Ohio State needs to focus on. Their inconsistency is not doing them any favors. Pulling out big wins is great, but losing games they should win is something people don't forget.
The Buckeyes looked like a veteran squad in the playoffs last year, not one that had never been there before. That sort of poise is part of what I think they're missing now, so it leaves me wondering how they'll fair. It's likely they'll host Minnesota State in the first round of conference playoffs, and the Mavericks have shown they're capable of beating OSU and giving them as much as they can handle. I do think OSU prevails in a best-of-three series at home, but it's definitely not a given at this point.
As for the Hockey East tournament, I do think we have to say that any of those top five schools have a shot, meaning yes, Boston University does have a shot at getting hot and taking the title. Not only have all of those teams shown they can get hot and beat some of the others, but last year Northeastern became the first-ever four seed to win that tournament, showing how much is really possible. It's definitely more likely that Northeastern, BC, or Providence wins the whole thing, but both Merrimack and BU have the pieces to pull off an upset, especially during the second weekend.
We've talked about who we think are the top players in recent weeks, so I'll ask about some of the other players as we wrap up the first half. Who are the players that have surprised you? Which under-the-radar player do you think everyone needs to keep their eye on in the New Year? Who's been your favorite player to watch play so far? Who's your MVP of the first half? Who are your early favorites for the Patty Kazmaier top three?
Arlan: What is that, like five question marks? Are you allowed to ask that many questions? I think that's like a whole column's worth. I suppose I'm going to have to echo the questions back, because I'm never going to be able to get my answers in the correct order.
The biggest surprise player in the first half for me is BU's Jesse Compher. She had a strong debut last year with 26 points, but the general feeling was that her numbers were buoyed by playing with two of the highest-scoring players in the country in Victoria Bach and Rebecca Leslie. Now they're gone, but Compher has already exceeded her rookie production with 31 points. Only the Clarkson duo of Loren Gabel and Elizabeth Giguère have exceeded her points-per-game average, and Compher is tops in the rate at which she's producing assists. She's a big reason that BU has come on of late.
As for my favorite player to watch, maybe pick a sophomore, any sophomore. Daryl Watts stole much of the thunder last year with her Kazmaier winning year, but this time around, her scoring average lags behind no less than nine players in the sophomore class alone: Giguère, Compher, Maureen Murphy, Emma Maltais, Grace Zumwinkle, Veronika Pettey, Malia Schneider, Madlynne Mills, and Natalie Heising. They are a dynamic bunch that will be spearheading offenses for the next three seasons.
For MVP, I'll go with Northeastern's Alina Mueller. I don't know that any other skater has made as much of an impact for her squad. I think the Huskies go only as far as she can carry them.
Thinking about your under-the-radar question, as it pertains to the New Year, I'll say Carly Bullock of Princeton. The junior leads the Tigers with a dozen goals through 14 games, and she's averaging a point and a half per contest. But if you want to keep an eye on somebody longer term, look for Zumwinkle at the next level, both professionally and internationally. Her game can still be raw at times, but it is rare to see someone with her shot, speed, and strength all in one package.
I'll predict that the Kazmaier trio will include Giguère and a couple of seniors, Gabel and Megan Keller. For that to play out, the latter will need her team to have a better record in the second half.
As I toss it back to you, I'd like your Kazmaier top three, plus feel free to answer any of the other questions that you posed to me. I'll add this question: which four teams do you think will be hosting an NCAA quarterfinal in March? Other than that, Merry Christmas to you and all of the hockey enthusiasts out there.
Nicole: For the Patty, I don't know that we'll see Keller — or any other defender — in the top three. I assume she'll be a top-10 finalist, but I'd have a hard time picking her over some of the players in her own conference. At this point, I'd be looking at Compher or Mueller as the third next to Giguère and Gabel. That being said, I also wouldn't be surprised to see a player from either Wisconsin or Minnesota, especially if they continue to dominate. In this instance, their depth works against any individual player, but Abby Roque and Annie Pankowski from Wisconsin and Nicole Schammel and Zumwinkle are all in the top 12 of scoring. A strong second half from any of them may force the Patty committee to choose between the two Clarkson teammates, especially if the team is struggling down the stretch.
I'll feel much better making predictions about both Northeastern and Clarkson after they play their two-game series — it'll be one of the tougher matchups for both teams, and seeing how either of them react to any adversity will tell us a lot, I think. Without that knowledge, I think we have to assume that Wisconsin, Minnesota, and Northeastern are for sure hosts. Where many of the teams are separated by hundredths or thousandths of points, the Huskies have a decent-sized advantage over Providence, Clarkson, Cornell, and Princeton. Clarkson gets the benefit of the doubt as the fourth host team at this point. I think that's a pretty precarious position, but it's theirs for now.
You mentioned the powerhouse sophomores, but I think we're going to see even more from the fabulous freshman in the second half. There are a lot of non-traditional first-year players this year, and their extra experience has made a big impact. I suppose Mueller and Chloé Aurard aren't underrated, but they are probably my favorite players to watch right now. They have some incredible chemistry and are also having a lot of fun together, and that is making for some really creative and beautiful skating, passing, and scoring that people are going to watch. Similarly, Wisconsin's Sophie Shirley is the kind of player that makes you sit up and pay attention. On a team of incredibly talented players, she's still standing out, and as she finds herself within those lines and that system, she's only going to get better. Sarah Fillier at Princeton is super dynamic, and I haven't had as much fun watching a goalie control a game as I did watching Lindsay Reed from Harvard against Wisconsin a few weeks ago. Similarly, Abigail Levy of Minnesota State is 4-5-2, but one of the top goalies in the country. Both those netminders have a ton of size, and watching how they move and cover the net is going to be fun for a few years.
Good luck to the student-athletes on their exams, and a happy and safe holiday to all the readers, who we'll see again in the New Year.