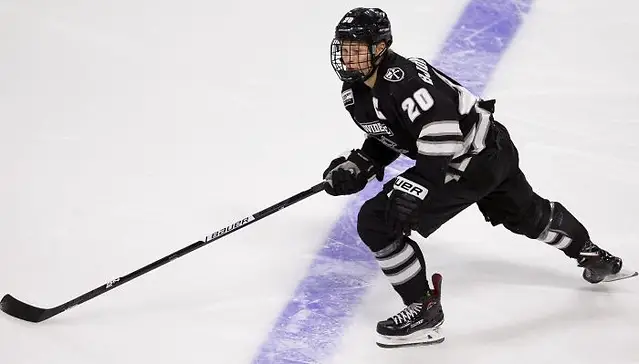 Kasper Björkqvist's route from his native Finland to playing college hockey wasn't very typical.
Often, you'll find European players attempting to move to the United States a few years prior to matriculating at an NCAA program. They often spend two years playing some level of junior hockey, a move that not only gets them on the radar of college scouts, it also allows them to acclimate themselves to a new country, a new culture
Björkqvist took a different approach. His family hired an advisor who contacted multiple college coaches in the hopes of starting a recruiting process.
One of those school was Providence and coach Nate Leaman.
To say that Leaman had immediate interest is an understatement.
"Kasper wanted to come to the States to play hockey," said Leaman. "His advisor was asking around a little bit about programs. They reached out to us and, obviously, we immediately followed up."
That was the start of a four-month recruiting process where Björkqvist also attained information from schools like Denver, UMass Lowell, Connecticut and Maine.
"He wasn't going to be in a hurry to make a quick decision," Leaman said. "The process took a while, but I thought that was in our favor because he got to know our program."
Obviously, what Björkqvist learned about Providence he liked. Three years later, he's become one of the team's most dominant offense threats.
Getting to this point wasn't simple.
"For [Kasper], being away from Finland for the first time, I think there were part of the transition that weren't easy," said Leaman. "But if you know Kasper, he's a very outgoing kid. He smiles all the time. He's not one of those guys where it takes a long time to get to know him.
"So for him, coming to a school with 4,000 students, this being a little bit of a smaller school, that fit him well."
As a freshman, Björkqvist scored just three goals and three assists in 30 games. While he scored some big goals, including tallies in back-to-back games against eventual Hockey East champion UMass Lowell, he was held off the scoresheet in the postseason.
Leaman says that adjusting to the style and the practices at the college level as opposed to his teams in Finland wasn't simple, but he also says that in Year 1, the Finnish rookie ran into some tough luck.
"I think there was a lot of things new," said Leaman. "But he also hit a lot of posts his freshman year, believe it or not. He was getting good chances that just weren't going in. But his sophomore year, he felt a lot more comfortable."
That comfort level showed up on the scoresheet. In 40 games, Björkqvist scored 16 goals and added another seven assists, finishing tied for the team lead in goals and sixth in overall scoring.
"He's excellent around the net," Leaman said. "He's a guy who knows how to get to the net. He knows how to screen. He knows that his timing to the net is good and his stick around the net is good.
"Then you take into account that he's a really smart hockey player. So you can play him in every situation – power play, penalty kill, 5-on-5, goalie pulled – every situation because of his experience and smarts, he's been able to step in and play."
This year, through 18 games he's a point-a-game player with nine goals and nine assists. Leaman says that he's continued to make strides in his game, improving in areas that will only further develop him as a player.
"His rush offense is what's really improved and is continuing to improve," Leaman said. "He's wearing the 'C' for us, too. He's taken on a big leadership role."
That ability to be a leader is impressive for a player who less than three years ago was playing in his homeland of Finland, likely not spending much of his time speaking English as his primary language. Now, three years into his college hockey career, he captains one of the top teams in the nation.
"He's a vocal leader," said Leaman. "For him to feel good being vocal, that really tells you a lot of about him and who he is."
Leaman understands that while having Björkqvist on his roster this season is nice, there was also interest from the Pittsburgh Penguins, who drafted Björkqvist in the second round in 2016. Retaining him for three years is great. A fourth year could be a challenge.
"It was put out there for him [to sign after his sophomore year]," said Leaman. "He had a really good experience when he went back home and he was invited to try out for the [Finnish] World Championship team. While he was there, he was in Week 3 and he suffered an injury. That was unfortunate but it was a really good experience for him.
"He was able to use that as another platform for growth. Going through that process was when he decided to come back to college."
There certainly is a lot of hockey left to play in Björkqvist's college career, beginning this weekend with a series that looms large against No. 16 Miami. With Providence sitting at 11th in the PairWise, Leaman understand that this is an important series that truly kicks off his team's second half.
"This is a big series for us," said Leaman. "This is going to be a fun second half. The top five in our league all play each other. We've played five of our first 18 games at home. So we've been on the road. We get to kind of flip that and be home a lot more in the second half."