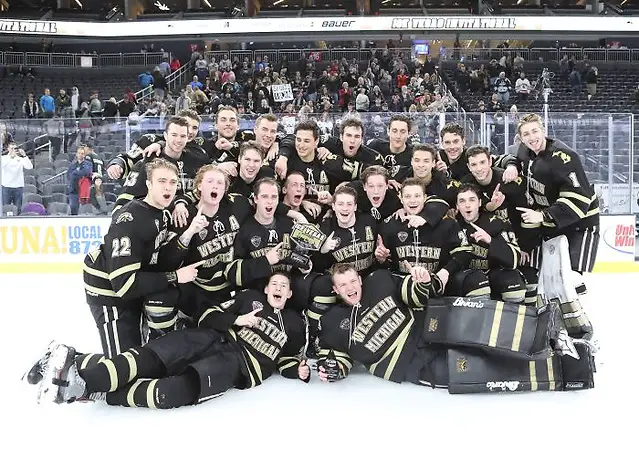 Each week during the season, we look at the big events and big games around Division I men's college hockey in Tuesday Morning Quarterback.
Paula: Jimmy, there is a lot to talk about this week as the second half of the season begins in earnest, and I can't help but start with how the top teams in the country fared over the weekend.
I know we'll want to get to the IIHF World Juniors and Team USA's silver medal, but I am too distracted by the losses among top teams.
Four of last week's top-five teams – St. Cloud State, Massachusetts, Quinnipiac and Minnesota Duluth – all lost this past weekend. Duluth's loss was in exhibition to the Under-18 team and doesn't count, officially, but voters certainly noticed. Nine of the top 15 teams from last week's USCHO Division I Men's Poll lost at least a game this past weekend, and I don't know what it says at this point. You and I have talked about parity and we've addressed second-half rust before, but there were several teams that lost that weren't coming off of long breaks.
And there was such a mix of play. Union absolutely handled St. Cloud with a 7-2 win in the Three Rivers Classic. Massachusetts was edged by UMass Lowell in spite of outshooting the River Hawks 34-21. After beating Minnesota State in overtime in the Desert Hockey Classic, Minnesota Duluth lost to Clarkson 3-1 in spite of outshooting the Golden Knights 12-3 in the third. Further down the rankings, North Dakota was swept by Canisius.
All while an impressive Denver extended its win streak to five games, the last four of those wins coming since Dec. 28.
What do you make of all of this?
Jim: It is a really small sample size, but obviously multiple stumbles by top teams in the same week seems alarming.
Honestly, I don't mind digging out the word "parity" again because it makes sense right now. We are seeing very few teams dominate. You mentioned Denver as one. I think Providence is another.
But to steal the term from football, it's not necessarily "any given Sunday" as much as any given night that any team can win or lose.
We are seeing, though, how dynamic the PairWise can be right now. UMass didn't suffer for its one loss, but a team like Minnesota State that has been jockeying around the top three much of the season has fallen all the way to ninth after a few recent losses. Two wins this weekend didn't help them a lot.
Conversely, a team like UMass Lowell jumped from well down the PairWise, 32nd, up to a tie for 22nd with just one win, albeit against Massachusetts. The River Hawks are a few quality wins away from jumping onto the PairWise bubble.
And lest I forget to mention Canisius. What a weekend for that program, which was 0-7 all-time against North Dakota and were able to sweep the Fighting Hawks at home. I'm not sure this North Dakota team belongs in the class of many recent teams, but the sweep for the Griffs is extremely noteworthy.
Paula: That kind of giant-slaying is always good for a program and its base. I agree that this North Dakota team seems very different from recent teams, but so is Canisius, struggling after its second-place finish in Atlantic Hockey just last season.
The Griffs tied Union two weeks ago before narrowly losing the following night, 5-3 with an empty-net goal and having come back in that game with two third-period goals. They're also 6-3-1 at home and play six of their next eight games in the friendly confines of the HarborCenter. In a league as tight as Atlantic Hockey is this season, maybe Canisius can build on this midseason momentum.
The PairWise is always fascinating to me. Remember the old days when coaches with teams on the bubble would corner us in March and ask us what their chances were of getting into the tournament or complain about how unfair the system was? The mystery is pretty much gone now, but the dynamics are still interesting. Ohio State's wild tie against Michigan State – a game in which the Spartans scored three third-period goals to knot it at 7-7 – doesn't seem to have hurt the Buckeyes at all. The team with the longest unbeaten streak in the country, Western Michigan (7-0-1) is still below 10th in the PWR, but their fate appears to be in their own hands in the second half with four games against St. Cloud and two against Denver.
Then there's Arizona State, playing for their playoff lives and sweeping Boston College.
Jim: Here is my take on Arizona State's chances to make the tournament.
Because they don't play a league tournament, the remaining 10 games dictate things. Four of those games are against Atlantic Hockey teams (RIT and AIC for two each) and those seem like very important games which if you don't win minimally three – and hopefully four – their NCAA hopes reduce significantly.
If ASU wins those four games, I believe that going .500 in the remaining six games, all two-game series against Boston University, Cornell and Minnesota, will be enough. Basically taking 14 "points" (combination of wins and ties) from their last 10 games should be enough to keep Arizona State's position around No. 10 in the PairWise and sew up their NCAA bid.
It will be a lot of waiting after their final regular-season game, though.
Paula: That's a good take. For certain, the Sun Devils will be giving us plenty to talk about in the second half. The waiting, to quote late great Tom Petty, is the hardest part.
We can't wrap up this week without talking about the World Juniors. I'm still kind of shocked that Canada didn't advance to the medal round, but I'm not at all surprised that Finland won it all, given their play in the tournament and their impressive roster: 10 players either in the NHL system already or drafted, including Penn State forward Aarne Talvite, and 16 players in the Finnish Elite League. The other NCAA representative is Massachusetts goaltender Filip Lindberg.
The U.S. team, though, was exciting to watch and well coached by Minnesota State's Mike Hastings and packed with NCAA talent. Now Team USA has won medals four straight years in a row and for the second time in four years has played for a gold medal, having won in 2017. With roughly one-third of NHL players having come from the NCAA ranks, all of this says encouraging things about developing young talent within the United States and talent that choose at least a little bit of time playing in the NCAA.
Jim: Winning four straight medals in this tournament, particularly If you look back to the long history of the United States in this tournament, is a nice accomplishment.
That said, I feel that silver is a bit disappointing for this team.
Russia was probably the one opponent that should have stood in the Americans' way in the tournament. So once you get by Russia, you would hope that Finland wouldn't be as difficult an opponent. Let's not forget, this is a Finnish team that got by Canada in the quarterfinals on a random deflection in the closing seconds of regulation and then found a way to win in overtime.
That, though, may have been what was most difficult for the USA. They were playing against a team that had absolutely nothing to lose. Finland played relatively loose and the Americans did not. It is also so difficult in this format to beat the same team twice in less than a week. Finland learned a lot from the New Year's Eve loss and it may have made the Americans a little too comfortable in the gold medal game.
All of that said, I'm glad for Mike Hastings and his team to have earned a medal – just the second ever silver for the USA in the tournament's history – and I know that every player on that team will return to their respective college team having learned so much over a couple of weeks.