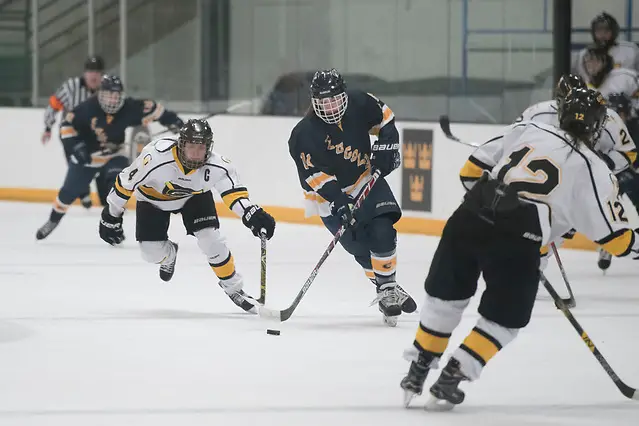 The NWHL is comprised of Olympians and many star athletes from top institutions. Currently in their fourth year as a league, there has never been a D-III player drafted. The few D-III players that have played and are currently playing in the league were all signed through free agency. However, during the 2018 NWHL draft, the Metropolitan Riveters decided to make history and drafted Courtney Wittig from Wisconsin-Eau Claire. Wittig herself is no stranger to making history. The Wisconsin native, alongside her teammates, led Wisconsin-Eau Claire to their first WIAC title and the program's first bid to the NCAA tournament.
Wittig has been mentored by coach Erik Strand from Wisconsin-Eau Claire for the past three years. He discusses what Wittig's on-ice ability has provided for his program, but assures that her genuineness and great personality are her best attributes.
"On the ice, Courtney has incredible offensive ability, she is highly competitive, has a high hockey IQ, speed, and a has very good shot" Strand says. "Over the course of her career here at Wisconsin-Eau Claire, she has worked on and has become very good in our D-zone as well. Off the ice, Courtney is very responsible and cares a lot for her family and her hockey family. It is very fitting that one day when she decides to hang up her skates, she wants to become a police officer."
Under Strand and his coaching staff, Wittig has scored 42 goals and assisted on 27 others. She also recorded 18 points during her freshman year at Marian University. Her career total points will continue to climb as she looks to close out her collegiate career on a high note. Four years playing collegiate hockey creates an unfathomable amount of memories; Wittig shares just a few.
"My last three years have been great. During my first year as a sophomore at Wisconsin-Eau Claire, we broke the school record for wins. Junior year we won the conference for the first time as well as making the appearance at nationals, and this year we are off to a good start. I can't wait to see the program continue to grow over the years. Strand and my teammates I believe have prepared me for the next level. Every day, the team likes to 'win the day,' meaning get better each day, and I believe we are doing just that."
While a fair share of exciting events have happened in Wittig's hockey career, she says being drafted is a "dream come true." Wittig also hopes that with her being drafted, it will create a brighter future for D-III players after their collegiate hockey career is over.
"It sure is a dream come true to be drafted into the NWHL. As a D-III player, there wasn't much thought about the draft, thinking that they only take D-I girls, but with me being the first I hope that it's just a start for many other D-III girls to follow."
The deputy commissioner for the National Women's Hockey League, Hayley Moore, is also hopeful that the Riveters' draft pick will inspire more players. Moore also said she is not too concerned with growing the game by specific divisions. She keeps it simple for women who wish to play professional hockey; teams in the NWHL will continue to pick the best players.
"Hopefully, this inspires more players at every level to keep working and dream about one day playing in the NWHL. As our league grows, we seek to improve and increase visibility and find every player who has the potential to move on to the pros. The more opportunities that begin to be provided for women to play, the greater the opportunity to display the depth of talent that exists in our game. I don't see a concerted effort to seek additional players from one specific division or another in order to grow the number of teams. Our job is to find the best players available with exceptional growth potential and to provide them with a platform to continue their development and love of the game beyond their collegiate career. If we continue to focus on that, the number of players will surely increase and grow our league as a result."
The Metropolitan Riveters won the Isobel Cup last year and have many well-known players. The team's widely known star, Amanda Kessel, won gold during the 2018 Winter Olympics with Team USA. Strand believes with the Riveters' current roster, Wittig will fit right in.
"Based on the Riveters' current roster along with who they drafted, I think Courtney is going to give them added depth. She has become a two-way player who can also put up points. She does an incredible job on the half-wall on our power play, and if she earns the opportunity, she could earn a spot on one of their power-play units as well. Also, her play away from the puck has been incredible this season. Combine that with her deceptive speed and offensive ability, I think she will be a nice addition to the Riveters."
It was more than Wittig's skill the Riveters organization saw, according to Moore.
"For Courtney, it is clear she is an excellent player with great skill, but her high hockey IQ and vision for the game are likely qualities that the Riveters organization sought out."
From Wittig's perspective, she's just grateful to be drafted by such a top organization.
"Just looking at the roster and the other women they brought in, it is exciting to be able to play with them. When I was talking with my coach, Strand, about the team he explained to me how they won last year and all the other success they had, and I'm excited and fortunate that I get to be part of such a successful program."
Being drafted as high as 11th overall came as a pleasant surprise to all parties involved. Strand said he worked closely with the NWHL to get some of his players recognized, and it more than paid off.
"When I started working with Deputy Commissioner Hayley Moore, I was initially hoping to create a path for our Blugolds to have success with free agency with the hope that one of the players I was advocating for could maybe be drafted or have the opportunity to make a team through free agency. But I think Hayley did an excellent job of sharing the information we talked about regarding Courtney, and she went as high as she did in large part because of the current D-III players who are already playing in the NWHL and having success."
Strand believes the growth of the NWHL is in the right direction and gives athletes of all ages a unique experience.
"It's amazing to see what Commissioner Dani Rylan and Deputy Commissioner Hayley Moore have already achieved in growing this league in a short period of time. Every great league has a humble beginning that has tremendous potential. The NHL fondly talks about the original six. I feel like we are all watching the beginning of something special that has the potential to become as recognizable as the NHL, and we all get front row seats. I realize the Whitecaps are a recent addition to the NWHL, but these founding five teams give players young and old the opportunity to watch a league and have role models to look up to and dream about standing in their skates one day. Dreams are powerful and inspiring, and I cannot think of any better way to grow the game."
As much as this is an amazing and unique opportunity for her, Wittig will be focused on closing out her collegiate career. Just like last year, Wittig mentioned that they have a few goals they would like to accomplish.
"We like to focus on one game at a time, but our goal of the team is of course to win the national title and do whatever it takes to get there. My personal goal of the season is making it as far as we can as a team and make it the best last year any senior can have."
Wisconsin-Eau Claire is currently ranked ninth overall. They have 12 games left until they battle it out in their conference playoffs.