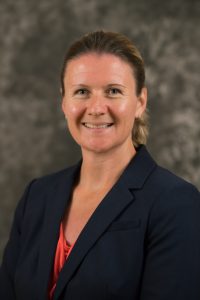 Lesley Irvine, currently the director of athletics and recreation and the chair of physical education at Pomona and Pitzer Colleges, will become vice president and director of athletics at Colorado College, effective June 1, 2019.
Irvine has 17 years of experience as a successful coach, campus health and wellness advocate, and athletics administrator. She also has experience as a student-athlete, playing indoor and outdoor field hockey in her native England at Loughborough University, and later at the University of Iowa.
"Lesley Irvine will bring great leadership, vision, and energy to CC," said Colorado College president Jill Tiefenthaler in a statement. "She has a wealth of fitting experience and success, from being a national champion student-athlete to coaching conference-championship teams, to being an outstanding administrator of both Division I and Division III athletics departments.
"Lesley is a dynamic leader who cares about student academic and athletic excellence, and I'm excited for her to lead here at Colorado College."
At Pomona-Pitzer, Irvine manages 21 intercollegiate athletics teams, the Pomona physical education curriculum, faculty/staff fitness and wellness programs, and club, intramural and recreation programs. She led the department to 15 Southern California Intercollegiate Athletic Conference championships and its first-ever SCIAC Men's All-Sports Trophy in 2018. Under her leadership, the department led the league in all-academic selections each of the last three years.
Irvine's leadership also extends to successful fundraising as she helped raise two lead gifts totaling $20 million for a new campus athletics and recreation building, and created an athletics annual fund that has raised $1.25 million since 2016. In addition, she has been a key leader in partnerships with student affairs, advancement, communication, and admissions at both Pomona and Pitzer.
"I am excited to work with Lesley and call upon her leadership as we plan and build Robson Arena, and work to enhance all of our athletics programs at CC," Tiefenthaler added.
Prior to joining Pomona-Pitzer, Irvine was the senior associate athletic director and senior women's administrator at Bowling Green State University from 2010 to 2015. She joined BGSU as an associate athletic director and was promoted to senior associate two years later. During her tenure, Irvine helped lead a program with 21 sports, including Division I hockey.
In 2012, Irvine was the tournament director for the NCAA Division I women's basketball tournament and hosted the highly-successful first and second rounds at the Stroh Center in Bowling Green. She also oversaw the NCAA Division I hockey regional, co-hosted by the Huntington Center.
From 2001 to 2010, she was the field hockey head coach at Stanford University, leading the Cardinal to three consecutive Northern Pacific Conference championships. She is a two-time conference Coach of the Year recipient, and led her team to program highs in national ranking, wins, goals, assists, and points in 2009.
Irvine serves as chair of the Athletic Administrators Committee for the SCIAC and is on the Division III National Women's Basketball Committee. She was a founding board member of the Alliance of Women Coaches, and has served on the NCAA Division I National Men's Soccer and Division I National Field Hockey Committees.
"I want to thank President Tiefenthaler and the search committee for this exciting opportunity," Irvine said in a statement. "Colorado College is a special place and I am honored to be chosen to lead the athletics department. I look forward to building upon a strong history of success and helping to support the college's goal of striving for excellence. It is an exciting time for Tiger athletics and I am thrilled to be joining the community."
As a student athlete in field hockey, Irvine led the University of Iowa in offensive points and to the Big Ten regular season title and an NCAA Final Four appearance in 1999. She was named to the Big Ten and Final Four all-tournament teams, and was a regional All-American that season.
At Loughborough University, she was a three-time national champion in outdoor field hockey and two-time national champion for indoor field hockey. In addition, she was named to the under-18 and under-21 squads of the England National Team.
Irvine earned a bachelor of science degree in physical education, sports science, and sport management at Loughborough University in 1998, and a master's degree in health, leisure, and sports studies with an emphasis in athletic administration from the University of Iowa in 2001.