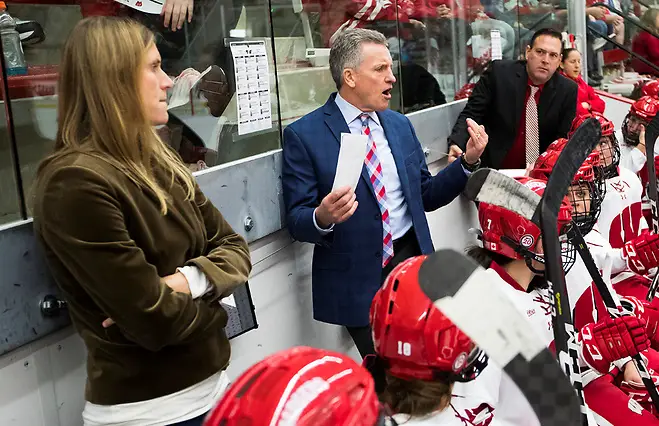 On Saturday, Feb. 9, before the Wisconsin men's team plays Ohio State at the Kohl Center, UW will honor hockey legend Mark Johnson by raising his No. 10 jersey to the rafters.
He is the first Badger men's hockey player to have that prestigious honor.
Fans are encouraged to be in their Kohl Center seats by 6:30 p.m. that evening to take in the pre-game festivities.
The entire night will be a celebration of Johnson's remarkable hockey career, including his record-breaking time as a Badger, his "Miracle on Ice" heroics for Team USA at the 1980 Winter Olympics, his all-star NHL career and his extraordinary current stint as the head coach of the Wisconsin women's hockey team.
The ceremony will feature the men's and women's teams, special guests and will culminate with the No. 10 rising to the rafters.
All fans in attendance will receive a commemorative Mark Johnson rally towel, while commemorative pins will be available through Bucky's Locker Room. The Wisconsin men's hockey flipcard will also feature Johnson on the cover.
In addition, a special display case will be set up near Gate B that will feature memorabilia from Johnson's career.
The Wisconsin men's and women's teams will wear Mark Johnson jerseys during warmups on Saturday, Feb. 9 at the men's game and on Sunday, Feb. 10 at the women's game. The jerseys will be auctioned online to benefit local cancer research and treatment through the UW Carbone Cancer Center. The commemorative jersey auctions will run Monday, Feb. 4 through Monday, Feb. 11. More information will be available on how to bid for these exclusive jerseys on UWBadgers.com.
Mark Johnson Night follows one day after the Badgers hold their second annual Face-off Against Cancer game. Wisconsin assistant coaching legend Grant Standbrook will be the featured honoree during that Friday, Feb. 8 contest.