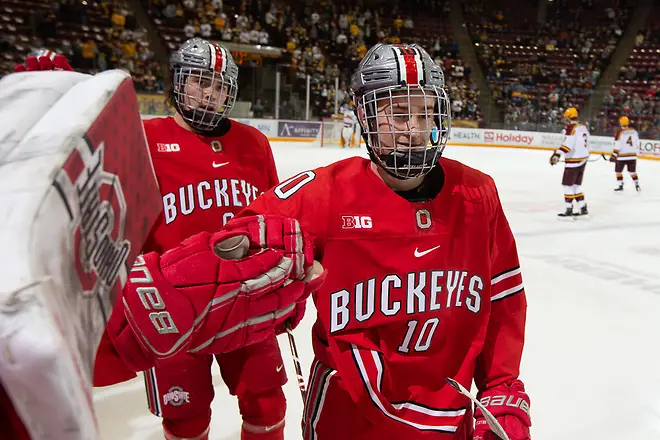 Each week during the season, we look at the big events and big games around Division I men's college hockey in Tuesday Morning Quarterback.
Paula: Hello again, Jimmy, and thanks to Candace Horgan for filling in for me last week.
In a season that has seen its share of upsets, inconsistency and parity, this past weekend was relatively stable for most of the top teams in the country. The only team to have experienced a real slip was Minnesota Duluth with its split against Colorado College, and for that the Bulldogs paid the price in the polls, dropping from third last week with seven first-place votes to fifth this week and no votes for the top spot. With a sweep of Miami, St. Cloud has now won six of its last eight, all in conference play, and solidified its hold on No. 1 with an impressive 46 first-place votes.
Looking at the remaining games and the numbers, the Huskies need to win six of their remaining eight games outright to take the NCHC regular-season title but realistically can't be caught unless either Duluth or Western Michigan goes undefeated for the rest of the season. In the Big Ten, Ohio State is now eight points up on Notre Dame after sweeping the Irish, but the Buckeyes need just four wins out of their eight remaining games to capture the regular-season title. After outscoring Alabama Huntsville 10-1 in a weekend sweep, all Minnesota State needs to do to take the WCHA crown is win three of its remaining six games.
Things don't seem quite as sewn up in other conferences — and Atlantic Hockey and the ECAC are very much up for grabs — but we've arrived at that time in the season where so much can turn on a game, on a play, on a point lost a dozen games ago.
Jim: I do feel like some of the standings are beginning to shape up in a way where regular-season champions are getting close to being crowned, especially as you mentioned out west.
AIC had a tremendous weekend in Atlantic Hockey and, combined with Bentley's sweep of second-place Air Force, has a ton more breathing room in the standings. That is one of the best stories of college hockey this year, an AIC team that for too long as been a doormat in the AHA and suddenly is on the verge of its first conference title. This team has talent and seems to be gaining consistency as the season draws on.
For Hockey East and the ECAC, the standings are hardly showing much definition at the top. Sure, Massachusetts is in the driver's seat in Hockey East, but five of their final nine games are against teams chasing them.
And the ECAC, well, the betting man I am says that title won't be claimed until the last night of the regular season. Two points still separate the top five in that league.
That leaves only Arizona State, which with its sweep of RIT on the weekend is now eighth in the PairWise and will play just four more games. The two with AIC at home this weekend could go a very long way to determining their postseason hopes. Sweep the Yellow Jackets and there is a good chance they punch their NCAA ticket. Get swept and there will be work to do in the final weekend against Minnesota to keep their NCAA hopes alive.
Paula: Who could have known heading into this season that a February series between the Yellow Jackets and the Sun Devils would be this relevant and provide such a potentially exciting match?
American International has the eighth-best scoring offense nationally, Arizona State the 14th, with each team relying on a handful of solid scorers and a committee of other forwards – and, of course, Arizona State's explosive Johnny Walker, leading the nation in goals with 22.
And how strange is it that the reality this season is that losses to Minnesota could jeopardize Arizona State's NCAA chances should the Sun Devils also drop one to AIC this weekend?
At this point in the season, too, I'm more than a little surprised that Ohio State is the only B1G team currently among the top 16 teams in the PairWise. Given that league's brief history, it's hard to argue against last year being a confluence of perfect factors favoring Big Ten teams rather than a step toward building a more solid conference.
Back to Atlantic Hockey, though, where it's impossible to ignore the streak that Bentley has had and the Falcons' turnaround from a year ago. Last year, Bentley had nine total conference wins. This year, the Falcons are 11-7-2 in the AHA in large part because of their current nine-game unbeaten streak (7-0-2), with all of their wins and one tie coming against league opponents.
This past weekend, Bentley swept Air Force at home, needing a late goal Friday to send the game to overtime before shutting out Air Force Saturday night. Jonathan Desbiens had the tying goal Friday and another goal Saturday, bringing his current goal-scoring streak to six games.
Bentley seems to be a team that is playing its best hockey at the perfect time of the season, making the end of the Atlantic Hockey season even more interesting than it was before.
Jim: I agree, and having seen Bentley a few times this season, they have consistently improved a bit each time.
That's the mentality most coaches attempt to instill in their teams – be playing their best hockey in March. Right now, looking at the longest streaks in the country, there are a number of teams all playing their best hockey. UMass Lowell (7-0-1) has made a move from 38th in the PairWise around Christmas to 14th currently and on the PairWise bubble.
You mentioned Ohio State, which looks like the Big Ten's lock for the tournament. And Harvard, which is 6-2-1 since break, has jumped to 12th in the PairWise heading into Monday's Beanpot semifinal game.
By the way, taking a look at the teams on the wrong side of the PairWise bubble, there are some name programs in there: Notre Dame, Providence, Union, North Dakota, Yale and Boston University all are right below the "Mendoza line" of the PairWise. All of those schools have either played for or won a national title since 2013.
Paula: "Mendoza line" – nice deep dig and cross-sports reference!
This is the oddest season I can recall in recent memory, taking in all of D-I men's hockey collectively. It wouldn't be unusual for one or maybe two of those programs with such recent success to be out of contention at this point in the season, given the way that successful teams can lose elite players early to the pros, but all six of those programs on the wrong side of the PWR at this point? Put that among the several things that I couldn't have predicted at the start of the calendar year, let alone at the start of the 2018-19 season.
We talk about parity so much that it feels like we're stuck on a scratch – how's that for a deep dive? – but, at least for this season, it does seem to be the one constant we can count on and the single factor that is contributing to the overall shape of things.
How exciting is the prospect of new programs making Frozen Four appearances, though? We could very well wind up with familiar faces, but in this anything-goes season, someone new may make an appearance in Buffalo.
Jim: "Stuck on a scratch" – that reference is almost old enough to be over my head!
When I look at the current PairWise, UMass, Minnesota State, Arizona State, Western Michigan and Northeastern are all in the top 15 and looking for their first Frozen Four trip. Add St. Cloud State, Ohio State, Quinnipiac, Clarkson and UMass Lowell to the list and you have 10 of the current top 15 of the PairWise that has never won a national title.
That could make for an interesting field in Buffalo. That said, there's still enough hockey to play that there could be a lot of motion in the final weeks and into the conference playoffs. It certainly will be interesting.