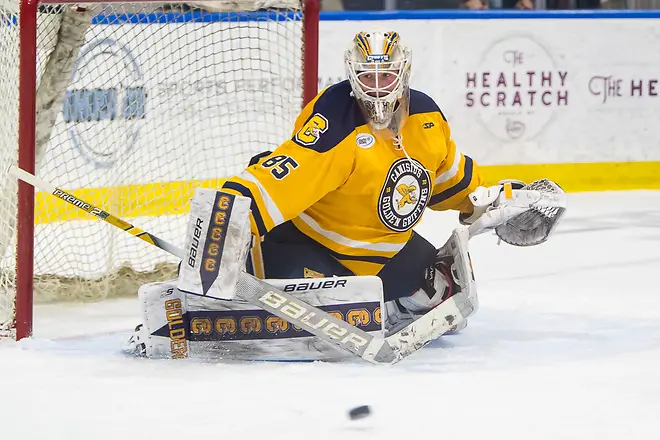 Each week, USCHO.com columnists will pick the winners of the upcoming games in their respective conferences.
Atlantic Hockey
Thursday-Friday
Bentley at Niagara
Bentley puts the nation's longest unbeaten streak (9-0-2) on the line against the Purple Eagles, who have lost four in a row. I think the Falcons keep it going and get at least three points this weekend. I'm calling for a Bentley sweep.
Friday-Saturday
Rochester Institute of Technology at Sacred Heart
Grab some coffee for this series: Friday's game starts at 11:05 am, followed by a 2:05 pm matinée on Saturday. SHU has matched up well recently against the Tigers, including a sweep of RIT at the Polisseni Center in early December. I'm picking history to repeat. Sacred Heart sweeps.
Mercyhurst at Army West Point
Despite playing in a lot of close games, Army West Point hasn't had a non-exhibition win since Nov. 30. Playing five of their final six games at home should provide a boost for the Black Knights, but I'm still calling for a Mercyhurst sweep.
Robert Morris at Holy Cross
Holy Cross pulled off a nice comeback win against RIT last Saturday, and looks to keep the momentum going against the Colonials, who have struggled offensively and are 1-9 since the calendar turned to 2019. But something tells me that Robert Morris will come away with a win in one of these games, so I'm looking for a split.
Canisius at Air Force
Air Force is coming off a bye week while Canisius was swept by Bentley last weekend. I'm going with a rested Falcons squad. Air Force sweeps.
American International at Arizona State
These games are more important for Arizona State, which sits ninth in the PairWise with four games left to play. But AIC wants to keep to its winning ways heading into its final pair of conference games coming up. That said, I'm picking an Arizona State sweep.
— Chris Lerch
Big Ten
Friday-Saturday
Minnesota at Ohio State
After two lopsided losses to Penn State last weekend, the Gophers are going to try to end the Buckeyes' seven-game win streak in Columbus. The teams played to two 2-2 ties earlier this season (Nov. 30 and Dec. 1), with Ohio State picking up the extra point in in three-on-three play each night. The Buckeyes need two wins to clinch the regular-season Big Ten title outright. I think that championship will come on the road next weekend, against Michigan. I'm calling a split, with the Buckeyes winning Friday, the Gophers winning Saturday.
Penn State at Michigan State
The Nittany Lions carry a three-game win streak into Munn Ice Arena, including their sweep of Minnesota last weekend and dating back to their win over Michigan in Madison Square Garden at the end of January. The Spartans dropped two games to Michigan last weekend, one in Ann Arbor and one in Little Caesars Arena. Penn State is two points ahead of Michigan State B1G conference standings, and the teams split a pair of games in Pegula Ice Arena a month ago. I'm calling another split, with Penn State winning Friday, Michigan State winning Saturday.
Wisconsin at Notre Dame
The Badgers are winless in their last two series (0-3-1), having dropped a pair at home last weekend to Ohio State. The Fighting Irish beat Michigan Tuesday night and are 2-2-2 in their last six games. Notre Dame took five of six possible points from Wisconsin Jan. 18-19, with a win in Madison and a tie and extra point at the United Center the following night. This may be a preview of a first-round playoff series. Notre Dame is in third place in the conference currently, trailing Michigan by two points but with two games in hand on the Wolverines, who don't play this week. Wisconsin is currently in last place, trailing Michigan State by two points – and the Badgers have two games in hand on the Spartans. We are watching hockey in interesting times. Notre Dame sweeps.
— Paula C. Weston
ECAC Hockey
Friday-Saturday
Cornell at Brown
Both of these teams have been playing well lately and both like to play a heavy game as well. It will be a tight matchup, but as well as Brown has been playing, Cornell has been on another level over the last two months. Cornell wins.
Dartmouth at Clarkson
Both teams have multiple lines that can score, but I think the Golden Knights have the edge with Jake Kielly in net. Clarkson wins.
Princeton at Rensselaer
RPI goalie Owen Savory has played well lately, while the Tigers have one of the top lines in the league but not a lot of offense elsewhere in the lineup. Savory stopped 19 of 20 shots in relief the last time these teams met, and I think another performance like that shot give the Engineers the win. Rensselaer wins.
Harvard at St. Lawrence
The Crimson won 7-3 when these teams met last month, although it could have been a lot worse, as Harvard led 6-0 midway through the second and eased up the rest of the way. I don't see a much different result this time around. Harvard wins.
Quinnipiac at Union
Quinnipiac did not play well in a loss to Brown Saturday, but the Bobcats haven't lost back-to-back games this season. I think that streak will continue against a Dutchmen team that has been average in conference play. Quinnipiac wins.
Colgate at Yale
Yale is coming off a 0-2 weekend where it was outscored a combined 8-1 in losses to Quinnipiac and Princeton. I think the Bulldogs should be able to rebound against a Colgate team that has only scored 40 goals in 28 games this season. Yale wins.
Saturday
Colgate at Brown
Like I said above, Brown has been playing well of late, while Colgate just hasn't been able to string together any consistent results lately. Brown wins.
Harvard at Clarkson
Harvard beat the Golden Knights in overtime when these teams played last month, but Clarkson is 10-2 at home this season. Clarkson wins.
Quinnipiac at Rensselaer
Both teams have good goaltending, but the Bobcats have more offensive depth. Quinnipiac wins.
Dartmouth at St. Lawrence
The Big Green seem like a team that is on the verge of putting it all together, but it only has one win over its last six games, a 4-1 victory over St. Lawrence on Jan. 25. I think Dartmouth breaks out of its skid and sweeps the season series with the Saints. Dartmouth wins.
Princeton at Union
Neither team has been dominant in conference play, but the Dutchmen are 7-3-2 at home and are the deeper team. Union wins.
Cornell at Yale
The Bulldogs are one of many teams in the league in the mix for a first-round bye, but haven't had the best results the last few weeks. Like I said above, Cornell has been red-hot since December, and I think that continues against Yale. Cornell wins.
— Nate Owen
Hockey East
Friday-Saturday
Maine at Merrimack
While the Black Bears have been splitting series against strong teams, Merrimack has lost five straight. The Warriors now rank last in the league in both offense and defense. Even with both games in Merrimack's barn, Maine sweeps.
Vermont at Northeastern
On the one hand, the Catamounts are 4-1-1 over their last six while Northeastern is 2-4. On the other hand, the Huskies' two wins came in the Beanpot, and surely that's worth a major momentum boost. I'll contend that those two factors come close enough to cancelling each other out, so give me the hands down (sorry!) best team. Northeastern sweeps.
Boston College vs. Massachusetts
UMass suddenly has Lowell breathing down its neck. How well it responds could go a long way in determining how great the rewards will be for this breakout season. If this were a typical BC team, I'd say the Eagles hold serve at home for a split. But this is not your father's BC team, nor is it his UMass team. UMass sweeps.
Providence vs. UMass Lowell
The Friars have been wildly inconsistent while Lowell hasn't lost in 2019. The obvious choice here is a River Hawks sweep. It's so obvious, that I'm going with the hunch that the Friars pull off a split the backwards way: the road teams win. Split.
Boston University vs. Connecticut
UConn desperately needs points this weekend to prevent the gap from widening between it and the final playoff berth. BU is ripe for the taking, since it has now lost five straight, but I think UConn's sub-par special teams doom them. BU sweeps.
— David H. Hendrickson
NCHC
Friday-Saturday
Denver at Minnesota Duluth
I don't care who else is playing this weekend, this is THE series to pay attention to as a college hockey fan. Well, maybe Lowell versus Providence, but that's the only one that comes close. The last time these two faced off, the Bulldogs rallied from a three-goal deficit in the third period and tied the game with two seconds left, then won in OT, breaking a seven-game losing streak to the Pioneers that started in the 2017 national championship game. Both teams were off last weekend, so there might be a little rust going on. Duluth is coming off a split with Colorado College and has won five of its last six, while Denver rebounded from getting swept by Western Michigan with a win and three-on-three OT win versus North Dakota. The Pioneers, however, are not good on the road, going only 6-5. I think this is a split, though picking the right night for each win is a bear. I can almost guarantee though, that both games will be decided by a goal, as they usually are. Denver is 16-4-2 in the last six years against Duluth, and 13 of those games were decided by a goal. Denver 3-2, Minnesota Duluth 3-2.
North Dakota at Western Michigan
These two teams are also coming off a bye week. After sweeping Denver, Western went on the road and split with Omaha, barely rallying for a win in the first game before losing the second one. However, that was on the road, where the Broncos are 4-7. In the friendly confines of Lawson Arena, they sport a 10-2-1 record. North Dakota is coming off a loss and three-on-three OT loss to Denver. Working against the Fighting Hawks is not only that the Broncos are extremely difficult to beat in Lawson, but North Dakota is a poor road team, going only 3-7-1 so far this season. I'm also not sure how desperate North Dakota will play, because unless they win their remaining eight games, I don't think they can move high enough in the PairWise to advance to the NCAA tournament as an at-large team. Their only shot is likely to win the NCHC tournament, so they might want to focus more on staying healthy and playing to their strengths. With all that, I'm going on a limb and picking a Western sweep. Western Michigan 3-1, 3-2.
— Candace Horgan
WCHA
Friday-Saturday
Michigan Tech at Lake Superior State
Lake Superior State is my favorite team in the WCHA this year because the Lakers could have been horrible. But they're not. They're scrappy, and no one wants to play them. MTU coach Joe Shawhan told me that last week. He also told me this series would be tough. That's why I like Michigan Tech and LSSU to split the pair of games. Hopefully, that's enough points to keep LSSU ahead of BSU in the standings.
Alaska at Bowling Green
Alaska is trying it's hardest to collect points and make a statement heading into the WCHA playoffs. But Bowling Green is tied with Northern Michigan in second place in the league, both squads with 43 points. The Falcons need these points badly to try and secure that No. 2 seeding. I like BG to sweep the series.
Northern Michigan at Bemidji State
It's do-or-die time for the Wildcats. They entered the season with what the media voters thought was the best roster in the WCHA. Everyone thought Mankato would win the conference, but everyone agreed NMU was the most talented, roster-wise. So with a second-place tie with BG on the line, I actually like NMU to go to BSU and sweep the Beavers, which is always a tall order to accomplish.
Ferris State at Alaska Anchorage
It saddens me to say it, but this is the WCHA toilet bowl. Ferris is in ninth place, Anchorage is in 10th. Historically, Ferris has struggled with playing in Alaska, so I like Anchorage to take Friday's game but Ferris to win Saturday's game going away.
— Brandon Folsom