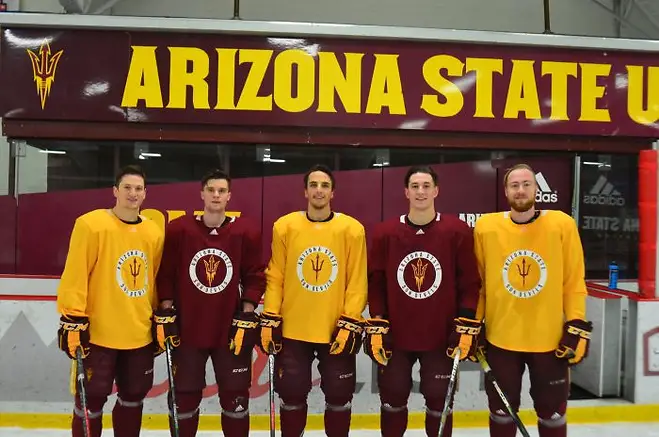 Every game is important for Arizona State with an at-large bid on the line, but this weekend's home finale will carry extra meaning for five seniors.
The 12th-ranked Sun Devils welcome Atlantic Hockey leaders American International (17-12-1) to Oceanside Ice Arena for what will be the final home series of the seniors' collegiate careers. It is the first Division I senior class that the program will send off, and while they know the importance of their roles within it, they also recognize the players that came before them throughout the transition years.
"A lot of [former players] are still in the area, and they helped build just as much as we did. We're just lucky we're still around to be a part of the success, but the reason we're being so successful is because we were grinding for those two or three years of when we first went to Division I," said ASU forward Dylan Hollman. "It wasn't easy through those times, but this is just as much theirs as it is ours."
The seniors represent three states and three countries: forwards Jake Clifford (Brecksville, Ohio), Anthony Croston (Phoenix, Ariz.), and Jack Rowe (Cary, Ill.) comprise the American contingent, and Hollman (Red Deer, Alberta, Canada) and defenseman Jakob Stridsberg (Jönköping, Sweden) make up the international members.
Croston leads the class with 122 games played – all but three since the dawn of the program – and is the Sun Devils' assists leader this season (15). The three-year assistant captain and Pinnacle High School product is perhaps the team's most complete player, and it is believed that he will be one of the many undrafted free agents NHL teams pursue at season's end.
Stridsberg was one of the early fixtures on the blue line, playing every game as a sophomore in his first season with the team in 2016-17. He led all Sun Devils defensemen that year with 16 points (nine goals, seven assists). Despite stints as a healthy scratch this season, Stridsberg sports a plus-five rating in 21 games played.
Clifford came to Tempe as a defenseman but became a forward following his sophomore season. Clifford has become an important part of the offensive depth, only missing one game this year. He has earned many a start to a game or a period, and has two game-winning goals to show for his efforts.
Hollman's story is unique among the senior class in that he had already seen what Division I success looks like before arriving at Arizona State. He spent his freshman year at UMass Lowell, but after sustaining a season-ending injury in his first and only game as a River Hawk, he transferred out and redshirted during ASU's first season as a DI program.
Hollman gained a lot from that ordeal, and it culminated in a two-year captaincy. He has 11 goals and a plus-16 rating this season, both good for third-best on the team. Leadership traits showed early into his time in Lowell and continue to show this season despite not wearing a letter.
"He's got great ethics and an unbelievable moral compass," said former UMass Lowell associate and current Niagara head coach Jason Lammers. "His personality, the people that he's been around in his life, the success that he had in junior both as an individual and as a team – I'm a big believer that winning is a learned skill and he had a lot of that already ingrained in him coming in. I'm excited that he's had success at Arizona State."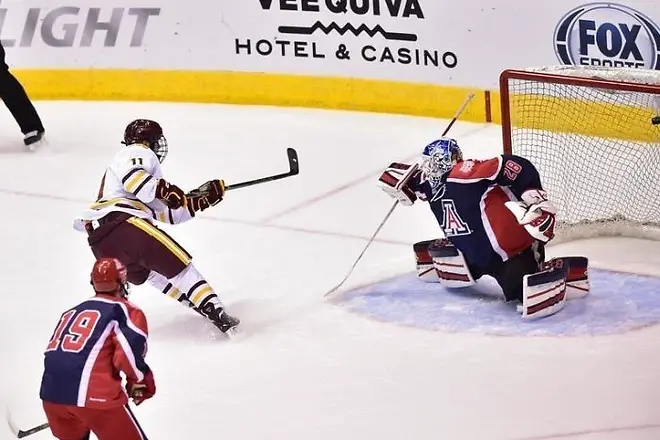 Rowe is another senior who could have spent his college career elsewhere if things had gone differently. He was originally committed to North Dakota, but a Christmas break car ride in 2014 with his USHL Muskegon teammate, former ASU defenseman Liam McGing, changed that.
Rowe scored the first Division I goal in program history at Alaska Anchorage and has played in 61 games for the Sun Devils. He will be one of their two representatives on Team USA at the Winter World University Games beginning on March 2 in Krasnoyarsk, Russia.
The teams of future years will inevitably only get younger, but Rowe knows that's not an issue.
"The way that the culture has grown here and the way things have shifted, everyone in that locker room has some sort of leadership ability or they wouldn't be here," said Rowe. "I don't think that's an issue at all having young guys, because the culture kind of molds guys into the players that they need to be."
While the immediate focus is on an American International team that has won eight of their last nine games, the five seniors will be putting the finishing touches on their academics as well. Four of them will graduate with two degrees, and the other will complete his bachelor's in three years, with head coach Greg Powers proudly estimating that their combined GPA is around 3.8.
"It's surreal that they're already through that cycle. They're the founding fathers of our program at the NCAA level, and we're gonna miss them," said Powers. "One of our pillars is 'leave the program better than you found it,' and those guys can look at themselves in the mirror and understand how crucial and critical they were to our growth and the success that we've had."