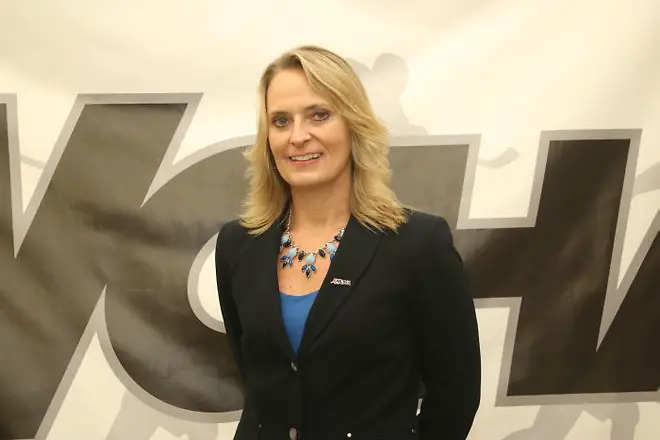 WCHA women's commissioner Katie Million has been named director of women's national team programs for USA Hockey.
She will finish her duties with the WCHA through the remainder of the season and officially join USA Hockey on May 1.
"We're excited to welcome Katie to USA Hockey," said USA Hockey executive director Pat Kelleher in a statement. "She's done a tremendous job for the WCHA, and with her varied experiences in sports and passion for hockey, she is well positioned to lead our women's national team program."
Million joined the WCHA in 2016 and has managed all facets of the women's league operations, including its successful Final Faceoff championship. In her role, she has been a primary interface with a wide variety of constituent groups, from USA Hockey, the NHL and NCAA, to the American Hockey Coaches Association, College Hockey Inc., the Ice Hockey Commissioner's Association and multiple NCAA committees.
"I could not be more excited and honored to be a part of USA Hockey," added Million. "The women's national team program has had great success and I look forward to working with everyone involved to build on that success and help further elevate the efforts in and around the program and USA Hockey overall.
"I have thoroughly enjoyed representing the WCHA and feel we have made some great strides in my three seasons. It has been a wonderful experience being a role model for the amazing student-athletes in the league. I thank and commend the WCHA for this opportunity and their strong commitment and support to grow the game of hockey. This was a very difficult decision to make due to my passion for the WCHA, the member institutions and student-athletes. The opportunity to more widely impact the sport of women's hockey and showcase the character, talents, and leadership of our U.S. Women's National Teams was a rare chance I could not pass up. I look forward to working with my colleagues in the WCHA and across the country in this new role."
Prior to her time with the WCHA, Million spent 17 years in varying event-based roles, including as director of events her final three years with the Olympic Regional Development Authority in Lake Placid, N.Y. She managed and directed numerous sports competitions while at ORDA, including world cups, world championships and national events across multiple sports including hockey, skiing, bobsled, figure skating, skeleton and luge. Her involvement was wide-ranging and included, among other things, contract negotiation, scheduling, financial management, and logistics.
Under her guidance, the WCHA delivered its first-ever extended women's hockey television package via a partnership with FOX Sports North and FOX Sports Wisconsin, partnered with the Beaver Radio Network for the "This Week in the Women's WCHA" radio show and St. Cloud State's Husky Productions team for the "WCHA Highlight Reel."
"On behalf of the entire WCHA, we want to congratulate Katie Million on her new senior-level role with USA Hockey," said WCHA men's commissioner Bill Robertson. "It was an honor to work closely with her on a daily basis as she has done so much to champion the women's college game. I am confident Katie will do a great job of advancing the women's game at so many levels. She had done tremendous work with the Women's League of the WCHA and will be missed by all of our institutions."