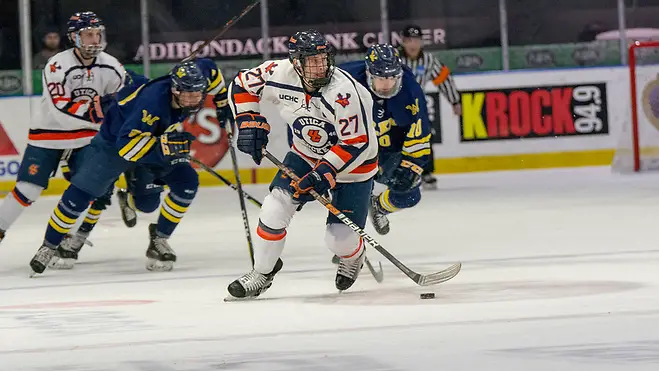 While Geneseo wrapped up SUNYAC's top spot with a win on Wednesday against Buffalo State, the CCC, MASCAC, NE-10, NESCAC, and UCHC top spots were secured over the weekend by Salve Regina, Plymouth State, Saint Anselm, Trinity, and Utica respectively. The NEHC playoffs already have seen the quarterfinal results where the top four seeds advanced in the now single-elimination season. There was lots of movement across all the conferences this weekend, setting up some very interesting playoff matchups in the week to come. Here is the recap for a great weekend in the East.
CCC
First place came down to a winner-take-all game between Salve Regina and the University of New England on Saturday night. In a game that felt like a playoff contest, the visiting Seahawks eked out a 2-1 win on the strength of goals by Kyle Moore and Paul Boutoussov assisted by Danny Eruzione. Blake Wojtala stopped 29 of 30 shots as Salve Regina earned the top seed and first-round bye for the CCC playoffs. UNE will host No. 6 Wentworth in a quarterfinal game on Wednesday night.
UNE's loss opened the door for the red-hot Curry Colonels to leapfrog into the No. 2 spot. Led by four power-play goals and a hat trick from forward Billy Rizzo, Curry routed Becker, 10-1, to extend their win streak to six games and earn a first-round playoff bye.
Nichols downed Wentworth, 5-2, to earn the No. 4 seed and a quarterfinal matchup with Endicott on Wednesday next week. Nicholas Mangone scored a pair of goals for the Bison, who also notched a pair of power-play goals and one short-handed tally from Nate Foster in the win.
Independents
Canton continued its hot play with a weekend sweep of Buffalo State by identical 4-3 scores. The Kangaroos rallied from a 2-0 deficit to win on Sean David's third-period goal on Friday, but went one better on Saturday night. Trailing 3-0 to the Bengals, the Kangaroos scored four unanswered goals, including a pair of short-handed goals from Anthony Filoso, to earn the win and finish their season at 14-9-2.
Post earned a weekend split with Assumption. After dropping a hard-fought 1-0 loss on Friday night, the Eagles rebounded with a 3-2 win on Saturday. Goals from Tyler Hackett and Lucas Smith rallied Post from two separate one-goal deficits before Evan Lugo scored the game-winner in the third period to help Post earn its 10th win of the season.
Bryn Athyn closed out the season on a high note with a weekend sweep of Stonehill by 5-4 and 6-5 scores. The Saturday game saw lots of offense and the teams swapping leads right up to the final 90 seconds, when the Lions' Jake Heckenberger scored the deciding goal. Nikita Smirnov and Tanner Schroeder each scored two times and added assists for a three-point night.
MASCAC
Plymouth State wrapped up the top spot in the standings with a game still to play on Tuesday next week at Westfield State. The Panthers wrapped up their first-round bye with a 5-2 win over Framingham State on Saturday. Brett Backman and Grant Dewitt scored late in the third period to break open a 3-2 hockey game and give the Panthers a more comfortable 5-2 win.
Massachusetts-Dartmouth picked up three important points with a 6-3 win over Framingham State on Thursday and a 2-2 overtime tie against Worcester State on Saturday. Steven Leonard scored the game-tying goal on Saturday in a very evenly played contest that saw the teams trade goals twice in the low-scoring affair.
While the Corsairs are done with their regular season schedule, both Westfield State and Fitchburg State still can move up to the No. 2 spot and earn a first-round bye. The Falcons kept their hopes alive with a 5-1 win over Salem State on Thursday followed by a 5-3 win over Westfield on Saturday. Nick DiNicola and Brandon Ecklund scored in the third period to break open a 3-3 game, while goalie Brian McGrath made 44 saves in the win. Westfield State closes out their schedule on Tuesday against Plymouth State, while Fitchburg State will travel to play Worcester State in games that will have playoff implications.
NE-10
Saint Anselm split its weekend series with Southern New Hampshire. Friday night saw the Hawks skate to a 4-0 shutout win led by goaltender Colin Soucy's 33-save night. Sean Verrier and Trey Aiello each picked up a goal and an assist for the Hawks. On Saturday, the Penmen earned a 3-1 win as goals from Jake Cox, D.J. Goldstein, and Andy Somerville erased an early 1-0 deficit for the win. Saint Anselm will face Assumption in one NE-10 semifinal next week, while Southern New Hampshire will host St. Michael's in the other semifinal matchup.
NEHC
The only playoff contests of the weekend in the East were held in the quarterfinal round of the NEHC, where the top four seeds advanced to next week's semifinal round. Top seeded Massachusetts-Boston earned a 4-0 win over Southern Maine. Ethan Nitkin, Nolan Redler, Garrison Sanipass, and David MacGregor each scored for the Beacons, while Bailey MacBurnie, who recorded an assist, stopped 22 shots to earn the shutout win. The Beacons will host in the semifinals after Hobart took down a talented New England College team, 4-1, on Saturday. Ryan Lynch scored twice, and Liam Lascelle made 20 saves as Hobart shutdown the Pilgrims' offense, outshooting the visitors by a 45-21 margin.
Babson downed Skidmore, 2-1, as Patrick Flynn scored twice, and Bryan Botcher picked up his 10th win of the season, making 39 saves for the Beavers. Babson will travel to Norwich next week for the semifinals after the Cadets dropped Suffolk, 1-0. NEHC Player and Goaltender of the Year Tom Aubrun made 13 saves for the shutout that made Jordan Hall's lone goal stand up as the game-winner
NESCAC
Wesleyan and Trinity both had visions of earning the top seed in the NESCAC tournament, as they finished their season with a home-and-home series. On Friday, Trinity won on the road, 6-5, in a game that featured six goals in the final 20 minutes of play. Taggert Corriveau scored his second goal of the game to tie the score at 5-5 with less than five minutes remaining, and Barclay Gammill scored the game-winner with less than two minutes in regulation. On Saturday in the winner-take-all game, Trinity's Taggert Corriveau broke a 2-2 tie with just four seconds remaining on the clock for a 3-2 Bantams win to wrap-up the No. 1 seed and a quarterfinal game with Tufts next weekend. Wesleyan stays in the No. 2 spot and will host Middlebury in quarterfinal action.
Amherst leveraged a four-point weekend, including a 4-3 overtime win over Williams, to vault into the No. 3 seed and a quarterfinal date with Colby. After a scoreless third period, Phil Johansson scored at 2:03 of overtime to give the Mammoths two big points. A 4-1 win over Middlebury wrapped up the home-ice berth. Williams also lost on Saturday to Hamilton, which dropped the Ephs to the No. 5 seed and makes them travel back to Hamilton on Saturday in their quarterfinal game. Jordi Jefferson scored a pair of goals, and goaltender Sean Storr made 34 saves to earn his first win of the season for the Continentals.
SUNYAC
Geneseo clinched the top seed with Wednesday's 6-3 makeup game win over Buffalo State and closed out their regular season with a 6-3 win at Brockport.
Plattsburgh jumped over the idle Bengals to capture the No. 3 seed with wins over Cortland and Oswego to close out the regular season. In Saturday's 2-1 win over the Lakers, Christian DiFelice and Ryan Kuhn scored in the opening 10 minutes and goaltender Jimmy Poreda made 32 saves to backstop the Cardinals to the win. Plattsburgh will host Brockport on Wednesday in the SUNYAC quarterfinals.
Fredonia captured a pair of 3-2 wins over Morrisville to remain in the No. 5 spot overall and will face travel partner Buffalo State in a quarterfinal game on Wednesday night.
UCHC
Utica clinched the top seed and bye week in the UCHC with wins over King's and Wilkes to close out the regular season. On Friday, the top line of Gregg Burmaster (4-2-6), Shawn Lynch (3-2-5), and Brett Everson (0-5-5) accounted for seven goals and 16 points in a 10-1 rout. On Saturday, three unanswered goals in the second period led the Pioneers to a 4-2 win over Wilkes.
Elmira took advantage of other teams' losses to move into the No. 2 spot. Despite losing to Chatham on Saturday, Elmira's 6-4 win over Stevenson on Friday moved them into the coveted second bye position in the standings. Forward Nick Ford assisted on five of Elmira's six goals in the win.
Tuesday's quarterfinal matchups find Wilkes hosting Nazareth and Manhattanville hosting Lebanon Valley.
Three Biscuits
Nick Indelicato, Franklin Pierce: Indelicato scored a hat trick to provide all the offense in the Ravens' 3-1 win over Stonehill on Tuesday night. After scoring an even-strength goal, Indelicato picked up a power-play goal and a short-handed tally to complete his hat trick and secure the NE-10 win.
Gregg Burmaster, Utica: Burmaster led the Pioneers in a 10-1 win over King's on Friday with six points, including four goals and two assists. Linemates Shawn Lynch (3-2-5) and Brett Everson (0-5-5) also enjoyed a big stat game as the trio combined for seven goals and 16 points.
Nick Ford, Elmira: Ford helped on virtually every goal for Elmira in a 6-4 win over Stevenson on Friday night. Ford's five assists led the offense and helped Connor Powell (3-0-3) and Matthew Cuce (2-1-3) combine for five goals.
Just about everything has been decided, except in the MASCAC, but playoff hockey is here and the battles for conference titles and chance to play on the national stage should make for some great late February and March hockey.