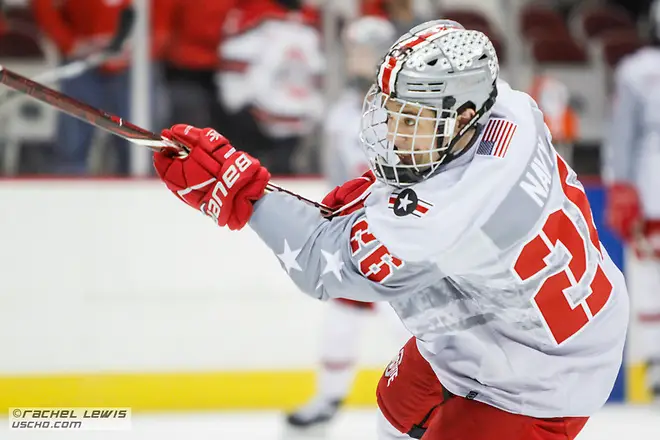 Last week, Ohio State was this close to the Big Ten regular-season title, in what would be the second conference title in program history.
This week, Ohio State is still this close, thanks to a home sweep at the hands of Minnesota, a team that had swept an opponent just once before this season, on the road against Notre Dame in early January.
"A lesson from this weekend is that we need to continue to get better," said Ohio State coach Steve Rohlik.
Perhaps that's a lesson for all of Big Ten hockey.
After placing three teams in the 2018 Frozen Four and failing to secure a national title, the Big Ten has one team among the top 14 in the PairWise Rankings, and that team is No. 7 Ohio State. The only way B1G Hockey will see two teams competing in the NCAA tournament this year is if someone other than the Buckeyes wins the conference's playoff championship.
And that can happen. You know that old sports aphorism that states that any team in a given league can beat any other team in that league on any given night? Well, that's Big Ten hockey this season.
Last-place Wisconsin has 25 points and wins against Michigan State, Minnesota, Notre Dame and Penn State, two ties against Michigan, and an overtime loss to Ohio State.
Sixth-place Michigan State has 27 points and wins over Penn State, Michigan and Minnesota – three wins over Minnesota, actually – and ties against Notre Dame and Ohio State.
With 29 points, fifth place Penn State has at least a win over every B1G team ahead of the Nittany Lions in the standings. Fourth-place Michigan has 30 points and has beaten Ohio State, Minnesota and Notre Dame.
Get the picture? It's nutty.
Eight points separate second-place Minnesota from last-place Wisconsin, which is how many points separate first-place Ohio State from Minnesota. Minnesota's two points ahead of Notre Dame, who's a point ahead of Michigan. The Wolverines are a point ahead of Penn State, two in front of Michigan State and five above Wisconsin.
It's this nutty: Wisconsin still has a chance to host a first-round Big Ten playoff series.
If the Badgers win out, they're guaranteed a finish of no lower than fourth place. The top team in the conference – which is very likely to be Ohio State because of that point gap between them and the rest of the field – gets a bye for the quarterfinal first round of play. Teams that finish second through fourth host a quarterfinal series.
"I think it's on everybody's mind, that it's still pretty tight, our conference," said Wisconsin coach Tony Granato. "You've got to string together games, though."
The Badgers split on the road against Notre Dame last weekend, winning Friday and falling behind early because of penalties in the Saturday loss. The last back-to-back wins Wisconsin registered against a single opponent was a Dec. 7-8 sweep of Penn State.
"The importance of playing the right way is more important than saying, hey, we have to win these games," said Granato. "It's just playing the right way so that you head into playoffs with some confidence and some flow to your game and feeling good about your team.
"We're in a position now that we can't shoot ourselves in the foot anymore. It seems like that's what's happened, and when it's happened, it doesn't go well for us. Home ice would mean something, but playing the right way these last four games is more important and more of the focus than saying, hey, we've got to get three wins or four wins to get home ice. Let's just play well and see where we're at."
The team just ahead of Wisconsin in the standings, Michigan State, is off this weekend before finishing the regular season with two games in Columbus. Theoretically speaking, the Spartans can capture home ice, too, but they'd need more than a few favors from other teams in the league and perhaps quirky alignment of the planets. Michigan State can finish as high as fourth place, but there's little the Spartans now can do about it.
Frankly, it's not something that coach Danton Cole finds concerning.
"I'd love to play here, but we could win both games at Ohio State and still not get home ice," said Cole. "There are some things that have to happen and that's fine. Those are out of our control.
"What's in our control is how we play, how we approach this week off – which is really important for us. I think in the last seven weeks, we've played 16 games and that's a lot in college hockey — and that's coming off the GLI where I think we played four in seven nights. We need this to get our bodies right, but I think our minds are right. I think our guys know that we're a pretty tough out. It's supposed to be hard to play against teams, and there's not a lot of quit in this group. I think culture beats strategy, and I like where our guys are at."
Culture beats strategy. It's hard to argue with that, and it's difficult to fault any B1G team for the culture it fosters as the league itself continues to mature. Heading into the last two weekends of regular-season play, though, it's difficult to determine what that culture will produce.
There are no hot teams in B1G hockey heading into this weekend's play. To their credit, the Golden Gophers have the longest active win streak in the Big Ten, their two games against Ohio State. Minnesota is playing better in the second half, but the Gophers are 4-6-0 in their last 10 games.
Notre Dame has four wins in its last 10 games. Michigan is .500 in its last 10 games but brings a two-game losing streak into its series against Ohio State this weekend – but the Wolverines are rested after a bye last weekend.
Penn State is also .500 in its last 10 games, a stretch that included a three-game win streak. The Nittany Lions split on the road against Michigan State last weekend.
The Spartans have four wins in their last 10 games, including a sweep of Minnesota Jan. 19-20. The Badgers have two wins in their last 10 and have lost three of their last four.
And Ohio State? The Buckeyes had won seven in a row until they ran into Minnesota last weekend.
After Saturday's loss to the Gophers, Rohlik said, "I can't fault our effort tonight other than a couple major blunders defensively which basically cost us, but other than that, our guys played hard, we fought to the finish and that's college hockey. It's hard to win."
Stumbling in front of the home crowd last weekend was disappointing, said captain Sasha Larocque. Heading into the weekend, the Buckeyes needed two wins to take the regular-season crown. When Wisconsin beat Notre Dame Friday night and Penn State fell to Michigan State, Ohio State's magic number was reduced to one.
"We got some luck last night with other teams winning and losing games that set us up nicely for tonight to come back and recover from a loss on Friday," said Larocque. "And it's tough to not be able to do that at home with the crowd and the fans here."
Now the Buckeyes are forced to attempt to win a championship in very hostile territory as they head to Ann Arbor to play Michigan this weekend.
The first and only time that Ohio State earned a regular-season championship was in 1972, at the end of the inaugural season of the CCHA.