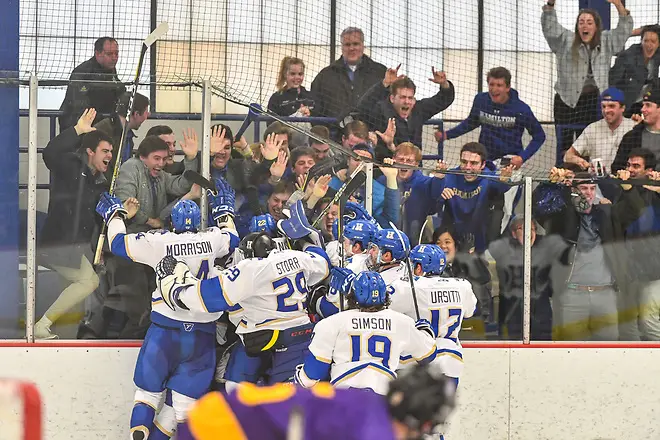 While some favored teams continued their expected paths to conference titles, this weekend's results guaranteed at least three conferences will have new champions this season. Moreover, a number one seed fell as Massachusetts-Boston lost its semifinal matchup with Hobart, giving the Statesmen a chance to repeat in the NEHC against Norwich next week. There were overtime games aplenty, a triple OT thriller, and a series decided by a mini-game at Elmira. Here is the recap for some great playoff hockey in the East.
CCC
After taking out the defending champs from Nichols on Wednesday night in overtime, 4-3, Endicott faced No. 1 seed Salve Regina on Saturday. The game saw 73 shots combined between the two teams, but Gulls netminder Conor O'Brien was outdone by the Seahawks Blake Wojtala in a 1-0 win for Salve Regina. Paul Boutoussov's 20th goal of the season off an assist from Danny Eruzione at 18:55 of the second period was the only scoring in the game, as both goaltenders were outstanding.
No. 3 seed University of New England easily won its quarterfinal game on Wednesday by defeating Wentworth, 5-1, behind a hat trick from forward Ryan Bloom. On Saturday, the Nor'easters won a much tighter game when they ousted Curry, 2-1. Justin Dixon scored in the first period for UNE, while Zachery White picked up his 23rd of the season to tie the game just 21 seconds into the third period. Brett Mecrones scored for the visitors just past the midway mark of the period, and goaltender Ben Churchfield made it stand up for the win.
Salve Regina will host UNE on Saturday for the CCC title.
MASCAC
The final standings and seeds weren't decided until the last regular season game finished play on Wednesday. Worcester State downed Fitchburg State on Tuesday, but needed a win over Framingham State on Wednesday in the replay of a suspended game to leapfrog the Falcons and host them in the quarterfinals on Saturday. After taking care of the Rams on Wednesday, 6-3, the Lancers made home ice count in ousting the defending champions with an opening period blitz of the Falcons. Tim Drevitch, Kyle Hayter, and Nick Patullo scored in the first period as the Lancers outshot Fitchburg State, 19-4. The Falcons closed to within a goal twice, but Drevitch's second of the game closed out the scoring in a 5-3 win. Worcester State will face No. 1 seed Plymouth State on Tuesday night in the semifinals.
Fresh off coach Bill O'Neill's 600th career win, Salem State hoped to make some noise as the No. 6 seed in the playoffs, and the Vikings did not disappoint their coach. In a game that saw four different lead changes, the Vikings took advantage of two goals from Joe Smith and four points (1-3-4) from Ryan Tierney to knock off Massachusetts-Dartmouth, 4-3. Smith's second goal of the game at 16:33 proved to be the game-winner, while goaltender Sean Cleary made 14 of his 25 saves in the third period to preserve the win. Salem State will face Westfield State in a semifinal contest on Tuesday night.
NE-10
St. Anselm and Assumption played the longest game of the week, with the Hawks surviving in triple overtime, 2-1. Despite being outshot 57-32, including 21-7 in the first overtime session, the Hawks finally broke a 1-1 deadlock on Anthony Iacullo's rebound goal just 2:25 into the third extra session. Goaltender Colin Soucy was tremendous, stopping 56 of 57 saves to earn the win and opportunity to host the title game next weekend.
Southern New Hampshire battled St. Michael's in the other semifinal contest with the host Penmen battling for the hard-fought 3-2 win on Artem Efimov-Barakov's goal at 13:55 of the third period. Curt Gutting picked up the win in goal with 25 saves for the Penmen, who will face St. Anselm for the NE-10 championship on Saturday.
NEHC
Seeds one through four survived the quarterfinal round, and while all four teams were nationally ranked, two teams were going to see an abrupt end to their season on Saturday.
To be the champ, you need to beat the champ. Massachusetts-Boston was in that exact position on Saturday, but faced a determined Hobart team unwilling to relinquish their ownership of the NEHC title. Hobart got first-period goals from Dan Sliney and Travis Schneider, and that was all Liam Lascelle would need in goal for Hobart as he made 27 saves in recording a shutout in the 4-0 win. Sliney added another goal in the second period, and Julien Denicourt scored into the empty-net for the final margin.
In a matchup of teams that have seen a lot of each other in playoff games, though not since 2016, Norwich took down Babson, 5-3, on Saturday night. Brett Ouderkirk scored with just 29 seconds remaining in the first period to give the Cadets a 3-2 lead in a fast-paced and offensive showing by both teams. There was no scoring in the second period as things tightened up. Gabriel Chicoine gave the Cadets a 4-2 lead that Nick Rosa quickly erased for the Beavers, but Jordan Hall closed out Babson's season with an empty-net goal that sets up Norwich to host the NEHC championship next Saturday against Hobart.
NESCAC
Trinity took full advantage of goals from Lucas Michaud, Adam Anderson, and Ryan Pfeffer, along with 18 saves from Tedy Loughborough, in a 3-0 quarterfinal win against Tufts on Saturday. Trinity earned the right to host the NESCAC final four and will face Hamilton in semifinal action.
Hamilton was able to repeat its regular season win over Williams in a 4-3 overtime win hosted by the Continentals. Jason Brochu opened and closed the scoring for Hamilton, which need his overtime goal after Marcus Mollica evened the score at 3-3 in the final two minutes of regulation.
Tim Sestak stopped 30 of 31 shots and Wesleyan scored four unanswered goals in a 4-1 win over Middlebury. Tyler Levine, Jordan Rose, Walker Harris, and Tyler Wyatt each scored even-strength goals for the host Cardinals, who will face Amherst in the other NESCAC semifinal on Saturday.
Amherst completely shut down last year's NESCAC champs Colby in a 5-0 win. A four-goal first period, including power-play markers from Noah Gilreath and Pieter von Steinbergs, gave the Mammoths an insurmountable lead, and Michael Cullen stopped 16 shots to earn the shutout win.
SUNYAC
Fredonia traveled to Geneseo hoping to build on the momentum of their Wednesday quarterfinal overtime win against Buffalo State. After ending the first period tied at 1-1, Geneseo blew open their semifinal game with Fredonia with four goals in the second period. Goals from Dan Bosio, Andrew Romano, Tyson Empey, and David Szmyd helped the Knights to a comfortable 5-2 win over the Blue Devils and next week's SUNYAC championship game against Oswego.
Plattsburgh needed a three-goal third period to rally from a 1-0 deficit in their quarterfinal win against Brockport. On Saturday, the Cardinals were hoping for some more late-game heroics, but Oswego would not let their opponents come back. A short-handed goal from Jody Sullivan and a power-play tally from Josh Zizek got the Lakers off to a good start in the first period. Cam Owens cut the deficit in half in the second period, but Joseph Molinaro's goal at 3:32 of the final period proved to be the game-winner for Oswego. Pat Egan scored just 17 seconds after Molinaro to again cut the gap, but David Richer surrendered no more goals, and Oswego will play Geneseo for the SUNYAC title.
UCHC
Manhattanville defeated Lebanon Valley, 5-2, on Tuesday night to earn a semifinal date with Elmira in a two-game series in the new UCHC playoff format. On Friday night, the teams skated to a 2-2 overtime tie with Elmira rallying from a 2-0 deficit in the second period off goals from Matthew Cousino and Nick Ford. That meant Saturday's game would be a winner-take-all if the game could be decided in regulation of overtime. The Valiants took a 2-1 lead into the third period, but Cousino's power-play goal late in regulation tied the score, and neither team could score in overtime. A 20-minute mini-game was required to decide who would advance to the UCHC title game. Manhattanville took the mini-game, 2-1, on goals from Braeden Cross and freshman Alex Rowella to rally the Valiants past Elmira.
Nazareth upset No. 3 seed Wilkes on Tuesday, 5-2, earning a semifinal matchup with Utica. On Saturday night, Utica used goals from Conor Landrigan and Nick Yzaguirre to overcome a goal from Nazareth's Brad Pizzey for a 2-1 first period lead that stood up for the final score. Gianluca Baggetta made 24 saves, including stopping a second period penalty shot in the win. On Sunday's game two of the series, Utica just needed an overtime tie to advance in the conference tournament, while Nazareth needed a win to force the mini-game scenario. After falling behind, 2-0, Gregg Burmaster scored on a power play to close the gap to 2-1. Early in the third period, Burmaster assisted on Daniel Fritz's tying goal and in the overtime session, when Nazareth pulled their goaltender in need of the win, Burmaster again set-up Fritz for the decisive goal in the series. Utica will host Manhattanville in the UCHC final next weekend.
Three Biscuits
Ryan Tierney, Salem State: Tierney figured in all the Vikings' goals in a 4-3 quarterfinal upset of Massachusetts-Dartmouth on Saturday afternoon. Tierney scored one goal and added three assists including a helper on Joe Smith's game-winner.
Colin Soucy, St. Anselm: Soucy was outstanding in goal for the Hawks as he stopped 56 of 57 shots in a 2-1 triple overtime win in the NE-10 semifinals. Soucy was especially great in the first overtime period where he stopped all 21 shots he faced from Assumption.
Jason Brochu, Hamilton: Brochu scored a pair of goals, including the game-winner in overtime, to oust Williams and help the Continentals advance to the NESCAC semifinals.
This week will see the remaining semifinal round games in the MASCAC and NESCAC, and all other conferences will be crowning champions to determine who plays more hockey on a national stage.