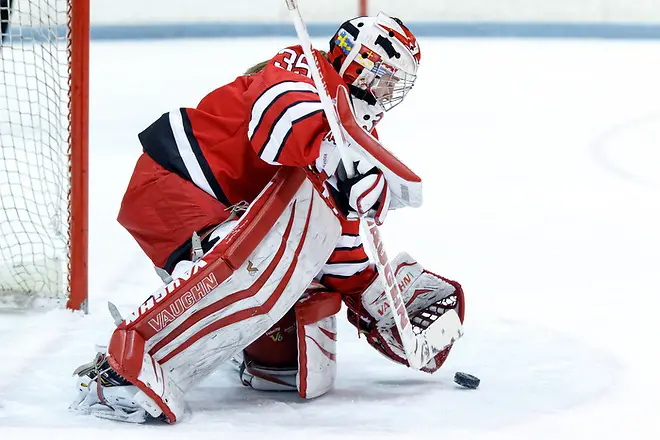 ECAC Hockey announced Thursday the 2018-19 women's All-League Teams and All-Rookie Team.
Seven teams are represented on this year's list, as players from Clarkson, Colgate, Cornell, Harvard, Princeton, RPI, and Yale have all been honored.
The 2018-19 individual award winners (Best Defenseman, Best Forward, Rookie of the Year, Goaltender of the Year, Coach of the Year, Player of the Year, Student-Athlete of the Year) will all be announced at Friday night's championship banquet.
First Team
G: Lovisa Selander (RPI)
D: Jaime Bourbonnais (Cornell)
D: Claire Thompson (Princeton)
F: Loren Gabel (Clarkson)
F: Sarah Fillier (Princeton)
F: Jessie Eldridge (Colgate)
Second Team
G: Lindsay Reed (Harvard)
D: Olivia Zafuto (Colgate)
D: Ella Shelton (Clarkson)
F: Maggie Connors (Princeton)
F: Elizabeth Giguere (Clarkson)
F: Kristin O'Neill (Cornell)
Third Team
G: Kassidy Sauvé (Clarkson)
D: Micah Zandee-Hart (Cornell)
D: Josiane Pozzebon (Clarkson)
F: Michaela Pejzlová (Clarkson)
F: Shae Labbe (Colgate)
F: Carly Bullock (Princeton)
Rookie Team
G: Lindsay Reed (Harvard)
D: Tanner Gates (Colgate)
D: Mariah Keopple (Princeton)
F: Maggie Connors (Princeton)
F: Sarah Fillier (Princeton)
F: Rebecca Vanstone (Yale)