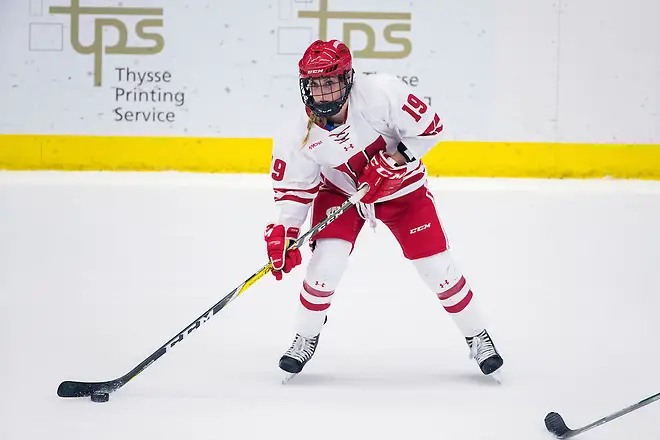 The women's WCHA announced Thursday that Wisconsin senior forward Annie Pankowski is the 2018-19 WCHA Player of the Year.
Pankowski, who was named the WCHA Offensive Player of the Year on Monday, was chosen for the top overall honor by league head coaches and assistant coaches from among a group of candidates that included WCHA Defensive Player of the Year Jincy Dunne of Ohio State and WCHA Goaltender of the Year Kristen Campbell and WCHA Rookie of the Year Sophie Shirley of Wisconsin.
"On behalf of the WCHA, I want to congratulate Annie Pankowski as our 2018-19 WCHA Player of the Year," said WCHA commissioner Katie Million in a statement. "All four of our candidates had outstanding seasons but Annie's all-around contributions were truly exceptional. To be among the nation's top scorers while contributing on both special teams units and serving as a captain for one of the top teams in the country is worthy of recognition as our top player. Congratulations, Annie."
A finalist for both the Patty Kazmaier and Hockey Humanitarian awards, Pankowski became the fourth Badger to earn first team All-WCHA honors three times in her career this season and has led the Badgers on and off the ice throughout her career. As a senior in 2018-19, she tallied 22 points on nine goals and 13 assists in WCHA play and led the league with 132 shots on goal and 6.0 shots per game.
Pankowski enters this weekend's WCHA Final Faceoff as the league's top point-scorer for the full season (league and nonleague contests) with 43 points on 21 goals and 22 assists with a league-leading five game-winning goals in 34 total games. Her 190 shots on goal and 5.59 shots per game also tops the WCHA in all games. She currently ranks in the UW career top 10 for points, goals, assists, shots on goal and plus-minus.
She became only the third Badger in school history to score 20 or more goals in each of her four years in Madison this season, joining Olympic legends Meghan Duggan and Hilary Knight.