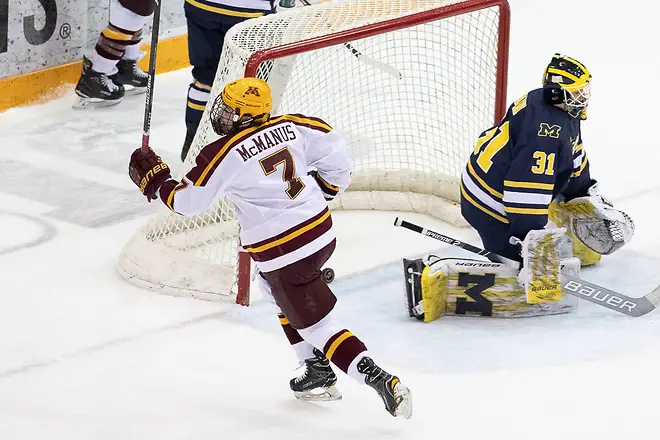 MINNEAPOLIS — The evidence continues to mount that Minnesota is capable of making a deep run in the NCAA Tournament. The caveat, of course, is that the Gophers remain a long shot to qualify.
Faced with the reality of having to win the Big Ten Tournament to get into the NCAA field of 16, the Gophers (18-15-4) completed the first step on Saturday, beating Michigan 4-1 for a sweep of the best-ofthree-game quarterfinal series at 3M Arena at Mariucci in Minneapolis.
Scoreboard  |  PairWise Rankings  |  Longest Games
After winning the opening game in overtime despite never holding a lead, the Gophers opened a 3-0 lead in the first period and were control of the game for a majority of game two. Leading scorer Rem Pitlick had a pair of goals to lead the way as the Gophers won for the seventh time in their last eight games. Five of those wins came against teams in the top 16 of the PairWise Rankings (Ohio State twice, Arizona State twice and Notre Dame).
"We feel we are capable of beating any team in the country when we play our game," Gophers senior captain Tyler Sheehy said.
Prior to the season, opposing coaches were in agreement that Minnesota would be a different team by the end of the season under first-year coach Bob Motzko than the team that started the season, and that has proven true. The Gophers will know soon enough if things came together too late to matter after entering the weekend 20th in the PairWise Rankings.
"There's no question that we've had some down moments," Motzko said. "The thing is, in our league teams beat each other up. But our guys never got down. I think that was a critical piece with our team, to continue to battle through.
"I'm not trying to hide that we had some clunkers. In today's college hockey you're going to get knocked over once in a while. We had to get better, and we did that."
Minnesota opened the season with a win and a tie against defending national champion Minnesota Duluth and also can boast of a sweep at Notre Dame in January. But then there's the loss at home to St. Lawrence in November, the loss at home to Ferris State in December and a pair of losses on the road at Michigan State, the last-place team in the Big Ten, in January.
"We've had some consistency issues but we're playing good right now," Pitlick said. "Hopefully we can carry it on. We know that this is what we are capable of. We're putting it together right now."
Motzko said the biggest difference is that his team is playing smarter.
"At the beginning of the year we were too loose," he said. "Getting beat out of the offensive zone, hanging in there too long. This team is built to score, but you're not going to score every shift. You have to learn to live another day. Get back and play defense. I think the guys have found that balance."
The Gophers knew it would be dangerous to let Michigan get off to a quick start on Saturday after beating the Wolverines 3-2 in overtime on Friday.  Minnesota got the all-important first goal at 5:25 of the first period when Tommy Novak made a power move to the net down right wing to beat Wolverines goalie Strauss Mann from in tight.
Scott Reedy and Pitlick followed with goals in the next 10 minutes. Pitlick gave Minnesota a 4-0 lead late in the second period with his second goal of the game, his 21st on the season. The Wolverines' lone goal came late in the third period.
"They jumped us," Michigan coach Mel Pearson said. "They were ready to play and we weren't.
"At this time of year, when team's are desperate, you can't do that."
Desperation? That works for Motzko.
"They know where they're at," he said of his players. "We get to play again. We use words like, 'let's play good hockey, let's play smart.' Desperate? I'll take it. But we control our own destiny."
Penn State, Canisius and St. Lawrence force game 3 on Sunday
Penn State overcame a 4-3 loss against Wisconsin on Friday with a 6-2 win on Saturday to force a third and deciding game against the Badgers on Sunday.
Similarly, Canisius, which lost a late lead on Friday and then fell in double overtime, relinquished a 3-0 advantage on Saturday but found a way to win in overtime on a Nick Hutchinson goal and live to see another day.
St. Lawrence, the 12th seed in the ECAC, never trailed on Saturday and Zach Risteau's goal at 17:33 of overtime forced a game three against Dartmouth.