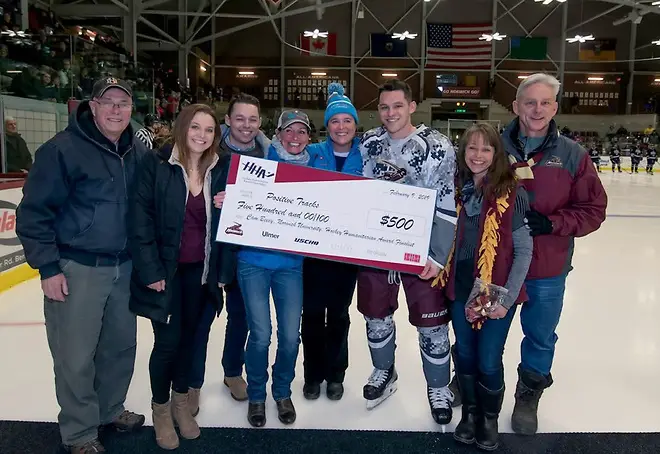 For Norwich senior defenseman Cam Beecy, being named as a Hockey Humanitarian Award finalist is just surreal.
But that is the kind of response one might expect from an Air Force ROTC college student who will graduate in May and begin his training as a military nurse in the Sacramento, Calif., area at Travis Air Force Base.
"It definitely is a bit surreal," Beecy said of his nomination. "It was definitely not expected, and I feel like I have already won just being nominated and being part of something that I love every day. It has been a natural extension of what I love to do as an athlete and what I hope to be doing after I graduate as a nurse in the Air Force. As I have learned through my clinical training, it is not just about helping with the disease state, it is about helping and treating the whole person.
"With Positive Tracks, I get to focus on the whole person in young children and do things through sport to improve their lives and situations."
Whether it has been captaining the Positive Tracks team in the Travis Roy Foundation annual whiffleball tournament, coaching at youth hockey summer camps or finding time as a head coach for a hockey team made up of 12-year-old players in North Central Vermont, Beecy has been driven to change the trajectory of middle school aged kids' lives in his home state.
Read more on the Hockey Humanitarian Award website.