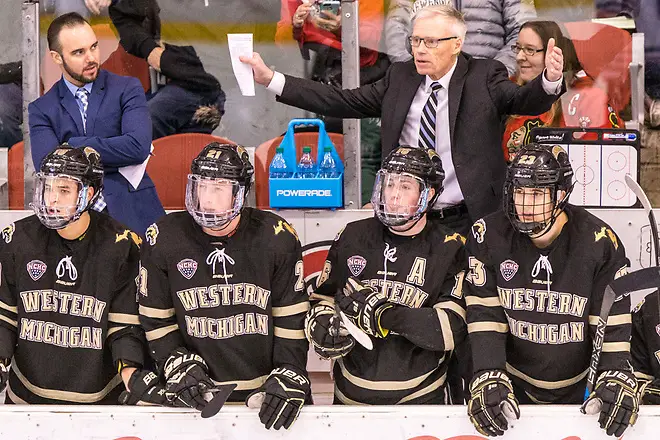 HGTV superfans, look away now: the interior features Andy Murray is most interested in right now have to do with Lawson Ice Arena, not his home.
Western Michigan's hockey facility for the last 45 years has become known as a difficult place to play thanks in part to the Lawson Lunatics student section. The Broncos coach is relying on that being the case again this weekend when WMU (20-13-1) hosts Colorado College (15-17-4) in the first round of the NCHC playoffs.
The school's students get into Bronco regular-season home games for free, but while regulations differ for playoff tickets, there's a twist this weekend in Kalamazoo, Michigan. Thanks to a donor, the first 1,000 WMU students attending Friday's series opener will get in for free. For Game 2 on Saturday, courtesy of Murray, the first 1,000 WMU students through the doors will also get in for free.
Murray, who had 333 wins in 10 years as a head coach in the NHL before coming to Western Michigan in 2011, got colorful during his press conference this week in saying that he holds WMU's student supporters in high regard.
"I go up every night before the game at five to 6 (p.m.) and let them into the building," Murray said. "I've done that since I first got here, and obviously I don't know if my wife is watching this or not, but she was kind of wanting a new kitchen but I'd rather invest in the Lunatics.
"They've meant so much to our program and there's some incentive for them to come Friday night and then I'll pay for them to be at the game on Saturday, and we need them."
Rightly, that line about Murray's kitchen has grown legs.
Respect the decision. See you at Lawson this weekend, @Lawson_Lunatics! pic.twitter.com/1mYMeM6WBE

— WMU Hockey (@WMUHockey) March 13, 2019
Western holds the No. 3 seed in the NCHC playoffs, but the Broncos have had an up-and-down last month and a half.
The Broncos were one of the hottest teams in the country at one point, going on a 10-1-1 tear between Nov. 9 and Jan. 12, but they are an even 7-7 since then. Two of those wins, however, came on the road last weekend when Western swept Miami by a combined 11-2.
Five different Broncos scored in WMU's 5-1 win on Saturday, and Wade Allison had a hat trick in Sunday's 6-1 victory. The junior forward finished the series with four goals and an assist. Senior goaltender Trevor Gorsuch backstopped the Broncos to both wins, making 22 saves each night.
This weekend's opponent could be a tougher out, as WMU and CC split a pair of games only three weeks ago in Colorado Springs. Western's 5-4 victory on Feb. 22 came after the Broncos erased a two-goal deficit in the third period and got the winner 18 seconds into overtime from Hugh McGing. Much of the rematch belonged to CC as the Tigers scored six unanswered goals in the game's final 26 minutes to win 8-2.
Murray knows WMU is again facing a CC team hungry to get to the Xcel Energy Center for the first time since 2013, when the Tigers fell to Wisconsin in the WCHA playoff final.
More recently, CC has had plenty to shout about. Two wins over Denver last weekend saw the Tigers lift the Gold Pan rivalry trophy for the first time since 2014, and Alex Leclerc stopped 56 of 57 shots in the series to earn his second consecutive NCHC goaltender of the week award.
"He gave up one goal in the two wins that they had over a real good Denver team, so (CC is) well-coached team and coach (Mike) Haviland does a great job," Murray said. "They're excited, they're one of the oldest teams in the NCHC and they come in here with eight seniors in their lineup.
"We have a group of guys that know that for us to continue to play this year, we've got to find a way to win two games this weekend. If it happens in the first two, we'll take it. If it means we've got to play on Sunday to get two wins, we'll be ready for it."