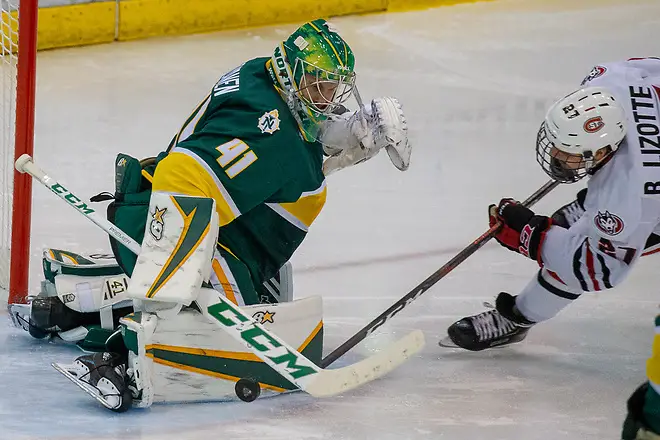 The WCHA on Thursday announced its 2018-19 All-WCHA Teams and All-Rookie Team.
"We've had another exciting season in the WCHA and our student-athletes have once again shown that the talent and skill level of the WCHA is second to none in college hockey," WCHA commissioner Bill Robertson said in a statement. "With eight schools represented on our All-WCHA teams and all 10 institutions well-represented on the All-Academic Team, today again demonstrates the commitment to excellence on the ice and in the classroom that is one of the hallmarks of our league and our member institutions.
"I'm proud to congratulate all of our All-WCHA honorees for their success as students and athletes this season."
The three All-WCHA First Team forwards are now finalists for the 2018-19 WCHA Offensive Player of the Year, the two All-WCHA First Team defensemen are candidates for the Defensive Player of the Year and the seven players (with ties) on the All-Rookie Team are eligible for Rookie of the Year. Those honors will be announced Tuesday, March 19.
First Team
Troy Loggins, F, Sr., Northern Michigan
Diego Cuglietta, F, Sr., Lake Superior State
Marc Michaelis, F, Jr., Minnesota State
Philip Beaulieu, D, Jr., Northern Michigan
Cooper Zech, D, Fr., Ferris State
Atte Tolvanen, G, Sr., Northern Michigan
Second Team
Brandon Kruse, F, So., Bowling Green
Parker Tuomie, F, Jr., Minnesota State
Adam Rockwood, F, Sr., Northern Michigan
Justin Baudry, D, Sr., Bemidji State
Alec Rauhauser, D, Jr., Bowling Green
Dryden McKay, G, Fr., Minnesota State
Third Team
Steven Jandric, F, So., Alaska
Max Humitz, F, Jr., Lake Superior State
Anthony Nellis, F, Sr., Lake Superior State
Connor Mackey, D, So., Minnesota State
Ian Scheid, D, Jr., Minnesota State
Ryan Bednard, G, Jr., Bowling Green
All-Rookie Team
Brian Halonen, F Michigan Tech
Julian Napravnik, F, Minnesota State
Owen Sillinger, F, Bemidji State
Ashton Calder, F, Lake Superior State
Cooper Zech, D, Ferris State
Chris Jandric, D, Alaska
Dryden McKay, G, Minnesota State