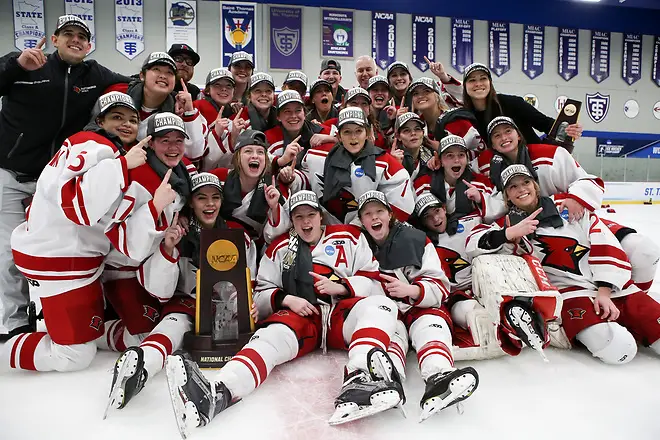 MENDOTA HEIGHTS, Minn. — Plattsburgh State claimed the 2019 national title with a 4-0 win over No. 4 Hamline on Saturday. The Cardinals' scoring came from a variety of players to secure the win. Among them was star senior forward Courtney Moriarty. Moriarty ends her senior year with 20 goals and 22 assists and capped off the national tournament with being named the tournaments most valuable player.
"It's definitely an honor. I couldn't do it without these girls behind me and with Kassi in net keeping it a 4-0 game," Moriarty said about being named the MVP.
Hamline outshot the Cardinals 29-28 and had double the number of power-play opportunities. These statistics coincide with Plattsburgh's coach, Kevin Houle, admitting that although the goal differential was large, the game was much closer than the box score appears.
"Playing for a national championship notably it was obvious that both teams were very hungry," he said. "I thought it was a great game and the score doesn't reflect the closeness of the game. It could have been a lot closer if we didn't have 29 (Kassi Abbott) here in net".
Goaltender Abbott and the Cardinals posted just the second shutout in the history of the NCAA Division III Tournament championship game. Abbott was required to make some huge saves, especially on a series of penalty kills, to keep her team in the lead and the Pipers scoreless. When asked about making those saves, the senior gave a humble response.
"I just have great teammates in front of me and I wouldn't be where I am without them," Abbott said. "All year they did the same thing. This was just another penalty kill and another game for us."
Abbott also commented on how saves she made throughout the game impacted her team and the game.
"I think of each shot is just a shot and I saved it," she said. "They (Hamline) could get deflated by the saves I guess but it just pumps my team up."  
Houle also gave credit to Hamline's well-known offense and said, "They are a very aggressive team on the forecheck." Houle said multiple times that his game plan for his team was to play their own game and trust their process.
"Our goal is to come out and play the game in their zone and play our game," he said.
Houle said he gave thought to the Twin Cities giving Hamline a home-ice advantage coupled with a larger crowd rooting for them.
"I mean that was our thought process we just can't get back on our heels," Houle said. "We can't let them get a goal early on and let them get their crowd behind them."
Plattsburgh State's program is in the midst of celebrating its seventh national title with its fifth in just six years. The Cardinals tied the program record with 29 wins this season and concluded their 18-game winning streak this year. Plattsburgh closes the 2018-19 season 29-2-0.