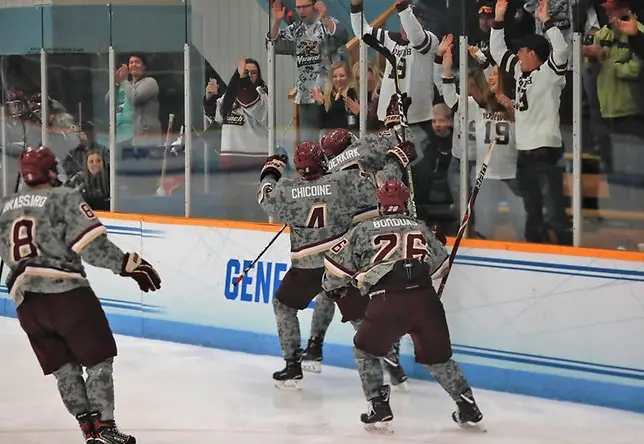 STEVENS POINT, Wis. — Norwich's special teams were middle of the pack in the Division III men's hockey rankings throughout the regular season.
But Friday was a different story.
Maxime Borduas and Brett Ouderkirk both had a goal and an assist on the power play as the Cadets dominated special-teams play to down Geneso 4-2 in a Division III men's hockey national semifinal at K.B. Willett Arena.
Norwich (23-4-3), which has a 19-game unbeaten streak, advanced to the title game for the second time in three years.
"I was actually pretty satisfied at Christmas at 6-4-1, given our schedule and a lot of injuries," Norwich coach Cam Ellsworth said. "There were some people who might have been a little concerned but our leadership (on the team) was able to rally our guys and take out a lot of noise and distraction and just worry on getting better."
Norwich not only went 2-for-3 on the power play and killed all four opportunities that a high-powered Geneseo squad had with a man advantage.
"They are a really high-skilled team so we didn't want to let them set up," said senior defenseman David Robertson of the Norwich penalty kill, which entered the weekend ranked 33rd in the nation. "We had a huge big blocks and just stayed aggressive (on the penalty kill) and didn't let them do what they wanted to."
Tom Auburn had 18 saves and carried a shutout into the third period for the Cadets, who won the title in 2017.
Geneseo beat Norwich 3-2 in a national quarterfinal in 2014 in the only other meeting between the two programs.
Devin McDonald had 20 saves for the Knights (23-4-3), who had a 23-game unbeaten streak snapped.
Borduas' power-play goal just over four minutes into the third period gave Norwich a seemingly-comfortable 3-0 lead. But Geneseo quickly answered with a pair of goals in a span of 61 seconds to make it a game.
Henry Cleghorn scored off a scramble at the 5:59 mark, and teammate Carson Kelley then picked up a rebound in front of the Cadets net.
Robertson put the game away with an empty-net goal with a 28.6 seconds left – a shot which he released deep in the Norwich zone, banked high off the glass near the Cadets bench and slid all the way down the ice.
"I'm not sure about puck luck there, [but] that was a nice shot," the senior defenseman joked. "I might take that piece of glass home after this and hang it up on the wall."
Geneseo entered with a power play clicking at a nation-best 29 percent (40-for-138) but managed just two shots on net with a man advantage.
"I think 5-on-5, we played a really good game but special teams tonight was kind of a disaster for us," Geneseo coach Chris Schultz said. "We couldn't get our power play going. We lived by that all year and tonight was a different story. Ice conditions played a role in tonight's game unfortunately. We would make the right move finally on the power play and the puck would bounce, so it was kind of difficult to get anything going. Then Norwich capitalized on a couple of opportunities. We lost the special teams battle and that is why we lost the game."
Norwich converted on its first power-play chance at the 6:30 mark of the second period to take a 1-0 lead. Boudras dropped a pass back from the left side of the Geneseo net and fellow freshman Ouderkirk converted.
"I was open in the slot and yelling for the backdoor (pass) from Max there and he put it right on my tape," Ouderkirk said.
McDonald angrily shoved the net away after the goal as he felt the net had come off its mooring before the shot.
"It was off by four inches. It's pretty frustrating," McDonald said. "I think it's embarrassing they don't have drill-in pegs for the (tournament). It cost us a goal. I'm not saying that (Norwich) didn't deserve to win. They dominated us on the (special teams), but if that is the way I'm going to end my college career, it's pretty frustrating."
Colby Downs gave Norwich a 2-0 lead just over seven minutes later as the sophomore collected a rebound to the right of McDonald off a shot from the left point. Borduas then took a centering pass from Ouderkirk.
It turned out to be the game-winner as the Cadets held on against the fast-closing Knights.
"We have gone through a lot of different scenarios in games on our road here," Robertson said. "We've had close games and last weekend were in an overtime game. We don't really get phased when we get scored on – it's going to happen and is part of the game. We just stayed composed and got back to what we were doing."