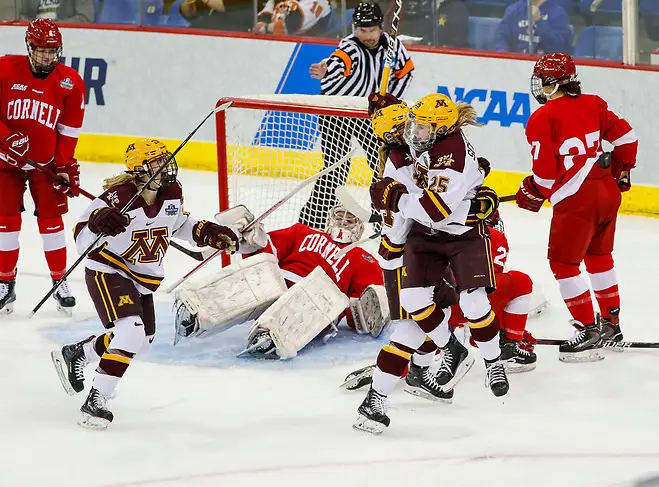 HAMDEN, Conn. — The Minnesota women's hockey team will play for their seventh NCAA title on Sunday as they advanced to the championship game with a 2-0 win over Cornell Friday.
Senior Nicole Schammel put the Gophers on the board midway through the second with a power-play goal that would prove to be the game-winner.
"It was really exciting. I was just hoping someone scored. To be the one to get it is pretty special," said Schammel.
Minnesota is second in the country on the power play and has now converted 26 of their 100 chances on the season.
"Any time you can be playing on the very last day of the season it's a special moment and special opportunity," said Minnesota coach Brad Frost.
Junior Sarah Potomak added an empty-net goal with 32.4 seconds left to secure the win.
The Gophers are team that tends to wear teams down with their speed, depth and scoring prowess. They dominate in time of possession and just plain out-score everyone.
That wasn't the case on Friday.
Frost said he knew his team would have to adjust for a Big Red team that is particularly good through the neutral zone.
"We wanted to defend well, especially against their first line. They're so dangerous on the rush. Our team could care less if it's 1-0 or 5-4, but we just knew we had to defend today. As we saw today, one goal is enough," said Frost.
Minnesota blocked 30 shots in the game. Junior Patti Marshall led the Gophers with six blocks while senior Sophie Skarzynski added five. It was a total team effort that Frost said he was excited to see from his team.
The Gophers return to the championship game after failing to advance past the quarterfinal round last year. Half the roster has never played in a Frozen Four.
"It's so hard to get to the Frozen Four and then it is so hard to get to the last game. It's really, really hard. When you get there, it's such a reward just to get to that game," said Frost.
Cornell finishes their season with a 23-6-6 record. It was an up-and-down season for the Big Red but AHCA Coach of the Year Doug Derraugh was happy with how his team shut down a normally prolific offense.
The Gophers average 37 shots on goal and 4.3 goals per game, but Cornell held them to just 27 shots and the two goals.
Managing the Gophers was an important focus for the Big Red heading into the semifinal, said Derraugh.
"We had two options as coaches going into this — we could either do what we've always done, but knowing the way that they play, we were concerned about their offensive capabilities. In the end, we decided to do what we always do and we thought we did a good job of it today. We came in trying to have as aggressive mindset as we possibly could, understanding that we had to be smart about it. I think,, overall we managed the puck very well. We played the way we played all year long, which is aggressive defense. It starts with managing the puck, [and] that wasn't always perfect today, but was clean for the most part," he said.