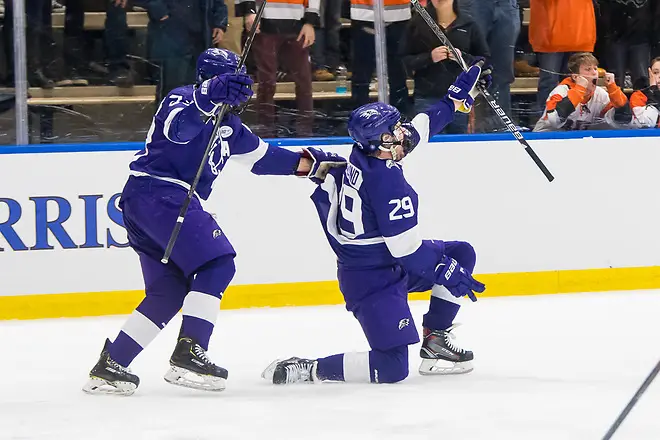 BUFFALO — Niagara freshman Ludwig Stenlund's goal 7:03 into overtime broke a scoreless tie between the Purple Eagles and Rochester Institute of Technology Tigers in the second semifinal of the Atlantic Hockey tournament.
Stenlund, who was named the league's Rookie of the Year the night before, took a feed from Johnny Curran, made a move in the slot, and then beat RIT goaltender Logan Drackett between the legs for the game-winner.
"Honestly, I don't remember what happened," said Stenlund. "I got the puck from Johnny Curran, and the goalie was kind of far out so I tried to make a move and put it through his five-hole. Luckily, it went in."
"You saw (Stenlund's) poise tonight," said Niagara coach Jason Lammers. "A lot of guys would just fire it at the net, but he took a breath and made a play."
"When he got the pass, it looked like he was going to shoot," said Drackett. "I kind of went down, and extended my left leg."
"A good player is going to five-hole there, and he snuck it through. You never want to give up a goal like that, but good player, good move."
Purple Eagles goaltender Brian Wilson stopped all 32 RIT shots for his second shutout of the season. Drackett finished with 26 saves for the Tigers.
Niagara, the sixth seed, advances to face top seeded American International in the AHA championship game, with the winner advancing to the NCAA tournament.
The Purple Eagles have defied expectations all season. Picked to finish in last place in the coaches and media preseason poll, Niagara won series with Canisius and then Air Force to get to the semifinals. In six playoff games so far, four have gone to overtime.
"It seems like we've been in overtime every game in the playoffs," said Wilson. "We've done it so many times, it seems like it's not even stressful anymore."
"For a 0-0 hockey game, it was a really good game," said RIT coach Wayne Wilson. "It wasn't a defensive struggle. There was a lot going on.
"Our offense had some really good chances tonight," said Lammers. "And obviously we got the last one."
There were only three power plays in the game. RIT's one and only came with 36 seconds left in regulation and carried over into overtime. The Purple Eagles were able to kill it, and then eventually won it on Ludwig's 23rd goal of the season.
"Our guys have believed in ourselves all year," said Lammers. "What I love about this group is we're humble, and we're hungry."