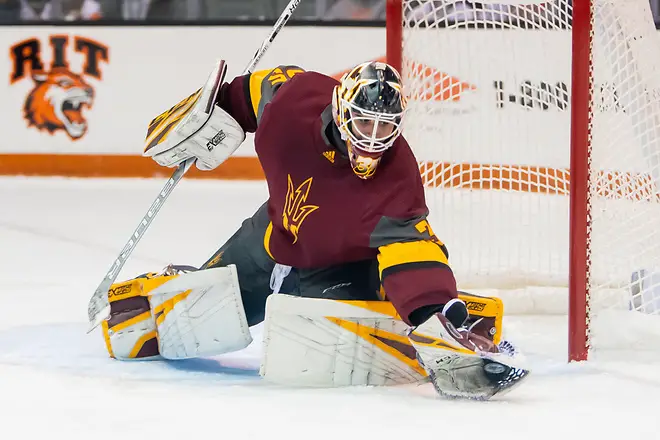 Arizona State has surprised more than a few people this season.
The nation's lone NCAA Division I men's hockey independent has won 21 games, and swept no less than nine opponents so far this season. The Sun Devils are also among the national leaders in goals per game (3.18), penalty minutes per outing (14.97), and penalty-killing percentage (86.4), and boast one of the nation's top goal scorers in Johnny Walker with his 23 tallies.
The foundation, though, has been in net, with a Boston-area transplant that has backstopped ASU to a top 10 national ranking. Thanks to Joey Daccord, the 10th-seeded Sun Devils are also the first true independent to make the NCAA tournament since Alaska Anchorage's trifecta from 1990 to 1992, and will now face No. 7 seed Quinnipiac in the NCAA Midwest Regional in Allentown, Pa.
Never mind that ASU hasn't played an actual game since suffering a sweep of its own at Minnesota on March 1-2. Opposing schools were subsequently embroiled in their conference races, which left the nation's lone independent without any formal competition.
"It's a unique situation, having a full month off," said Daccord, several days before the NCAA tournament selections were unveiled on Sunday. "We've just tried to do our best to stay focused, and I think we're doing a good job."
The Sun Devils sat 10th in the Pairwise Rankings as of March 21, and have earned their first national tournament invitation since the former club powerhouse transitioned to the NCAA Division I level in 2015-16.
"We'll all be ready to go, and the time off will not affect us," added Daccord, a junior from North Andover, Mass., who has gone 21-12-1 with a 2.36 GAA through 34 outings, and is also tied for the NCAA lead with seven shutouts.
Daccord, who settled on a career between the pipes while he was still in high school, comes from a family replete with goaltending genes. His father, Brian, tended net for Merrimack in the 1980s and went on to a seven-year career in the Swiss league before becoming a goaltending consultant to the Boston Bruins, Germany's Adler Mannheim, and currently, the Toronto Maple Leafs. His younger brother, Alex, 19, is a goaltender at Phillips Andover Academy, while Daccord himself prepped with North Andover High School, Cushing Academy, the Boston Jr. Bruins, and the USHL's Muskegon Lumberjacks before enrolling at ASU.
Daccord, also a semifinalist for the Mike Richter Award, has not only been the Sun Devils starting goaltender this entire season, he's pretty much been the only netminder for ASU, save for an eight-minute stint at Cornell in January where freshman Evan Debrouwer got to man the crease.
"Joey has been one of three very important pieces for us," said ASU head coach Greg Powers, himself a former Sun Devil goaltender during the club days. "We have, what we think, is the best goalie in the country, along with the leading goal scorer, and one of the leaders in plus-minus (Brinson Pasichnuk). When you have those three things, you should win over 20 games, and we did."
One of those 20-plus wins came early on at Penn State in November, where Daccord stopped 40 shots in a 4-3 triumph to gain a two-game series split with the Nittany Lions.
"We beat them in overtime," recalled Daccord, who called it one of the biggest wins of the year for his team. "We thought we had them that Friday, but we didn't have a good third period. Saturday we found a way to win, in one of the toughest places to play in college hockey, and confidence-wise we felt we could play with anyone."
As for himself, his most memorable games of the season so far hit a bit closer to home, even if they were both played in Arizona in January.
"For me, it was hosting Boston College," admitted Daccord. "We beat them twice, and it was really special to me."
More memorable moments came for him later that month back home in Massachusetts, when Daccord backstopped the Sun Devils to a split at Boston University.
"I had over 70 people at those games, in family and friends," he recalled. "North Andover High School actually played a game and then took a team bus to our game, and it was a really special weekend. I tried to take it all in, and it was really special to get a win and a shutout the second night, for sure."
Daccord has made 40 or more stops in a contest five times this season, winning four of those outings. He has made 40-plus saves no less than 16 times in his college career, including three efforts of 50 saves or more since he first took the ice in Tempe. After playing most of his formative hockey in New England, it wasn't a tough sell for him to head west where it's warm for the winter.
"I took a lot of unofficial visits," he recalled, ticking off a list that included BC, Merrimack, Quinnipiac, Clarkson and St. Lawrence. "I came down here for a visit, and it was an incredible place to live. I got along with Coach Powers, and what he wanted to do, which is 'Be The Tradition.'"
Daccord, who holds citizenships in the U.S., Canada and Switzerland, and can also speak German and Swiss German, believed the Sun Devils are more than living up to that credo.
"I feel we're doing well, building a program and a foundation," he said, "and it's really cool being a part of that."
So is needling your old teammates during the dog days of winter that invariably arrive in Canada and the northern U.S., while you're skating out in the desert.
"I've tried to convince them to come down and visit me," he chuckled. "They're jealous of the weather and the lifestyle, and I make sure to let them know when they're having a snowstorm and freezing that it's 75 degrees and sunny here."
A seventh-round draft choice of the Ottawa Senators in 2015, Daccord said the NHL club hasn't put any undue pressure on him while he's plied his puck-stopping trade in college.
"Ever since I was picked, they've done a good job of keeping in touch with me," he said. "They make sure to help and support me, and it's been pretty much the same as always."
With the Sun Devils now headed to the national stage to receive even more attention, he said it's still business as usual for the upstart squad from the Copper State, even if it's their inaugural invitation to the NCAA's big dance.
"Every team's goal is to win the national championship, and that's always been our goal," admitted Daccord. "It's hard being an independent, because you need an at-large bid, and if you have a bad start there's no way to recover. After we had a good start, we kind of readjusted our focus. We had a good record after 10 to 12 games, and we were high in the Pairwise."
ASU kept up that standing, and now it'll get its chance when it faces Quinnipiac at the PPL Center. The Sun Devils recorded a 2-2 tie and a 5-3 loss against the Bobcats in Arizona last season, with Daccord making a total of 58 saves.
"We've set our sights and upped our intensity, and we thought we could do something special," added Daccord. "We're really looking forward to it. We're just trying to stay focused and stick to the process and do the right things. We'll play our game and do what we have to, to be successful."
They'll find out starting Saturday night in eastern Pennsylvania.