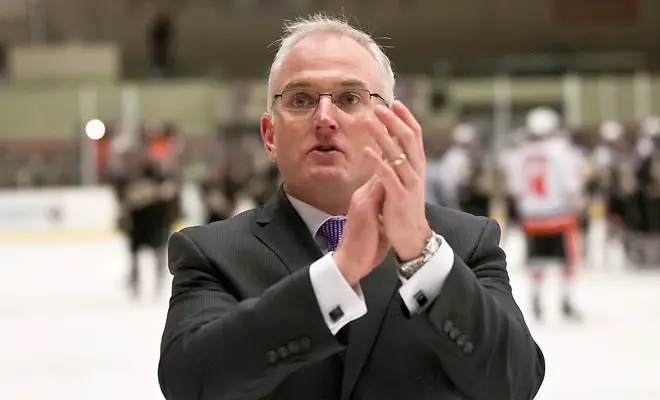 Miami announced Friday that Chris Bergeron has been named the sixth head coach in RedHawks history.
Bergeron, a 1993 Miami graduate who played on the school's first conference championship team and NCAA tournament qualifier that same year, has been the head coach at Bowling Green for the past nine seasons.
He replaces Enrico Blasi, who was fired on March 19.
Under his guidance, the Falcons went 171-154-44 and made the NCAA tournament this season for the first time since 1990.
"I would like to thank President Crawford, David Sayler and Steve Cady for all of their support through this process and for the opportunity to be a part of Miami Hockey again," said Bergeron in a statement. "Janis, our boys and I are extremely excited to be returning to Oxford. Miami University holds a special place in all of our hearts.
"We are looking forward to starting this next journey in our lives."
Bergeron took Bowling Green to two WCHA tournament finals in the last three years. This past season, the Falcons finished 25-11-5, a record that represented the program's most victories since 1994-95 and its first postseason berth since 1989-90.
Bowling Green won a mere five games the year before he arrived on the bench and had not enjoyed a winning record since the 1996-97 campaign, but that changed in 2013-14 when the Falcons went 18-15-6 in Bergeron's fourth season. The Falcons then took a jump from there, posting 20 or more victories in five straight seasons, going a collective 114-66-24 in that span.
"On behalf of my family and myself, I want to say a very sincere 'thank you' for the last nine years," Bergeron said in a BGSU news release. "Your unconditional support from our early rebuilding years to the turnout last Saturday in Allentown has meant more to me than you will ever know. The last few days have been very difficult for me because President (Rodney) Rogers, Bob Moosbrugger and Jim Elsasser stepped up and showed their commitment to Falcon hockey. Having to choose between two places that I love dearly has been the toughest decision I have ever had to make. Thank you for allowing me to be part of this program that means so much to all of you.
"We are extremely proud that we are leaving the program better than we found it."
Prior to taking the Bowling Green job, Bergeron was an assistant at Miami for 10 seasons.
Bergeron played at Miami from 1989 to 1993 and was a two-year team captain. As a senior, Bergeron scored a team-high 61 points on 21 goals and 40 assists. He earned a bachelor's degree in education from Miami.
He then spent seven years playing professionally in the AHL, ECHL, IHL and CHL before returning to Miami as an assistant coach. Bergeron also has coaching experience at the professional level, having served as a player/assistant coach with the UHL's Port Huron Bordercats for two seasons.