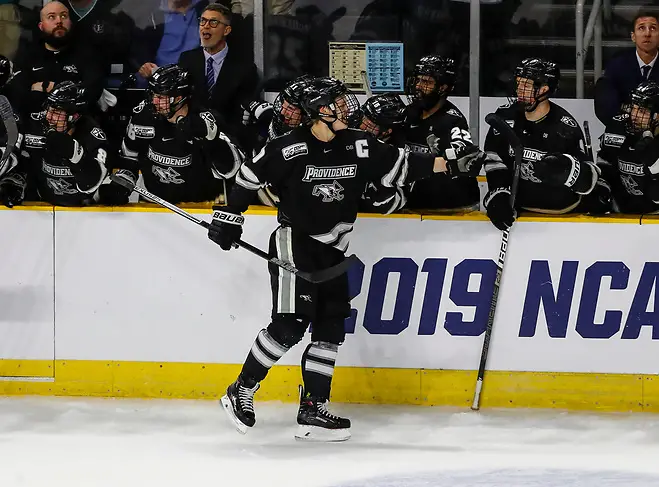 In the third Frozen Four preview, Providence, national champions in 2015, has a history of consistency on its side as the Friars find themselves in the NCAA tournament for the sixth straight season.
PROVIDENCE
Season record: 24-11-6
How they got to Buffalo: Beat Minnesota State 6-3; beat Cornell 4-0 to win the East Regional
Top players: Forwards Josh Wilkins (19-26-45), Jack Dugan (10-29-39), Brandon Duhaime (11-22-33), Kasper Bjorkqvist (17-13-30), defenseman Jacob Bryson (4-23-27)
Top goalie: Hayden Hawkey (24-11-5, 1.87 GAA, .920 save percentage)
Why they will win the national championship: This team is built for the postseason with a lot of depth and the ability to make adjustments. Their power play was deadly in the regional and could be a major factor again in Buffalo.
Why they will not win the national championship: Slow starts and goaltending. Both have hurt this team at times. Coach Nate Leaman has said through the season as goaltender Hayden Hawkey goes, so too does the team. But slow starts plagued this team in the Hockey East quarterfinals and nearly were the dagger against Minnesota State when the Friars fell behind, 3-0. Comebacks this time of year are difficult.
The term "déjà vu" is often one a coach doesn't exactly love to hear. It's usually reminding them of something negative from the past.
For Providence coach Nate Leaman, right now déjà vu is a welcome phrase.
The East Regional in Providence may have felt like a déjà vu moment.
As was the case four years earlier, Providence had been eliminated in a Hockey East quarterfinal series and had to sweat out whether or not the team could qualify for the NCAA tournament until the final night.
Then, just like 2015, the Friars were a number four seed but was placed in the Providence regional to help attendance, giving the feeling of a home-ice advantage.
The Friars then capped that déjà vu experience by winning the regional and advancing to the Frozen Four.
Now Leaman and his club would like to keep those familiar feelings going and, just like in 2015, win the national title.
To get to this point, Leaman and his staff have built a program that has a level of consistency. This is Providence's sixth straight NCAA tournament appearance.
That, says Leaman, is a combination of both recruiting and development.
"You're constantly trying to recruit the right guys," said Leaman. "When you get into camp, it's your job to continue to develop them, to get them to this level and make them better individually and as a team working as a group of five.
"I think the hardest thing is to sustain the success. Once you win the national championship, you're trying to sustain it and that's equally as tough as trying to build it.
"There are times in the past 3-4 years I wanted to pick up the phone and call Jack Parker or call Don Lucia or call Dick Umile, a lot of the great coaches who have been able to sustain it, because you realize just how difficult that is to do."
Many in the business refer Providence as one that is built for the postseason. Leaman agrees with that statement and helps further define what it means to him.
"You have to be able to play any style at any time in the tournament," said Leaman. "You have to be able to score multiple different ways.
"When we were fortunate enough to win the national championship in 2015, we led the tournament in scoring. At this time of the year, you're playing to win and very much hoping that the lessons that you learned throughout the year as far as growth and toughness and mental toughness and developing the scoring and developing the defending, you hope you've developed your team the right way."
Going into the regional, many of Providence's players kept repeating the same mantra, that their team had yet to play its best game. The 4-0 win in the regional final over Cornell certainly looked to the naked eye like a pretty perfect game. But Leaman still isn't ready to say that is his team's best effort.
"It was close," said Leaman. "We played some really good games this year and we didn't win the scoreboard in those games. [The regional final] was one of the better games we played and we won the scoreboard."
While there are plenty of offensive weapons to watch for on Providence, one of the unheralded stars who flies under the radar is defenseman Jacob Bryson, a Buffalo draft pick who will be on display on an ice surface he hopes to soon to be developing his NHL career.
In the opening game of the regional as Providence tried to dig itself out from a 3-0 deficit against Minnesota State, Bryson's name might not have ended up on the scoresheet too often (just one assist) but he was a big part of moving the puck for the Friars and was on the ice for all six of his team's goals in the 6-3 come-from-behind victory.
"Jacob Bryson is a Buffalo draft choice," said Leaman, "so hopefully, there's some great connections there and hopefully we can get the Buffalo people rooting for us."
One major question mark heading into the regional will be forward Kasper Bjorkqvist. Second in goals on the team, Bjorkquist awkwardly locked his arm over a Cornell player and sustained an injury that forced him to miss the final 16 minutes of the regional final. If he is absent, that will be a tough hole to fill for this Friars team.
Regardless, the Providence team is hoping to repeat the history it made in 2015. If they do, it will be like déjà vu all over again.