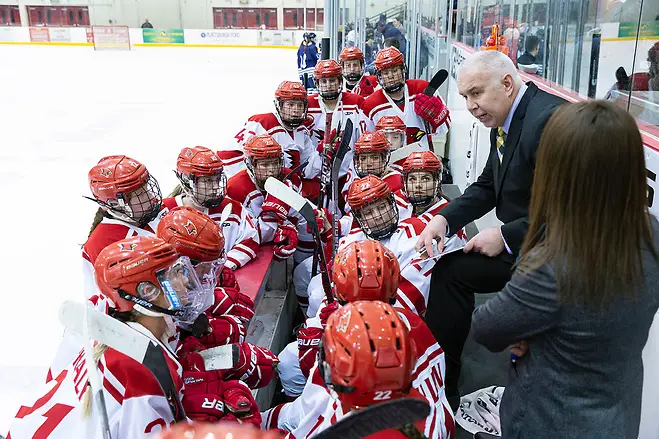 After collecting his seventh national championship, and fifth in the last six years, coaching his team to more victories than any team during 2018-19 season, and continuing the program's legacy, Plattsburgh's Kevin Houle is our USCHO D-III Women's D-III Coach of the Year.
Plattsburgh concluded one of the program's best seasons yet with a convincing win in the national championship game over Hamline, 4-0. Houle and the Cardinals not only finished the year with a national championship trophy, but also finished first in team offense, team defense, and first on the penalty kill, statistically.
This is Houle's 16th season as head coach of the Cardinals, and the program has achieved at least 20 wins every season under Houle's leadership. This season proved to be no different for his program, as the Cardinals finished 29-2.
Earlier in the year, Houle was asked about his roster being mostly underclassmen. Houle said it's the nature of the game and that the women mature at the collegiate level. Under Houle's guidance, sophomore Annie Katonka continued to flourish from her rookie year. This year, Katonka earned All-American status, proves again that Houle has a knack for developing players. Along with Katonka, Courtney Moriarty, Kassi Abbott, and Hannah Kiraly earned All-American honors this year.
Houle's confidence and belief that his program and facilities are second to none is and will continue to be the driving force behind this program. It's clear to see in games that the players work to execute the game plan that Houle has drawn up for them, and if it fails once in the game they don't stray from the script. This discipline that Houle instills in his players comes from his passion and dedication to not only the game, but for his love for the program as well.