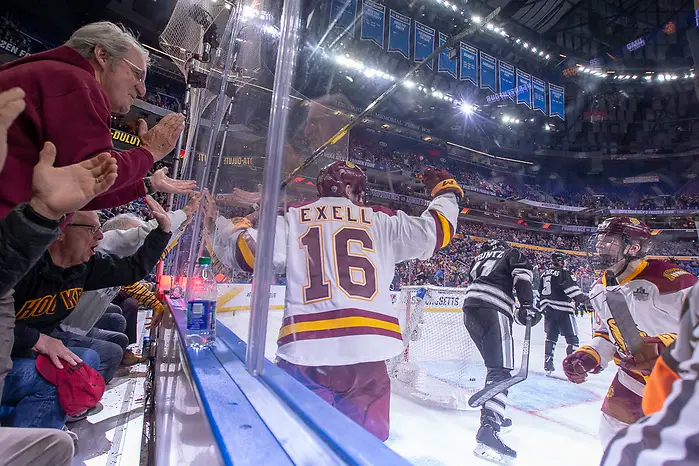 BUFFALO, N.Y. — On a team that's used to being in the limelight — three straight trips now to the national championship game — Billy Exell usually finds himself outside of that limelight.
To be sure, he's a senior alternate captain and a leader on the penalty kill, but penalty killers rarely show up in the headlines. Heading into the postseason, Exell, a fourth-liner, had accumulated a grand total of one goal and two assists.
Not the guy you'd expect to score the third-period game-winner to propel Minnesota Duluth to a 4-1 win over Providence on Thursday and another title game.
Yet, just a few weeks earlier, he had scored the tying goal in the NCHC championship game, leading to a win over St. Cloud. And here he was again, scoring the biggest goal on the biggest stage. Exell also had "scored" a first-period goal that was disallowed because the whistle had blown.
"If you look at our team, we're built with balance," Duluth coach Scott Sandelin said. "We have been for a lot of years. Every guy on our team has an importance and a role.
"Billy has turned into a real good penalty killer for us because of his speed. He creates a lot of things through his speed. I'm not a big offensive numbers [guy]. Every player has a value on our team.
"You love it when [role players] step up, especially your seniors, especially your leaders, to create these moments."
Ironically, while on a third-period penalty kill with the game still tied, Exell was forced to take a penalty that gave Providence a 5-on-3, 1:18 advantage that could have easily proved fatal for Duluth's hopes to advance.
"I just saw their guy break to the net," Exell said. "I was going to do anything I could to stop him, not let that shot get off. [But] obviously, you don't want to let them get a two-man advantage there.
"In the box, Tanner [Laderout, who took the first penalty], and I were stressing a little bit. We were yelling even though they couldn't probably hear us, [but] our penalty kill did a great job of killing it off."
Appreciative of Exell's hard work outside the limelight, his teammates got extra satisfaction from him scoring the decisive goal (before two empty-netters).
"Bill has come up pretty huge a bunch of times this year with some big goals," Justin Richards said. "It's awesome having an older guy playing the role he plays, to come up with some big goals like that. It's really awesome to see."
So is advancing to the national championship game for a third straight season.