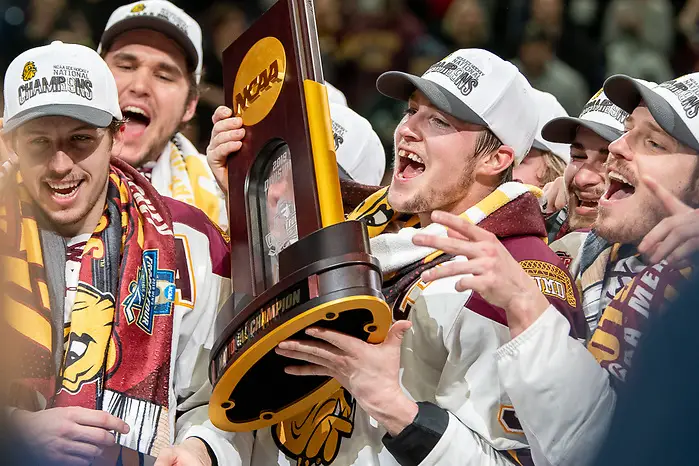 BUFFALO, N.Y. — With surgical precision, Minnesota Duluth put forth a dominating performance in the championship game of the Frozen Four and with it earned its third national title in nine years and second in a row with a 3-0 win over Massachusetts on Saturday at KeyBank Center.
Hunter Shepard stopped all 18 shots he faced in a game that the Bulldogs dominated from the opening faceoff.
The Bulldogs entered the game as the battle-tested team on the NCAA stage as opposed to a UMass team that was appearing in its first national title game. Right from the opening faceoff, that showed. Duluth won the game's first six faceoffs, took the game's first seven shots and had a 1-0 lead before UMass had even attempted a shot on goal.
"[The start] was great," said Bulldogs coach Scott Sandelin. "Our team going into tonight hadn't played our best game. We really had to emphasize the start. We do all the time. Guys were certainly ready. It goes into the [dressing] room and our captains had our guys ready, making sure guys were really dialed in."
Besides just the start, Minnesota Duluth also was dominant possessing the puck and won so many of the battles along the boards. That was a major difference maker in not just generating offense but also stifling UMass on the defensive side.
"They're a big, strong hockey team and we knew that," UMass coach Greg Carvel said. "I'm not sure why we weren't our normal selves tonight, and it's probably because of Duluth.
"We have some guys on our team who are big and heavy and compete and create offense through that, and it just wasn't there tonight."
In the Bulldogs' dominant start to the game, it was the power play that cashed in early. Captain Parker Mackay finished off a pretty cross-seam pass from Mikey Anderson on the power play by roofing a backhander over the blocker of Filip Lindberg at 3:51.
Mackay finished the game with a goal and assist and was named the Most Outstanding Player for the tournament.
Although the middle frame was a bit more balanced, Duluth continued outworking and outbattling the Minutemen. Late in the frame, it extended the lead with the goal that proved to be the turning point.
After winning an offensive-zone draw, the UMass defense lost track of Anderson, who took a pass from Mackay, walked right down Broadway and fired a shot under the crossbar at 15:48 to give the Bulldogs a 2-0 advantage.
"Off the draw, the puck came out [to me] and I just tried to throw it back down low because I saw [the UMass defender] coming out," Anderson said of the goal. "He finished his hit and it was a good hit by him; I fell back.
"So I think he went into the zone and realized I was going to be out of the play. Parker was coming up the boards and he made a great play and I just tried to find a hole. I just had to put it upstairs."
The 2-0 lead may have well been 10-0 with the way the Bulldogs defense was dominating. In the game's final period, UMass got six shots on goal but not one was a deemed a Grade-A chance according to the official statistics. A late Jackson Cates goal put the game on ice officially.
"That second goal was a big goal," said Sandelin. "You get that feeling. We've been in that situation and we've been a pretty good shutdown team. Obviously, we took some penalties that could have negated things but out killers were outstanding all night. And guys just had that feeling.
"Tonight was probably one of the best games we played, for sure, and it couldn't have come at a better time."
The loss for UMass likely ended the career of one of its most prolific players, Hobey Baker Award winner Cale Makar. Despite having two additional years of eligibility remaining, Makar is expected to sign with Colorado in the NHL soon and could even be in the lineup by Game 3 of the Avalanche's first-round playoff series.
Carvel admitted he doesn't expect Makar back and spoke fondly of the player who put UMass hockey on the map.
"He could've gone anywhere and he could've done anything, but he stayed loyal to his commitment to UMass," said Carvel. "The thing that I love about Cale is that he never made you feel like you had to feel grateful that he was playing for UMass. It's genuine. He didn't look at UMass as a steppingstone that he was going to fly by. I give him so much credit because he did everything absolutely right, every last part of it."
Minnesota Duluth became the first team to win back-to-back national titles since Denver accomplished the feat in 2004 and 2005. And Sandelin became just the 10th NCAA coach to win at least three championships.
"I've had great players," he said. "I've had a great coaching staff and support staff, which makes my job easy. I'm very fortunate. We recruit good kids that want to come to Duluth and buy into what we're all about."