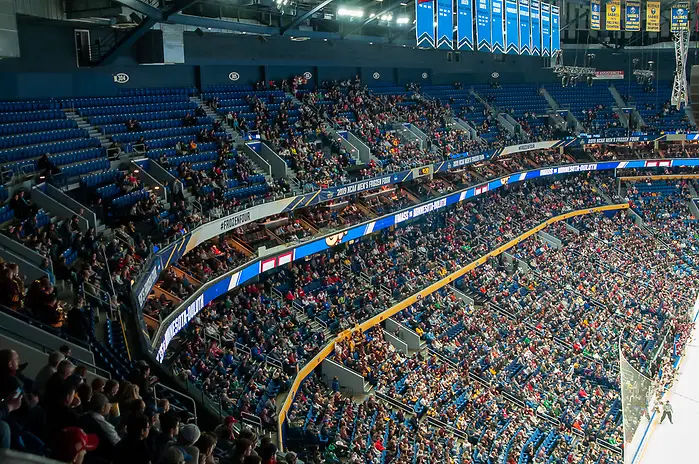 BUFFALO, N.Y. — KeyBank Center can hold 19,070 but there were only 13,624 on hand to watch Saturday's national championship game between Massachusetts and Minnesota Duluth. The NCAA released attendance for Thursday's semifinal games as a single number and that number was lower at 13,051.
A city that supports NHL and NFL franchises, International League baseball, an NWHL women's hockey team, professional lacrosse and men's and women's soccer, Buffalo looks like a place where people would come out for an event like the Frozen Four. The attendance this year, however, is the lowest that it has been since the 2001 Frozen Four in Albany, N.Y., which was a sold-out crowd of 13,252 in Pepsi Arena.
Last year in the Xcel Energy Center in St. Paul, Minn., the semifinal games drew 18,026 and the championship game was sold out, with 18,303 fans in the stands. For the past eight years, dating to the season after the Frozen Four was held at Ford Field in Detroit, the lowest attendance for a championship game was 18,022 at Boston's TD Garden in 2015, and in the eight years since Detroit, the event has averaged 18,826 fans. Attendance in Detroit's Ford Field was 37,592.
It's difficult to determine why the attendance is so much lower in Buffalo than it has been in recent years, but it's something the NCAA is going to look into, said Steve Metcalf, ice hockey committee chair and deputy athletic director at New Hampshire, and Kristin Fasbender, the NCAA's director of championships.
"Obviously, everyone wants to sell out the Frozen Four every year and so that's always a goal going into it," said Metcalf. "Every community is different. It doesn't take away anything from the great experience that we've had this week. The teams have had a fabulous week. Let's not forget that a national championship will get crowned here and the excitement of all of that is an experience they'll never forget."
"We don't really know why our numbers are not where everybody thought they were going to be, but I think it's just a matter of taking the time afterwards to take a look at it across the board," said Fasbender. "Was it marketing? Everybody did their best with all sorts of ideas and things to try to work in the market and see what it is. It's just one of the things we'll take a look at. Our goal is to have a sold-out building and on top of it have the best experience we can for the student-athletes."
With a median income of $31,668, Buffalo may have been a tough market in which to sell this event. The Buffalo Sabres have some of the least expensive NHL tickets available. The organization separates its tickets into four tiers based on demand, and single-game tickets are listed for as low as $30 and as high as $190.
Tickets for this year's Frozen Four semifinal day were available on StubHub and other ticket resale sites at the lowest price of $62 before Thursday's game. At the start of the championship game, VividSeats was selling lower-bowl tickets for $190. Ticket resellers outside of KeyBank Center said that lower-bowl tickets before the championship game were going for between $75 and $100 — half to less than half of the face value of the original tickets.
Sales of tickets for the 2018 championship game were no doubt bolstered by the presence of Minnesota Duluth; that game was the first time that the title game had sold out in seven years, since the previous time the Xcel Energy Center had hosted in 2011. The championship game sold out in every year between 2000 and 2009; between 1992 and 2011, the title game sold out all but four times, and one of those years without a capacity crowd was when the game was held in a football stadium.
The lower attendance for this year's Frozen Four remains a mystery, at least temporarily.
"It's probably a combination of reasons," said Metcalf. "We just haven't debriefed yet on what's happened. It's too soon to do that. It's probably a combination of factors, not just one particular thing."