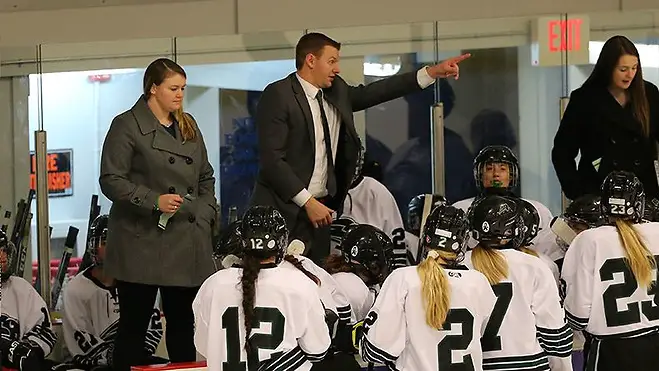 Nichols women's coach Mike O'Grady announced his resignation recently to accept the same position at another NCAA Division III institution.
O'Grady guided the Bison to a 26-21-4 mark (13-16-1 Colonial Hockey) from 2017-19 and a pair of playoff berths, setting a program-record for wins in both seasons.
Nichols posted 12 wins during O'Grady's first season in 2017-18, culminating with the first playoff win in program history, a 2-1 overtime triumph against Johnson and Wales. This past season, the Bison earned the No. 2 seed in the CHC playoffs by winning 14 games (8-3-1 CHC).
"I would like to thank Chris Colvin, Bill Boffi, Mike Stanton, Bill Pieczynski, and President Engelkmeyer for the opportunity to lead the women's ice hockey program," said O'Grady in a statement. "It has been an amazing two years. I am extremely proud of everything that this program has accomplished and am grateful to have created memories that will stick with me forever. I would like to thank the student-athletes for their hard work and dedication to the program. I know the future is bright with a strong recruiting class coming in and it is a huge credit to the current student-athletes who have helped lay a great foundation for future success. The support from our fans, alumni, and parents here at Nichols is second-to-none, and I am lucky to have met so many wonderful people during my time here."
"Mike O'Grady engineered one of the most remarkable turnarounds I've witnessed in college athletics," said Nichols director of athletics Chris Colvin in a statement. "To set school records for wins in back-to-back seasons after inheriting a team that had only won one game the year before is remarkable. This turnaround was not just on the scoreboard, however, as he worked hard to create a strong team culture within the women's ice hockey program."
O'Grady – whose teams compiled a 15-10-3 home record over the past two seasons – came to Nichols after spending the 2016-17 season as an assistant women's coach at Maine. Prior to his arrival at Maine, O'Grady spent two seasons at Mercyhurst, where he served as the assistant coach with the women's program while concurrently serving as a graduate assistant for the Mercyhurst archaeological institute.
"Moving forward, I have no doubt that the Nichols women's ice hockey program will continue to build upon their recent success over the past few seasons," added Nichols associate director of athletics Eric Gobiel, who assumed the position of interim director of athletics on June 1 and will oversee the search process for a new head coach. "This team has a strong core of returning student-athletes whom, along with Coach O'Grady, have built a strong foundation and culture both on and off the ice. In the coming weeks, I look forward to identifying the ideal person to lead our program in the right direction."
A national search will begin immediately for a new women's hockey coach.