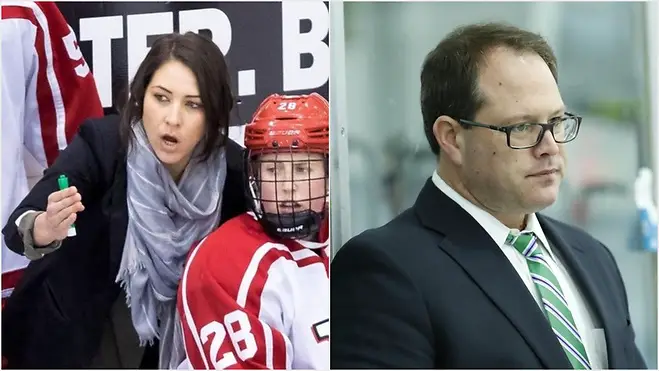 Danielle Blanchard and Grant Kimball have been named assistant coaches for the Yale women's team.
Blanchard, who has been part of seven national championship teams at Plattsburgh as a player and coach, was a four-time All-American for the Cardinals.
"Danielle is one of the premier, up-and-coming assistant coaches in women's college hockey," Yale coach Mark Bolding said in a statement. "Her record of success at Plattsburgh State as a player and a coach is unmatched and truly remarkable. We are so excited to have Danielle on staff to help bring in her winning ways, her keen attention to detail, and championship recruiting eye to the program. She will be a great addition to Yale women's hockey as we look to build a contender in our tough league."
Blanchard was a member of the 2007 and 2008 national championship teams. In 2008, she earned the Laura Hurd Award as the top Division III women's hockey player in the nation.
Kimball, a coach with 19 years' experience, joins Yale having served as an assistant and associate head coach at several Division I schools, including North Dakota and Vermont.
The former Lake Forest defenseman spent seven seasons as Vermont's associate coach, where he managed recruiting and individual skill development.
"Grant is a seasoned veteran college hockey coach who has worked hard to build several programs with elite level recruits," said Bolding in a statement. "His organizational skills, strong recruiting presence, and commitment to long term success will be very welcomed to our group. We are thrilled to have someone as experienced and professional as Grant join us here at Yale."
Prior to his time with the Catamounts, Kimball was a recruiting coordinator, assistant and associate head coach at Wayne State. In 2005, he recruited the most productive freshman class in the country, as the newcomers tallied 154 points that season.
Most recently, Kimball coached Aurora's hockey program as its inaugural head coach during the 2018-19 campaign.