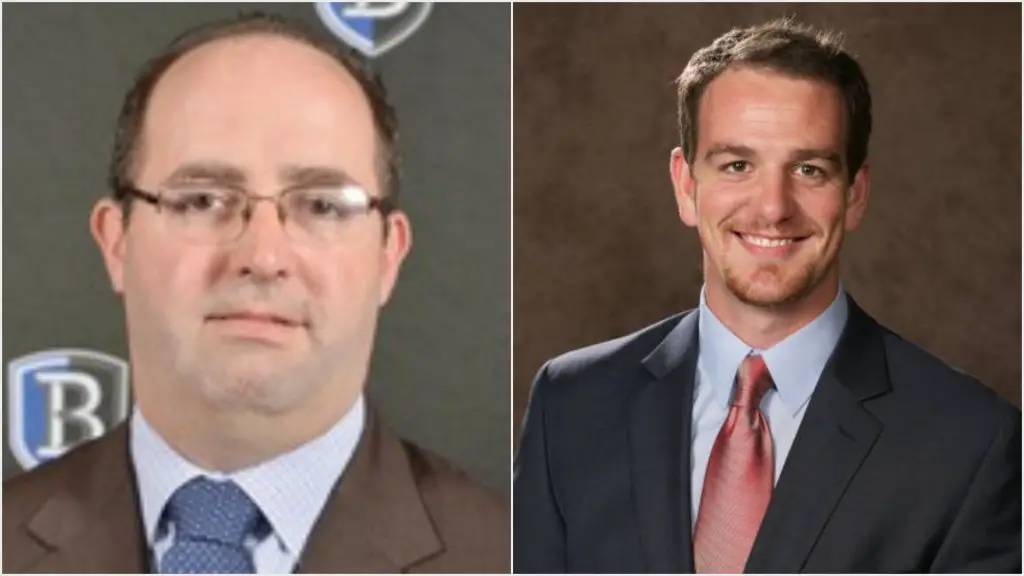 St. Lawrence has announced the hiring of assistant coaches Ben Murphy and Tommy Hill to complete the Saints men's coaching staff for the 2019-20 season.
Murphy joins the Saints after spending the last 10 seasons as an assistant coach at Bentley, while Hill spent the 2018-19 season as an assistant coach at Holy Cross.
"We are excited to add two quality people to our coaching staff," said SLU head coach Brent Brekke in a statement. "Ben and Tommy are passionate and driven coaches and teachers of the game. They will represent St. Lawrence University and our hockey program with great integrity and be tremendous examples to help lead and develop or student athletes. Their families are excited to be part of St Lawrence University and the Canton community."
Prior to his time at Bentley, Murphy was a graduate assistant coach at Division III Castleton and also served as an assistant coach with the ECHL's Wichita Thunder.
He graduated from Maine in 2005, where he helped the Black Bears to NCAA tournament appearances all four seasons and played in two national championship games in 2002 and 2005. He went on to play professionally in Wichita for the 2005-06 season.
"I am very excited to be part of the St. Lawrence community," said Murphy. "I would like to thank Coach Brekke and Bob Durocher and the administration for giving me the opportunity and look forward to getting started."
Hill spent the previous five years as the director of hockey operations at Miami, where he worked alongside Brekke as part of the RedHawks staff. Hill was also a volunteer assistant coach for Miami during the 2012-13 season.
Last season with the Crusaders, Hill served as the co-recruiting coordinator and was also in charge of academic and compliance coordination, as well as team video and pre-scouts.
A 2012 graduate of Ferris State, Hill captained the Bulldogs' NCAA runner-up team during the 2011-12 season.
"I am honored to be a part of the coaching staff at St. Lawrence and am excited to get started at this great university," said Hill. "I would like to thank Coach Brekke, Bob Durocher and the administration for this opportunity."
Both Murphy and Hill will start in their positions this week.