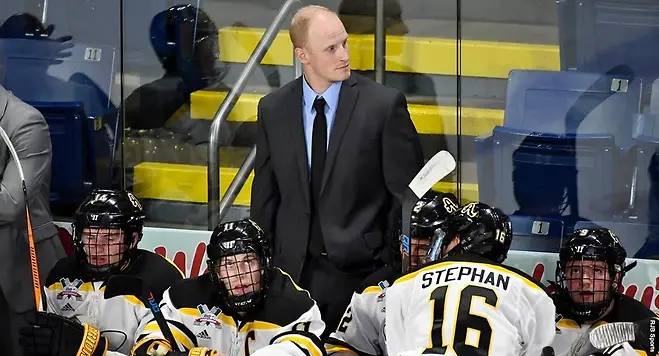 Clarkson announced Tuesday that Mike Towns will join the Golden Knights staff as an assistant coach.
Towns comes to Clarkson after serving five years on the staff at American International, including the past season as the Yellow Jackets associate head coach. Since coming to AIC in August 2014, Towns helped guide the Yellow Jackets to the most successful seasons in the program's history.
"I am very excited about Mike and Dianna joining the Clarkson hockey family," said Clarkson head coach Casey Jones in a statement. "Mike's body of work and reputation aligns him perfectly with how we want to conduct our business. Ultimately, every successful program starts with the people you have and the relationships you build. Our athletes will benefit greatly from Mike's addition to our staff."
Serving as AIC's recruiting coordinator since 2016-17, Towns was instrumental in recruiting efforts that helped rebuild the Yellow Jackets program. He was responsible for many facets of AIC's hockey program. His primary responsibilities included coaching the team's forwards, including bench management and skill development. He was also responsible for video and statistical breakdown and coaching the power play.
"My wife, Dianna, and I couldn't be more excited to join the Clarkson University hockey program and Clarkson community," added Towns. "I was very impressed with the campus and facilities when I came up here, but was even more impressed with the incredible people I got to meet with. It will be a pleasure working with Coach Jones and Coach (Josh) Hauge. I can't wait to get started."
As a player, Towns spent four seasons in the BCHL playing with the Penticton Vees before attending Adrian College. At Adrian, Towns was an alternate captain his first two seasons, and the team's captain in his junior and senior years. During his senior season, Towns captained the Bulldogs to the NCAA Division III Frozen Four, eventually losing in the national championship game. Towns graduated from Adrian with a Bachelor's of Business administration in Management, and completed his Masters of Business Administration at AIC in May 2016.
Following his successful collegiate career, Towns embarked on a three-year professional career, making stops with the Denver Cutthroats of the CHL and the Idaho Steelheads and Ontario Reign in the ECHL.
Towns will begin his duties at Clarkson in July.