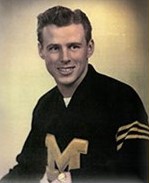 Michigan has announced its seven-member 2019 Hall of Honor class, which includes former goaltender Hal Downes.
The induction ceremony will take place on Friday, Nov. 15 at the Richard L. Postma Clubhouse at the U-M golf course. Criteria for consideration includes being an NCAA champion or member of a national championship team, an All-American, Olympic medalist, Olympic team member, professional league champion or world championship team medalist/member, NCAA or conference player of the year, conference champion, record holder or all-conference award winner.
Downes led Michigan to an NCAA title in 1951, making 19 saves in a 7-1 victory over Brown. He earned All-American and NCAA Frozen Four All-Tournament team honors during his lone season with the Wolverines.
Less than a year after leading U-M to their second of nine national championships, Downes was called to serve his country in the Korean War. In 1952, Air Force Lt. Hal Downes' B-26 Marauder went down after the plane's engines stopped working during a bombing mission over North Korea and was declared MIA. All living POWs were returned to the U.S. in 1953 but Downes remained listed as MIA.
He will become the 22nd inductee for hockey.