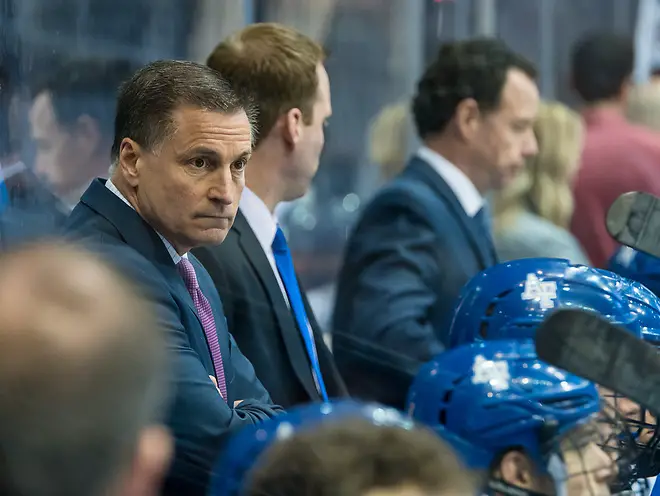 Air Force announced Wednesday the promotion of assistant coaches Andy Berg and Joe Doyle to associate head coaches.
Berg will enter his 13th season with the Falcons in 2019-20. A 2003 academy graduate, Berg served as a graduate assistant in 2003-04 while on active duty. Berg returned to his alma mater in the fall of 2006 and later separated from the Air Force in 2010 after serving seven years. A four-year letterman, he finished his career ranked 12th in career scoring with 142 points (64 goals, 78 assists) in 140 games. He is one of three Falcons to earn all-conference honors all four years, along with Eric Ehn and Andrew Volkening.
Doyle, a 1989 academy graduate, starts his 14th season with the Falcons this fall. After serving with the Falcons twice while on active duty (1994-98 and 2002-06), Doyle returned to his alma mater in Aug. 2013. After retiring from the Air Force, Doyle spent four years as a regional director of the American Development Model for USA Hockey. A four-year letterman for the Falcons (1985-89), Doyle was a four-year letterman at right wing and was part of the first class in Air Force history to post four consecutive winning seasons. He played in 110 games and posted 126 points on 57 goals and 69 assists.
"Winning like we have won over the last 13 years is not easy anywhere let alone at a service academy," Falcons head coach Frank Serratore said in a statement. "Great recruiting and great coaching are the keys to winning at the college level. The head coach gets way too much credit when things are going good. One man does not make a staff. If you want to credit me for something related to our success, credit me for putting together a great staff. I watch what Andy and Joe contribute to the program on a daily basis and they are two of the very best in the business.
"Both are more than ready to become head coaches when the right opportunity presents itself."