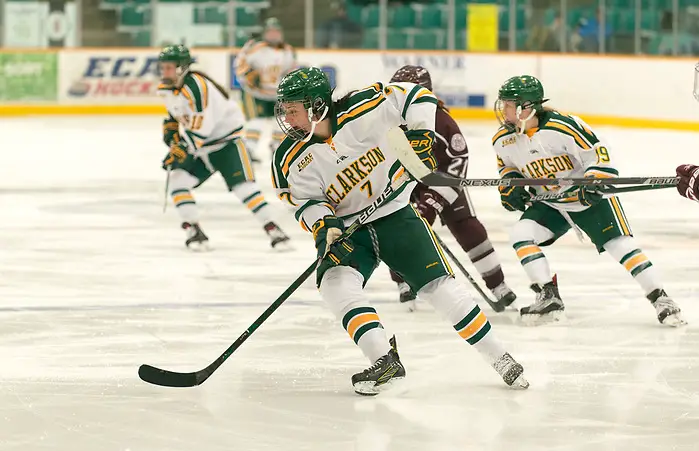 (1) Wisconsin at Lindenwood
The Badgers scored two second-period power play goals to take a 4-0 win over Lindenwood on Friday. Sophie Shirley had two goals and an assist, Abby Roque had three assists and Daryl Watts netted her first goal as a Badger while adding an assist to lead the team. On Saturday, six different Badgers scored to give Wisconsin a 6-2 win and weekend sweep. Lauren Dabrowski and Hannah Alt scored for Lindenwood.
Colgate at (2) Minnesota
Madeline Wethington scored her first collegiate goal, the first goal of the season and the game-winner halfway through the first period. Sarah Potomak doubled the team's lead in the second as the Gophers out-shot the Raiders 36-14 en route to the 2-0 win. In game two, Taylor Heise had two goals and two assists, Sarah Potomak had a goal and two assists and Grace Zumwinkle and Olivia Knowles each had two goals as Minnesota rolled over Colgate 8-1. Malia Schneider scored the goal for Colgate.
(3) Clarkson vs Syracuse
Kayla Friesen, who transferred to Clarkson from St. Cloud State, scored twice in the third period to lead the Golden Knights to a 4-3 win over Syracuse on Friday. The first ten minutes, the teams traded special teams goals. Ella Shelton's power play tally put Clarkson on the board first, but Kelli Roswell tied it up on the player advantage a few minutes later. Elizabeth Giguère's short-handed tally was answered by Lindsay Eastwood to make it 2-2 at the end of the first. Emma Polaski's goal :24 into the second had Syracuse up 3-2 heading into the final frame. But it was Friesen that gave Clarkson the win. On Saturday, Friesen added two goals and an assist to her weekend total to lead Clarkson to a 5-1 win and sweep. Michaela Pejzlová had a goal and two assists and Giguere added a goal and an assist to help Clarkson to the win. Malia Schneider scored for Colgate in the loss.
(8) Boston College at Merrimack
Savannah Norcross collected her first career game-winning goal and Caroline DiFiore's empty-netter was her first as an Eagle as Boston College defeated Merrimack 2-0. On Saturday, Gabby Jones put Merrimack on the board first, but from there it was all Eagles as Hadley Hartmetz and Norcross scored power play goals and Olivia Finocchiaro added a late goal to give Boston College the 3-1 win and weekend sweep.
St. Lawrence at (9) Ohio State
Liz Schepers had two goals and an assist while defender Sophie Jacques had a goal and an assist to lead Ohio State to a 4-1 win on Friday. Paetyn Levis also found the back of the net for the Buckeyes. Brittney Gout was the goal-scorer for St. Lawrence. In game two, the scoring started in the second with Maggie McLaughlin putting St. Lawrence up 1-0. Teghan Inglis tied it up for Ohio State and then Kayla Vespa put the Saints up 2-1 after two periods. The Buckeyes pulled their goalie and Madison Bizal scored the tying goal with the extra skater with 1:04 left in the game. Emma Maltais scored the game-winner with just :56 left to give OSU the 3-2 win.