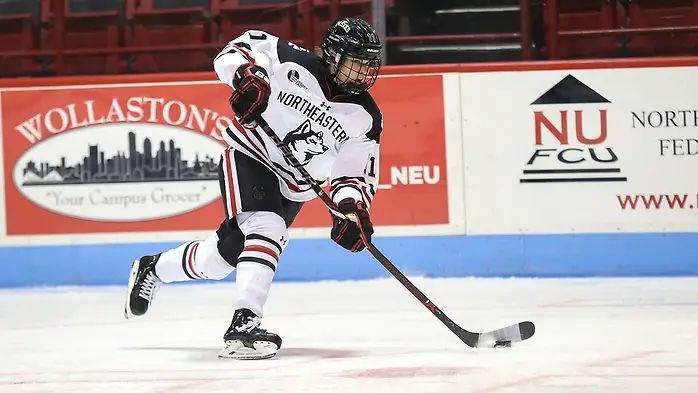 The Hockey East landscape has shifted over the past year or so, and in some ways looks nothing like it has in recent years. After Boston College seemed to have a stranglehold on the top spot in Hockey East, winning five years in a row, Northeastern broke through and won their second-ever regular season title. They'll receive competition from Boston University, who also return a roster of young talent. The way the rest of the conference shakes out is up for grabs, with teams showing major improvement. There's an opportunity for quite a few teams to cause issues for the top squads
Boston College
Last Season 
26-12-1, 19-7-1 (second). Lost to Clarkson in overtime in the NCAA quarterfinals.
Names to know
Sophomore Maddy McArthur was solid in net as a rookie, allowing fewer than two goals per game. She will be a key part of this team as they try to find their way and figure out their identity. The Eagles will miss Megan Keller on defense, putting even more pressure on McArthur.
Senior Lindsay Agnew transferred to BC last season and immediately made an impact. She's the highest returning scorer and one of the most experienced players on the team. They'll be looking to her for leadership and points.
What to Watch For

The Eagles lost their top four scorers, either to transfer or graduation. Those four players accounted for 47% of their points last season. Three of their next six highest scorers are defenders. There are massive offensive holes to be filled. The Eagles need both freshmen and returning players to take on new roles, step up their game and carry the team.
Three of five rookies are blueliners. For a team that was so focused on defense and could push players forward with confidence, this chance is probably going to lead to some growing pains. They allowed 2.00 goals per game last season, but scored more than three in those same games. The offense isn't going to be the prolific and the defense is going to have to be more shutdown for them to make it through this season near the top of the conference.
Boston College has always been a physical team, but they have to get more disciplined with this new look roster. They averaged 10 minutes of penalty time last year and they frankly will not be able to afford to give opponents that much of an advantage game in and game out.
Crystal Ball
I have the Eagles finishing third.
Boston University 
Last Season 
21-8-8, 15-6-6 (third). Lost to Boston College in the Hockey East tournament semifinals.
Names to know
Junior Jesse Compher was the most prolific scorer last season that no one was talking about. She was third in the country with 17 goals and 44 assists. She's very good on the power play, sees the ice well and seems to know exactly where her teammates are to dish them pinpoint passes at all time.
Redshirt senior Sammy Davis led Hockey East with 25 goals. She's the player the Terriers can count on in big time situations. She scored the overtime game-winner in the Beanpot and had five game-winning goals last season.
What to Watch For
BU responded to a down year two seasons ago by playing loose and confident. That attitude carried them to their first-ever Beanpot. It's not an easy tenor to set, but if the Terriers can recapture that feeling, they'll be a team to reckon with nationally. They have a really interesting combination of young talent and upperclassmen experience that can lead to success.
It will be interesting to see if they can bridge the gap against Northeastern, who seems like they're just that much better than Boston University this year. Both teams lost games they probably shouldn't have during conference play, but the Terriers particularly need to find a way to turn ties into wins and take over close games.
Crystal Ball
I expect the Terriers to finish second.
Connecticut
Last Season 
14-18-4, 9-14-4 (seventh). Lost to Boston College in the opening round of the Hockey East tournament.
Names to know
Sophomore Natalie Snodgrass was named to the Hockey East All-Rookie team. She led the team with 21 goals and 38 points.
Senior goalie Morgan Fisher is crucial to the Huskies' ability to move up the rankings. I expect UConn to score more goals this year, but the defense and Fisher need to lock down on defense to keep the margins from being so thin.
What to Watch For
Winning close games has been an issue for the Huskies in the past. This year, they played 12 games decided by one goal or fewer and went 6-2-4. That's far fewer losses in those games, but they still have work to do in being able to convert those ties to wins. They had just one overtime victory, so finding that extra store of energy in those final few minutes is really going to be a key to their season.
UConn has a favorable early schedule and it's important that they take advantage and build momentum early on. They have a chance to make the top half of the conference standings and even end up hosting a conference playoff game, but they need to win those types of games.
Crystal Ball
I think Connecticut finishes fifth.
Holy Cross
Last Season 
1-29-3, 1-25-1 (tenth). Did not qualify for the Hockey East tournament.
Names to know
Junior Carlie Magier is the team's highest returning scorer. She was second on the team in points with six goals and 11 points.
Senior Julia Pelletier and junior Jada Brenon split time in net last season and will return to backstop the Crusaders.
What to Watch For
The team's lone win last season game over then No. 5 Northeastern. It was obviously a program-defining win and the Crusaders need to be able to distill what went right there and how to replicate it in other games.
Holy Cross showed marked improvement in the second half, including allowed a goal per game less than they did through the first 19 games. For a new program, that kind of quantifiable development is what you can build on and can get you through a losing streak.
Crystal Ball
The Crusaders finish tenth.
Maine
Last Season 
14-15-5, 7-15-5 (ninth). Did not qualify for the Hockey East Tournament.
Names to know
Sophomore Celine Tedenby led Maine in scoring with 26 points. She and senior Tereza Vanišová are the offensive force and will need a few of the sophomores to step up and join them in scoring twenty of more points.
Senior Carly Jackson had the majority of starts in net for Maine, but junior Loryn Porter made the most of her handful of starts.
What to Watch For
The Black Bears missed the Hockey East Tournament for the first time since 2011 last season and it's going to be a fight for them to return this year. There doesn't appear to be much separating Maine from Vermont and Merrimack and one of those three teams will be on the outside looking in when the regular season wraps up. Last season, they ended up one point back of Vermont and four points out of sixth place. The Black Bears left points in the table with five ties and four one-goal losses.
Maine out-shot and out-scored their opponents over the course of the season, but yet finished below .500. There was so much to like about how they played in some of their games and they were dominant in the first period, but they were out-scored in the third period. They have to work on fitness and the ability to close out games.
Crystal Ball
I've got Maine ninth.
Merrimack
Last Season
16-13-7, 12-10-5 (fifth). Lost to Providence in the opening round of the Hockey East tournament.
Names to know
Junior Mikyla Grant-Mentis was second on the team in scoring with 35 points. She's a faceoff specialist for the Warriors and scored five game winners last season. Her speed is a huge weapon for Merrimack and she's a short-handed scoring threat.
What to Watch For
Merrimack graduated their starting goalie. Backup Lèa-Christine Demers played significant time in her freshman and sophomore years, but appeared in just six games last season. Sophomore Nicole Martin and freshman Emma Gorski will be part of the competition to find a starter.
The Warriors start the second half with a trip to Belfast, Ireland. From there, they have twelve games left on the schedule and eight of them are on the road. It's going to be a long stretch in the hardest part of the season.
Crystal Ball
I expect Merrimack to finish seventh.
New Hampshire
Last Season
13-17-6, 10-14-3 (sixth). Lost to Boston University  in the opening round of the Hockey East tournament.
Names to know
Redshirt senior Taylor Wenczkowski led the team with 20 goals and 26 points.
Sophomore Talli Warren led the team with 52 blocks in her rookie campaign. She's fearless on the blue line and provides some security out of the back for New Hampshire.
What to Watch For
UNH has what looks to be the hardest final few weeks of anyone. Their final five games include a home and home with Boston College as well as a home and home with Boston University.
Sophomore Ava Boutillier had eight starts as a freshman and the other two goalies on the roster are rookies. The Wildcats are going to have to rely on their defense to give their goalies a chance to settle in and catch up to the speed of the game.
Crystal Ball
I've got New Hampshire sixth.
Northeastern
Last Season 
27-6-5, 21-3-3 (first). Lost to Cornell in overtime in the NCAA quarterfinal.
Names to know
Sophomore Alina Mueller was eighth in the country in scoring with 21 goals and 30 assists. The phenomenal freshman was a Patty Kazmaier top-10 finalist, Hockey East Rookie of the Year and a second-team All-American. She had the longest point streak of any player last season, getting on the score sheet in 22 games. She became the second rookie in Northeastern history with 50+ points in a season.
Junior Aerin Frankel had a breakout season and became the Huskies' starting goalie. She was Hockey East Goalie of the Year and was named MVP of the Hockey East Tournament. She lost just one conference game and ended the season with a 21-4-3 record with a 1.81 GAA and a .932 save percentage.
What to Watch For
The Huskies won the conference tournament two years ago as the fourth seed. This year, they are the preseason No. 1 and everyone will be gunning for them. They've done well as the underdogs, but how they handle starting in the spotlight will determine whether or not they can carry the mantle from one end of the season to the other. They're a relatively young team with 16 underclassmen and their biggest stars have at least two years ahead of them. They have to have a different mindset and approach this season and how well those younger players handle the pressure may determine their fate.
Crystal Ball
I expect Northeastern to repeat as Hockey East Champions
Providence
Last Season
24-11-2, 16-9-2 (fourth). Lost to Northeastern in the Hockey East tournament semifinals.
Names to know
New coach Matt Kelly came to Providence after serving as a Head Scout for USA Hockey and the Women's National Team. Prior to that, he was an assistant coach with the Clarkson women's team.
Junior Maureen Murphy ranked first on the team in points, goals, assists, shots (192) and plus-minus (+27).
Sophomore Sara Hjalmarsson was third on the team in points as a freshman and was named to the Hockey East All-Rookie team.
What to Watch For
The Friars 24 wins last season tied a program-high, but it will be hard to believe they can continue to grow and improve as a program until we know how they'll fare in goal.  Their three goalies have a combined ten games of experience. We know the Friars can score and they return three of their top four scorers, but their defense is young and will be tested this year.
There seems to be a separation between the Friars and the top three teams, but they also have the opportunity to cause some havoc for those teams and there may be an opening for them to move up. How they navigate that limbo where they're clearly better than the team's below them but haven't proven they belong at the top could be something to watch play out this season.
Crystal Ball
Providence ends up fourth this season.
Vermont
Last Season
10-20-6, 8-15-4 (eighth). Lost to Northeastern in the opening round of the Hockey East tournament.
Names to know
Senior Ève-Audrey Picard led the team with 21 points. She'll have the chance to find the back of the net more often with the graduation of Alyssa Gorecki.
Sophomore Blanka Škodová appeared in 13 games last season for Vermont and looks to be the likely starter this season. I wouldn't be surprised to see freshman Natalie Ferenc, who was the backup goalie for the US U-18 squad, to fight her for playing time.
What to Watch For
The Catamounts have a favorable schedule over the final month of the regular season. It should be a chance for them to make up some room in the standings, pile on some points and gain momentum for the postseason.
Last season they earned their playoff spot on the final day of the season. It was a slow start for Vermont, who had just two wins in the first two months and four wins by the time the season paused for the winter break. They seem to be a better second-half team, but by then they might be in too much of a hole to dig out of.
Crystal Ball
I'm unsure who to choose between Vermont and Maine, but with that schedule, I think the Catamounts will be able to nab the eighth spot.