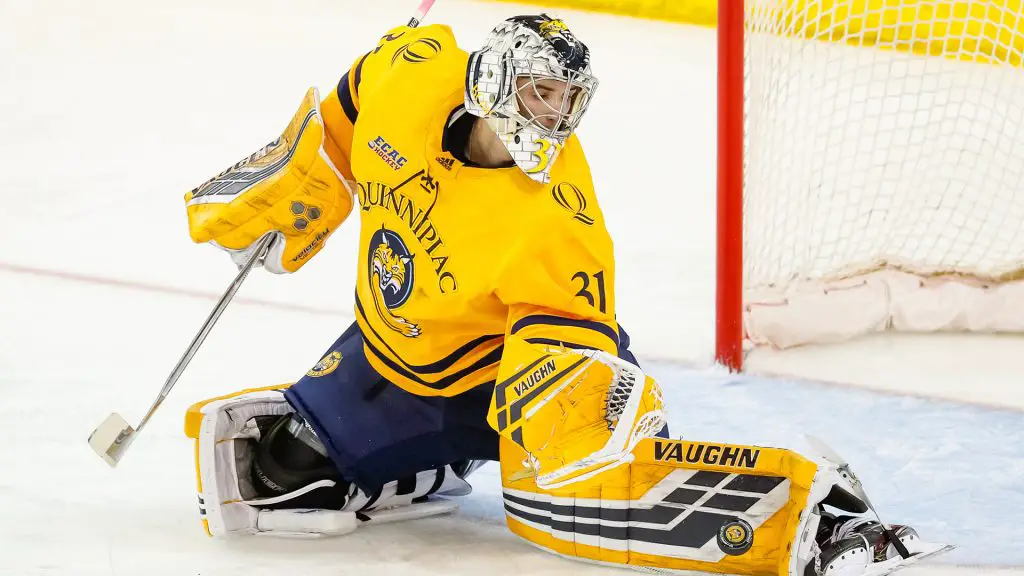 Each week, USCHO.com will pick the top 10 moments from the past weekend in our Monday 10 feature.
1. A B1G sweep
Wisconsin swept two-time defending champion Minnesota Duluth 6-2 and 3-1 at home, giving the Badgers a 3-1 start to this season and dropping the Bulldogs to 1-3. With the nine goals in the series plus their 14 from the weekend before, the Badgers top the nation in scoring offense with an average of 5.75 goals per game.
After Saturday's 3-1 win, coach Tony Granato said that he'd been a little concerned about an emotional letdown following the Badgers' dominant performance Friday – and their 17-goal output in two consecutive games – but said that Wisconsin had found "a different way to win" to secure the sweep.
"We're not going to be able to score six or 11 goals all the time, so when you don't have it, you've got to find ways to play smart defensively, and I think the commitment from our team and group was very obvious from the start of the game."
Minnesota Duluth suffered back-to-back losses just four times in 2018-19 and was swept by a single opponent just once last season.
2. Hot-starting rookies
Three Wisconsin forwards are off to a hot scoring start. Cole Caufield (6-1-7), Alex Turcotte (3-5-8) and Owen Lindmark (3-2-5) are making a good case for the Badgers having the best recruiting class in the country. Caufield and Lindmark each had two goals Friday and Turcotte had a goal and three assists on the weekend.
Massachusetts will give Wisconsin some competition for that distinction, though. Reed Lebster (3-1-4) and Cal Kiefiuk (2-2-4) and defenseman Zac Jones (2-5-7) are making their mark early as well.
Against Union, Jones had a goal and four assists and currently leads the Minutemen in scoring. Lebster had two goals and an assist on the weekend and Cal Kiefiuk had a goal and an assist.
3. Undefeated and most impressive
After opening 4-0 on the road, the Pioneers returned home to sweep Boston College, 3-0 and 6-4. Denver is a perfect 6-0 this season, and freshman goaltender Magnus Chrona (1.83 GAA, .930 SV%) has played every minute so far. Chrona posted his second career shutout Friday night.
Denver's start is made even more impressive by its offensive output. The Pioneers are averaging 3.83 goals per game and have yet to score fewer than three goals in a game this season – and 14 Pioneers have contributed at least one goal this season, with several netting three so far. Five different skaters have accounted for Denver's six game-winning goals.
4. A rare shutout loss for the Nittany Lions
When Alaska beat Penn State 4-0 Friday night to earn a road split with the Nittany Lions, the Nanooks did something that no team has done against Penn State since the 2017-18 season. The last time the Nittany Lions were kept off the scoreboard was a 4-0 road loss to Michigan Jan. 19, 1918. It's just the second shutout the team has experienced at Pegula Arena.
"I think it would be really disappointing if every individual on our team, coaching staff included, doesn't learn a lesson," said coach Guy Gadowsky. "We got beat badly. We got beat 4-0 in our own barn."
Gadowsky was the head coach at Alaska from 1999 to 2004.
The Nanooks win came a night after being shut out themselves by Penn State, 7-0. Coach Erik Largen said that he was happy with his team's response to Thursday's loss. "We played a selfless team game tonight," said Largen.
5. And the minutes keep coming
In the series between Alaska and Penn State, the teams combined for 85 penalty minutes, 33 of which were earned by the Nanooks in their win. In the second period of that game, Alaska's Steven Jandric earned a five-minute major for contact to the head with a game misconduct.
A total of 17 Nanooks have at least one penalty to their credit this season, and the team leads the nation in PIMs (120) through six games played, averaging 20 per game.
Through six games, the Nanooks have killed off 31-of-34 opponent power plays.
6. The sweeps have it, but the ties are interesting, too
Of the 16 single-opponent series on the weekend, seven resulted sweeps, six were splits and three had a single game that ended in a tie.
Each of the three series that featured a tie was interesting in its own right.
In Minnesota State's 4-4 home tie against North Dakota Friday, the teams combined for 23 shots and a goal apiece in the first period before limiting each other's chances for the remainder of the game. The Mavericks had 11 shots for the remainder of regulation – their total for the first period – while North Dakota registered 14 shots through the end of 60 minutes. Minnesota State had two shots in OT to North Dakota's one. In their 2-1 win the following night, the Mavericks were outshot 35-22.
Colgate and UMass Lowell played a pair of overtime games in the Tsongas Center, with Colgate senior Ben Sharf's fourth career goal in his 84th career game winning Friday's contest nine seconds into overtime. The teams skated to a 0-0 OT tie Saturday. Colgate sophomore Mitch Benson had 35 saves in his first career shutout. Lowell senior Tyler Wall stopped all 25 shots he faced in his ninth career shutout.
Northern Michigan improved to 2-1-1 on the road against Boston University with a 4-4 tie and 4-3 win. The Terriers outshot the Wildcats 39-20 in the tie.
7. Two nights, two looks, two different results
Check out this goal by Maine junior Eduards Tralmaks, the first of his two goals in Friday's 4-2 win over visiting Quinnipiac. That's junior Keith Petruzzelli in net, who gave up four goals on 18 shots in the loss.
Eduards Tralmaks with the diving goal to give @MaineIceHockey a lead they wouldn't surrender in tonight's upset of 8th-ranked Quinnipiac.#NCAAHockey pic.twitter.com/M18lfKqHEZ

— NCAA Ice Hockey (@NCAAIceHockey) October 19, 2019
Petruzzelli rebounded Saturday, though, by stopping 22-of-25, including this incredible save on Jack Quinlivan as he and Emil Westerlund executed a nearly perfect two-on-one breakaway.
Keith Petruzzelli with the clutch gene, maintaining the 1-goal lead late. @QU_MIH would go on to beat Maine 4-2 to improve to 3-1-0 on the year. #ECACHockeyScores pic.twitter.com/v900zZTNqB

— ECAC Hockey (@ecachockey) October 20, 2019
After the split, Maine is 3-2-0 and Quinnipiac is 3-1-0.
8. This Colonial's on a mission
Robert Morris transfer goaltender Justin Kepelmaster has averaged just over 37 saves per game in five contests this season, including the 43 he made in the Colonials' 4-0 shutout win over Army Saturday. That was Kapelmaster's second shutout of the season.
Before transferring to RMU, Kapelmaster spent three seasons at Ferris State where he had five shutouts in 48 career games.
9. Fast and slow starts
Through the first three weeks of the season, everyone has played at least two games except for the six Ivy League schools, who will start Nov. 1.
There are 15 teams that have yet to lose a game, but nine of those have played just two contests and two of those teams have yet to win, as Bemidji State and St. Cloud State faced off against each other two weeks ago and skated to a pair of ties.
In addition to the Beavers and Huskies, seven other teams are still seeking their first wins. Four of the nine currently winless teams have played just two games. Union is 0-6 to start its season.
10. A B1G start
The Big Ten was 8-2-0 on the weekend against nonconference opponents, bolstering its inter-conference record after two weeks to 16-6-2 for the best (.708) win percentage so far in Division I.