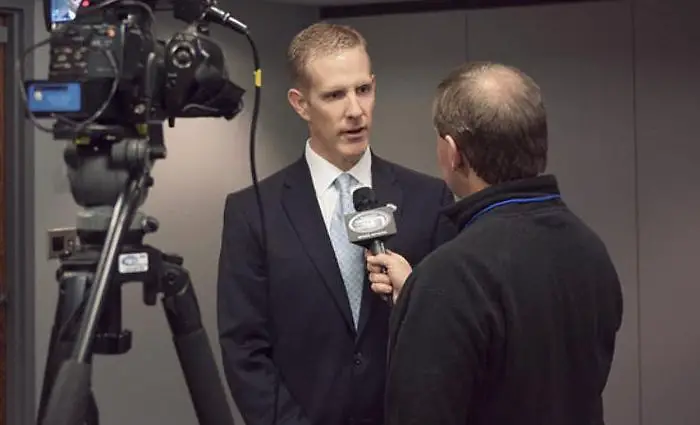 Months of planning are bearing fruit with the NCHC's Student-Athlete Well-Being Task Force that the conference unveiled Tuesday.
The task force was created during the NCHC's annual meetings this past spring in Florida. Member schools' athletic directors were first approached about the initiative, and school presidents and chancellors were brought in a month later to help finalize the scope of the task force.
NCHC commissioner Josh Fenton facilitated three task force calls this past summer.
Sportsmanship and conduct, along with diversity and inclusion, were the initial focal points. Mental health, sexual assault and other topics were also discussed and will continue to be talked about as the group's work progresses.
The group is currently made up of two athletic directors (Colorado College's Lesley Irvine and St. Cloud State's Heather Weems), two coaches (North Dakota's Brad Berry and CC assistant Leon Hayward), two faculty representatives (Western Michigan Lisa DeChano-Cook and Miami's Ron Scott), and Judith Siminoe, an advisor to SCSU president Robbyn Wacker.
"We wanted to have a cross-section of different kinds of constituents," Fenton told USCHO on Wednesday. "It was really about asking who might be interested in serving on the group and also if they felt as though they could contribute in a meaningful and impactful way because of other professional opportunities they've had in this area of their life.
"(The task force) was also organized at a time when the academic year was ending, so it was tough to originally put students on it, but our thought moving forward is that we will add student-athletes to the task force because we're talking about things that impact their lives."
The group has added to or revised conference policies and created new educational opportunities that have already started to be implemented this season. The NCHC's task force announcement came on the first day of a week-long diversity and inclusion campaign on the NCAA's social media platforms.
"For the right reasons, our society has brought to light things that are impactful in people's lives that are important to talk about, (whether they be) societal issues or maybe more specific to athletics," Fenton said.
"Our membership and our conference office staff felt as though there was something more we could do to better help and support student-athletes in somewhat of a general well-being sense out of the conference office and obviously being facilitated on the campus of each member institution."
The NCHC's sportsmanship and conduct policies and procedures have been altered. Schools and the conference office now have added responsibilities within the general scope of the league's sportsmanship policy and processing of violations, and Fenton has more authority to take discipline as needed for sportsmanship violations.
The league's student-athlete code of conduct was also updated to stress the NCHC's commitment to fostering environments that promote and emphasize diversity and inclusion. All eight member schools are required to conduct annual diversity and inclusion training for members of their men's hockey programs.
Video vignettes filmed with Fenton have been made, and he told USCHO that the first video, highlighting the importance of diversity and inclusion, was sent to member schools last week. Feedback that he has received indicates that the message has been well received.
Videos were also made at the NCHC's preseason media day, with Fenton, head coaches and team captains reading the league's sportsmanship policy. That policy will also be read aloud and played on arena video boards prior to each game.
Fenton is excited to see what becomes of the task force's efforts, which could be shared with schools' other athletic programs.
"Anything that we do, if it can have an impact on anyone's life in a sport program or otherwise, we're certainly in favor of that," Fenton said. "We're working with administrators in particular that have oversight and management of all sorts of sports in their athletic department, and if they feel as though there's something that can apply practically to another team, then we want to be supportive in allowing them to use what comes out of our efforts with that particular team or otherwise."
Freshman goalie making waves
Goaltending was a question mark for Omaha entering the new season, with three freshmen vying for the starting job.
Two weeks in, that role is on its way to being solidified.
Isaiah Saville earned NCHC goaltender of the week honors after helping the Mavericks to a road split last weekend at then-No. 12 Ohio State. He made 24 saves in a 3-2 loss Friday and made 38 saves in Saturday's 2-1 UNO victory.
A draft pick of the Vegas Golden Knights, Saville helped UNO go 5 for 5 on penalty kills Saturday, making 15 saves while the Mavericks were shorthanded.
In three games played (2-1-0) this season, Saville leads the NCHC with a 1.68 goals-against average and .938 save percentage.
DU senior off and running
Denver forward Tyson McLellan picked a good time to have a big weekend, as his first three goals of the season helped the Pioneers to a home sweep of then-No. 6 Boston College.
McLellan's empty-netter in a 2-0 win Friday put to bed top-ranked DU's fifth consecutive victory to start the season, and their first at Magness Arena after previous trips to Alaska and Lake Superior. On Saturday, McLellan scored twice more in a 6-4 win.
McLellan, who has already matches his goal total from last season, won 20 of 39 faceoff draws in the series and finished with a +2 rating.
Pios carry banner in tricky week
NCHC teams had a combined 11-4-4 non-conference record through the first two weeks of the season, but last weekend wasn't nearly as straightforward.
Denver's sweep was unquestionably the brightest spot among NCHC teams that were in action. Minnesota Duluth is down five spots to No. 8 after being swept at Wisconsin, and North Dakota picked up a tie and a loss at second-ranked Minnesota State, which entered the weekend having won 23 of its last 24 home games.
Miami grabbed on Friday its first win under new head coach Chris Bergeron as the RedHawks eked past Ferris State 4-3. The RedHawks weren't as fortunate Saturday, falling 3-1 to Ferris.
Lastly, Western Michigan's tricky start to the season continued with two one-goal losses to Bowling Green. The teams met three times in eight days, with WMU winning 5-2 in an IceBreaker Tournament third-place game Oct. 12.