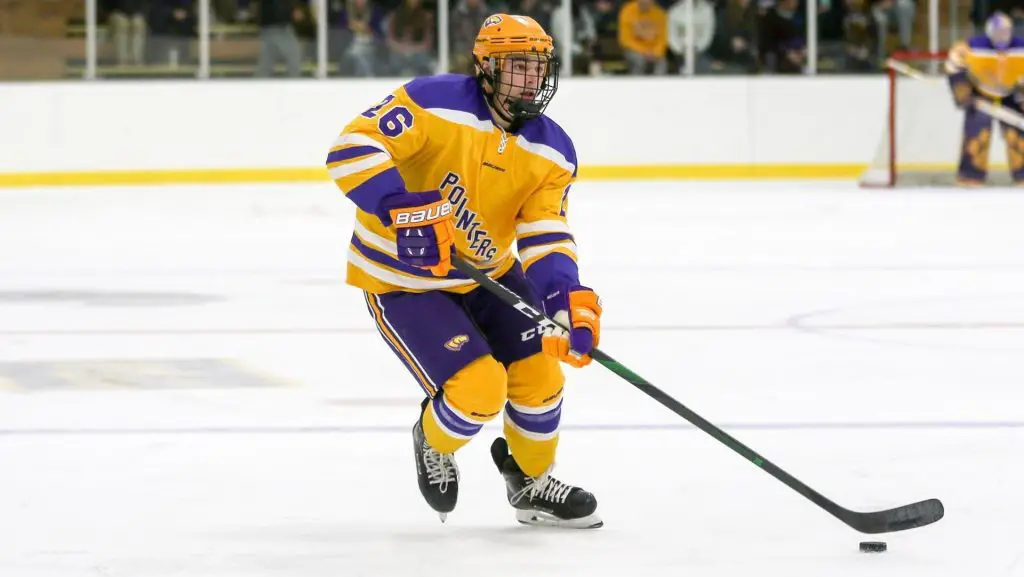 In a matchup fitting for the postseason, St. Norbert and Wisconsin-Stevens Point squared off in a battle of nationally ranked teams over the weekend in the season-opening series for both teams.
The Green Knights grinded out a 3-2 overtime win over the Pointers Friday night, ending the reigning national champion's 31-game unbeaten streak, before falling 3-1 on Saturday.
In Saturday's game, St. Norbert took an early 1-0 lead on a goal by Brendan Aird but the Pointers took control from there.
Zach Zech tied the game and Luke McEhlhenie gave the Pointers the lead for good. Ryan MacKellar scored an insurance goal. Wis.-Stevens Point held a 24-17 advantage in shots.
Wis.-Stevens Point held a 2-0 lead against St. Norbert Friday before the Green Knights came charging back.
Dominick Sacco scored twice and Peter Bates delivered the game-winning goal in overtime to lift the Green Knights to the victory. Ryan Bontorin made 22 saves for St. Norbert.
Didur delivers for Concordia: Bo Didur recorded a shutout in the season opener for Concordia (Wisconsin) Friday night, helping the Falcons defeat Concordia (Minnesota) 3-0.
Didur made 27 saves in the season-opening victory. Nick Guerra, Mac Ferner and Dante Hahn all scored goals for the Falcons.
Raiders roll: The Milwaukee School of Engineering put its offense on display in a 5-2 win over St. Thomas Friday. Five different players scored for the Raiders, including Adam Czarnecki, who gave MSOE the lead for good at 2-1 in the first period. Jeff Makowski scored a power play goal in the win.
Hot start for Cohen: David Cohen is only a freshman but scored the first two goals of his career Saturday in Lake Forest's 4-3 win over St. Mary's. Cohen scored back-to-back goals to help the Foresters overcome a 1-0 deficit and earn their first win of the season. 
Zach Feldman gave Lake Forest the lead for good at 3-2. Boyd DiClemente made 33 saves.
Auggies open with sweep: Augsburg began its 2019-20 season on a postive note, completing a sweep of Saint Scholastica with a 2-1 win over the Saints Saturday. Gavin Holland and Austin Martinsen both scored for the Auggies, who trailed 1-0 early on. Jack Robbel made 19 saves. Augsburg held a 30-20 advantage in shots.
Johnnies battle Blugolds tough: Saint John's gave Wisconsin-Eau Claire all it could handle, forging a 1-1 tie with the nationally ranked Blugolds. Brady Heppner tied the game with the 35th goal of his career. Adam Parsells scored the only goal for the Blugolds.
Andrew Lindgren rose to the occasion in goal, making 36 saves. The Johnnies and Blugolds have tied four times in their last six meetings.
Hat Trick for Hausinger: Wisconsin-River Falls standout Christian Hustinger recorded a hat trick in the Falcons' 3-2 win over Finlandia in overtime. Hausinger scored his final goal in the OT period to lift Wis.-River Falls to a season-opening win Friday. Zach Quinn made 19 saves in goal to pick up his first win of the year.