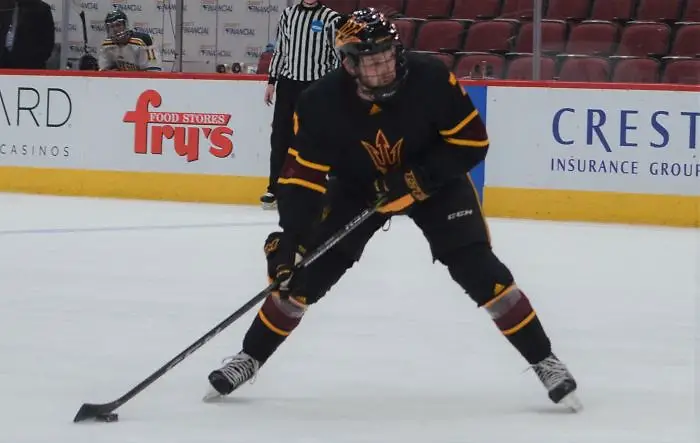 Each week, USCHO.com will pick the top 10 moments from the past weekend in our Monday 10 feature.
1. NCHC kicks off conference play
A month after the NCHC began the season with a Denver win at Alaska, the league finally kicked off conference play, albeit with only a single weekend series.
Colorado College, featured in last week's NCHC column, hosted Western Michigan, but could emerge with only a single point. The Broncos won 6-4 on Friday night, then took a promising, early 2-0 lead one night later before falling behind and needing a third-period goal to secure the 4-4 tie.
While holding off on league play, the NCHC bolstered its case that it is again the top dog in college hockey with a 28-16-10 nonconference record. That, of course, sets itself up for a bounty of NCAA tournament berths.
Leading the way in that conference mark is Denver (8-0-0), North Dakota (5-1-1), and Omaha (4-1-1). Those three schools added to their totals with an undefeated weekend: Denver swept Niagara, North Dakota took a singleton from Michigan Tech, and Omaha emerged with three of four points at Alaska Anchorage.
(Note to Big Ten fans preparing nasty emails. Yes, your conference is 24-13-4 in nonconference play, but this weekend there were only two such games and Michigan State got swept by Cornell.)
2. A shocking top power-play … and penalty-kill team
Unless you scoured the box scores this weekend, you likely wouldn't be able to guess the nation's new top power-play team.
Not even if you were given 10 guesses.
The new leader is… (drum roll, please)
Brown.
Yup, the same Brown Bears that finished 57th in power-play percentage last season.
There is a bit of an asterisk associated with the Bears' standing atop the statisical mountain since Brown, like all the Ivy League schools, just saw its first game action this weekend.
In fact, the power play rankings now show three Ivies atop the percentages: Brown (56 percent, 5 of 9), Cornell (36 percent, 5 of 14) and Princeton (33 percent, 3 of 9).
The same holds true for team penalty kill percentages where Brown–the new special teams juggernaut–killed all seven Yale power plays and clocks in at 100 percent, as does Harvard which killed its lone penalty against Dartmouth.
Hey, the very limited sample size does cast doubt on whether these Ivies will be able to maintain their standings.
But even if it lasts just for one week, Brown's turnaround is pretty remarkable.
3. No. 3 UMass sweeps No. 10 Northeastern
Arguably, the most impressive sweep came in the only contests between top-10 teams. Massachusetts entered the weekend 4-1-0 compared to Northeastern at 4-1-1.
One might even wonder if most of the gap in the two teams' rankings came because UMass advanced to the national championship game last season while the Huskies were eliminated in the NCAA's first round.
The Minutemen did pad the margin of both wins with an empty net goal each night, but the sweep serves as an indicator that even though Cale Makar is long gone, UMass's national stature is quite likely here to stay.
4. Holy Cross gets Atlantic Hockey's first shootout win
During the offseason, Atlantic Hockey changed its playoff format to allow for five minutes of five-on-five play, after which both teams would be awarded a point and they would then play three-on-three followed by a shootout.
RIT and Holy Cross were the first Atlantic teams to test the new format with Holy Cross emerging with the extra point from the shootout.
Ironically, the teams never actually played three-on-three. RIT began the extra session on the power play, and there was no stoppage of play after the Crusaders got their man back. The teams continued four-on-four until the end of the overtime.
5. Ipri scores an extra-attacker, empty-net goal while getting a double minor
Yup, you read that right.
Mercyhurst's Steven Ipri delivered a check to Bentley's Jakov Novak that drew a delayed penalty. Bentley goaltender, Fraser Kirk, skated to the bench and play continued six-on-five.
Ipri and Bentley's Matt Lombardozzi began a battle of words, but a linesman separated them as play continued in the neutral zone. The puck found its way back to Lombardozzi. With Ipri draped over him, he went down, and swiped the puck away from his midsection…
… into the goal.
So the box score reads that at 15:02, Ipri scored the goal and was also assessed a double minor for elbowing and hooking.
Oh yeah, he also reportedly gave Lombardozzi a few pats on the head for the "own goal."
6. Gobetz kills his own penalty
And if that last bizarro sequence wasn't enough for you, try this one on for size. It comes from No. 12 Penn State's sweep of No. 7 Wisconsin, late in the second period of the Friday night game.
According to Todd Milewski, writing for madison.com, Penn State defenseman James Gobetz was assessed a penalty, one of three resulting from a post-whistle scrum, but in the resulting confusion, he didn't go to the penalty box.
Instead, he helped kill time on his own penalty, including shielding the puck in his skates, as the second period drew to a close.
In response to a query, the Big Ten Conference issued this statement:
"Late in the second period last night, there was a breakdown between the on- and off-ice officials that resulted in a penalized Penn State player not being in the penalty box when play resumed. As soon as the mistake was caught, it was addressed with both benches and the player in question was placed in the penalty box at the start of the third period to serve the remainder of his penalty."
What if Gobetz scored while he was supposed to be in the penalty box?
Since there is no rule for this scenario–it is the officials' responsibility to get the player into the box–the goal apparently would have counted.
7. Arizona State sweeps No. 9 Quinnipiac
Independent Arizona State, which qualified for an at-large NCAA tournament berth last year but entered this past weekend unranked with a .500 record, toppled ninth-ranked Quinnipiac, 5-3 and 4-1.
Coincidentally, the two teams met in the opening round of the NCAA Midwest Regional last season with Quinnipiac taking that one, 2-1.
8. Bowling Green upsets No. 2 Minnesota State
Bowling Green pulled off the biggest upset of the weekend, toppling Minnesota State from the undefeated ranks, 3-2. The Mavericks got their revenge one night later, however, salvaging the split, 5-1.
9. No. 15 Boston College avoids a five-game losing streak "the hard way"
Boston College was picked to finish first in Hockey East, but went into the weekend with a three-game losing streak. Making matters worse, No. 8 Providence, a team firing on all cylinders and one which had defeated BC soundly, 6-2, just a week earlier, loomed as the Saturday night matchup.
That left a lot riding on BC ending the streak on Friday against New Hampshire, the presumed "easier" avenue to getting back on track.
Instead, UNH won 1-0 in overtime, leaving the Eagles staring at a potential five-game losing streak.
Providence got on the board early, but the Eagles bounced back with three straight goals, and hung on for a much-needed 3-2 win.
10. Maine continues to come on strong
Things looked bleak for the Black Bears after Providence shellacked them, 7-0, on opening night, and then a Canadian team repeated the indignity one night later, albeit in an exhibition, 5-0.
Since then, however, Maine has been going great guns. After taking three of four points from Boston University this weekend, the Black Bears are now 5-1-1 since that opening night stinker, with the only loss coming in a split with Quinnipiac, a top 10 team.
—
Thanks to Dan Rubin, Mark Divver, Paula Weston, Todd Milewski, and Ed Trefzger for their exceptional help.