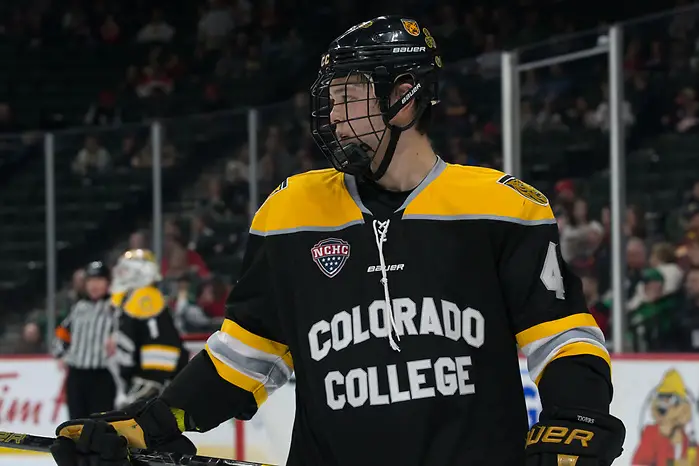 So far this season, Colorado College has been an up-down team, going 2-2 in its first four games by splitting series with Minnesota and Michigan State.
The Tigers have won both Friday games before falling on Saturday.
After a strong 3-1 win Friday against Michigan State, the Tigers let in three goals in the first minutes of the game and never got untracked in a 5-1 loss.
Colorado College coach Mike Haviland sees some positives from his squad's early play.
"I thought we played really well Friday night against Michigan State," said Haviland. "We came back on Saturday, and the first two shots go in and you chase the entire game. It's not the way to play. We had some really good looks. We had two breakaways in the first period and we can't finish them, and the night before we did. I think then you get a little frustrated and you try to do things maybe that are outside of the structure, try to do a little bit more individual things and play that way, and that's not going to work. That was basically what happened on Saturday night. We had some power-play chances and got one, then had some to start the third and don't get cash in and don't give yourself a chance maybe to come back in the game.
"To be honest with you, against Minnesota we played well both nights. We took penalties in the second game, four consecutive and they scored two when we were up 3-1, and you can't do that. That was something we talked about and addressed, and we didn't take a lot of penalties the next week. So, it's a process, and it's still young season."
Entering the season, one question mark for the Tigers was how seniors Chris Wilkie and Nick Halloran would play after missing much of last year injured. So far, the two have paced CC's offense, with Wilkie notching six points in four games and Halloran getting five points in three games.
"They've been real good," Haviland said. "Nick was kind of day-to-day going into the series against Michigan State and missed Friday, played Saturday. He's back to being healthy now this week heading into Western Michigan. Chris has got an NHL release, and when he skates all the time, he's an elite player. Certainly, Chris has done that, and 'Holly' looks like he did that sophomore year. You're going to need those two guys to lead the charge.
"Certainly, we have secondary scoring with guys, but those guys are going to have to lead your team. I think when you look around the country, a lot of teams say that with two or three guys. When they go, the team goes. I think they've been good so far, and now it's about being consistent throughout the entire year."
Another question mark for CC was how the Tigers would replace standout netminder Alex Leclerc, who departed early after his junior season. In the first two weekends, Haviland has platooned his goalies, with Northeastern transfer Ryan Ruck getting both starts against Minnesota and rookie Matt Vernon playing Friday against Michigan State and starting Saturday before being replaced by Ruck in the first period after giving up three goals early. Haviland states that he's been pleased with their play this early.
"To be honest, I like it," Haviland said. "You've got a veteran guy who's in his fifth year as a grad transfer in Ruck who has won a Hockey East championship and has played NCAA games. You get that calming presence. I think he's seen everything in college hockey, so it's a nice thing to have. 'Vernie' is a kid who was the MVP last year in the North American League, which is known for goaltenders. He's a guy who went on to win the championship there. He battles, he competes, he's athletic. They're kind of two different goalies. You get a big guy in Ruck who's very structured, and you get the athletic guy in Vernon.
"I like the mix. I think they complement each other very well."
Another reason for Haviland to be happy has been the play of sophomore defenseman Bryan Yoon, who shows no signs of a sophomore slump after a standout rookie season. In his first six games, Yoon has four points and has quarterbacked the power play.
"Bryan is a very competitive young man, and he wants to win," said Haviland. "He wants to perform at the highest level. He did a great job with his offseason training, and he came back ready to go. Bryan is a guy that runs our power play up top, but certainly has played well the first four games, and we're going to need him to continue to play that way all year."
This weekend, CC will host Western Michigan, ending its six-game homestand. After this weekend, CC is on the road until the last game of the first half, when the Tigers host arch-rival Denver in the second game of a home-and-home.
"It's just the way the schedule is," said Haviland. "The road thing, we're going to have to go into those buildings anyway and play our league games, whether it's here or in February. If you look at the schedule, we're at home the last couple of weeks of the year, and I know those points will mean an awful lot too. Maybe with less travel in the back half, you're hoping that's going to help you with some things and rest going into the playoffs.
"Western Michigan is a very, very good team, very skilled. I thought they'd lose some guys to NHL contracts. It just didn't happen. I think when you read some of their articles, they talk about they had some unfinished business. So, they're a team on a mission. I think they're super skilled. I think they're one of the best teams in the country. Again, it's early. I don't look at records that much this early on, because I think there's a process, a learning curve. Certainly, they're a very good hockey team. They can skate, they're big, they're heavy. We've got to match the intensity that I know they're going to bring and make sure we can match it, if not better that, and then make sure that we're ready.
"It's going to be a battle, and that's what you get in this conference. I think you've got to prepare your team the right way each week against that opponent and make sure that you're ready to work. That's the bottom line, is you've got to work or you're not going to get success."
Minnesota Duluth back on track
It wasn't quite reason for panic, but two-time defending national champion Minnesota Duluth's 1-3 start to the season certainly raised eyebrows. Especially notable was how many goals Duluth's vaunted defense, which the Bulldogs used to win their titles, had been shellacked for, giving up 12 goals in those three nonconference losses.
It turns out all the Bulldogs needed to get back on track was a series with in-state rival Minnesota. UMD swept the Gophers, continuing their recent domination of the series. On Friday at Mariucci arena, the Bulldogs built a 3-0 lead late in the second period. Minnesota pulled within one after Sammy Walker scored at 8:36 of the third, but UMD pulled away on a goal by Kobe Bender, and dynamic defenseman Scott Perunovich sealed the win with a power-play goal at 15:11 of the third.
At Saturday at home, Hunter Shepard stopped all 21 shots and Quinn Olson's goal at 6:04 of the first period proved the only offense UMD would need in a 2-0 shutout win. Jackson Cates added an empty-netter at 19:22.
The second win was very Minnesota Duluth, as the Bulldogs stifled the Gophers. On the weekend, UMD limited the Gophers to 41 shots and held the Gophers to 0-for-5 on power-play opportunities.
Minnesota Duluth has dominated the rivalry in recent years. In the last decade, UMD is 14-8-5 against the Gophers, and since the 2014-15 season UMD is 10-1-1.
Former CC star makes splash at North Dakota
In the offseason, former Colorado College standout Westin Michaud transferred to North Dakota as a graduate student for his last year of eligibility. In his first six games, Michaud has three goals, including a big one Friday night when he scored 52 seconds into overtime to complete North Dakota's rally for a 2-1 win against Bemidji State.
"He's a good player, so I'm happy for him that he did that," said Haviland. "It's a long season. Guys get their choices to do whatever they need to do. So that was his choice. I didn't see the goal, but good for them."