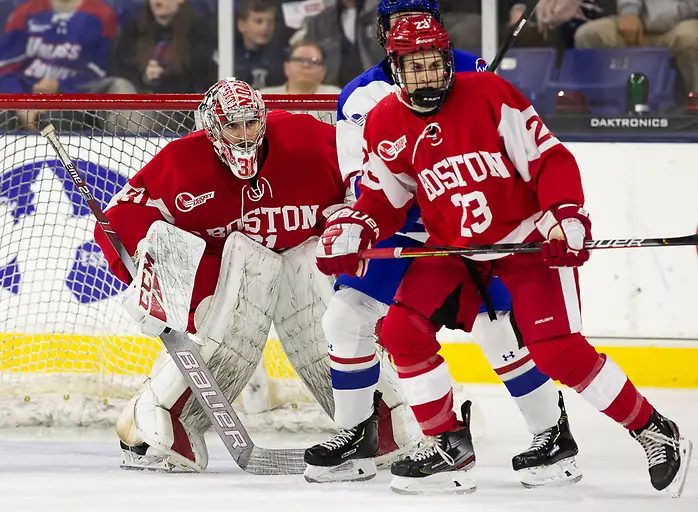 At first glance, Boston University's early season results could be categorized as "what might have been."
Take away the blowing of two three-goal leads that resulted in unsatisfying ties, and erase a third-period Northern Michigan power-play goal fueled by a five-minor major penalty, and the Terriers would be 4-0-1. They'd be one of the top ranked teams in the country and the talk of Hockey East.
Instead, they're 2-1-2 and in the "also receiving votes" category outside the top 20 of the USCHO.com poll. Not exactly chopped liver, but not the stuff of champions.
BU coach Albie O'Connell, however, disagrees.
"The only game we really squandered was the one against Northern Michigan that we were up 4-1," he says. "We took a tough penalty, they scored a power-play goal that put us on our heels, and then scored [again a minute later].
"We liked the way we played for 55 minutes."
Which is not to say O'Connell is satisfied with the results, including a 3-3 tie at UMass Lowell in which the Terriers led 3-0 in the second period.
"There are some goals this year that we'd want back," he says. "Some goofy goals. Strange ones. The puck caroming off a few players.
"And we had some untimely, undisciplined play against Northern Michigan.
"But on the whole, we really like the way the team is playing."
With the departure of Jake Oettinger, goaltending was a significant offseason concern. Fortunately, Sam Tucker was available as a graduate transfer from Yale, where he had split the netminding duties since his sophomore year.
Tucker, along with Craig Pantano at Northeastern and Michael Lackey at Providence, have been graduate transfers who have filled gigantic holes in the nets of three of the league's presumed top contenders. Pantano and Lackey have played all six of their team's games. Tucker has played all but one of BU's. Collectively, they can boast a 10-3-3 record.
"There's a confidence about an older kid," O'Connell says. "You're getting an experienced guy who has faced tough games and has experience dealing with difficult situations.
"If you look at the highest level, it usually takes goaltenders longer to get there. They have their ups ad downs.
"If you looked at Tucker, Pantano, and Lackey in their freshmen years, it would have been a different story from how they look today. All three teams were fortunate to get high quality kids and athletes."
Tucker posted a 3-0 shutout against New Hampshire on Saturday, but O'Connell points to the tie with Lowell as a critical one for the goaltender.
"That was a statement game for him," O'Connell says. "In overtime, he made a big save, and he stopped a breakaway earlier. He made the saves when the team needed it.
"The team is confident in him, and plays confidently in front of him."
At the other end of the experience spectrum, the highly regarded freshman class has also delivered.
"We've had a slew of injuries to regulars so the younger guys have had to respond," O'Connell says. "We've got a lot of young guys in the lineup. Four freshmen D are playing, and they've done a good job. The gaps are good."
Trevor Zegras has a goal and four assists. Robert Mastrosimone has two goals and two assists.
"Other [freshmen] are contributing in ways that don't show up on the score sheet. Jamie Armstrong has 30 hits. [Markus Boguslavsky] has 25 hits.
"If we didn't have a dynamic freshmen class from top to bottom we'd be in a tough spot now. I'm excited about the freshman group from the top of the food chain down.
They have ability, character, and coachability."
O'Connell likes what he has from graduate transfers to freshmen and everywhere in between.
"We're good enough to win," O'Connell says, "if we play the right way."
Last week's biggest winner?
Arguably, the team with the best weekend was UMass Lowell, rallying from a 3-0 deficit against BU (as recounted above) to gain a 3-3 tie, followed by an impressive 3-2 overtime win at Providence.
If only that previous weekend against an underwhelming Colgate team could be wiped away. Lowell could manage only a tie and an overtime loss against a team that is otherwise 0-4-1 on the season.
Unfortunately, the games all count. And you can't ask the college hockey equivalent of "other than that, Mrs. Lincoln, how did you like the play?"
Two out of three ain't bad
Over the last three weeks, three Hockey East teams have headed West and returned with well-earned splits. Lowell got the party started by stunning the defending national champions (and at the time also ranked No. 1), Minnesota Duluth 3-2 before having to settle for a split one night later. This past weekend, Northeastern reprised that feat, taking the opener at St. Cloud State (ranked 14th at the time), before dropping the back end game.
Count both of those long-and-winding road splits as positives.
Unfortunately, all the recent Western sojourns haven't been as successful. Boston College dropped both of its games at Denver in the middle of the three weeks.
Speaking of which…
A rocky start on Chestnut Hill
There's no shame in getting swept by top-ranked Denver. The opening night 3-0 loss was really 1-0 with two empty-netters, and the rematch 6-4 loss included three Pioneers power-play goals.
And a loss to eighth-ranked Providence is similarly no humiliation. But losing at home to the Friars by a 6-2 margin is a concern, especially as it extends the Eagles losing streak to three games.
Hockey East coaches (and yours truly) picked the Eagles to finish first this year, giving great weight to the stellar freshmen class headed to Chestnut Hill. So it won't be any surprise if this team is night-and-day different–that is, dramatically improved–in the second semester.
But you never want to dig too deep a hole, and the Eagles face two tough road games this weekend, first at UNH then a rematch with Providence.
We'll know a lot more a week from now.