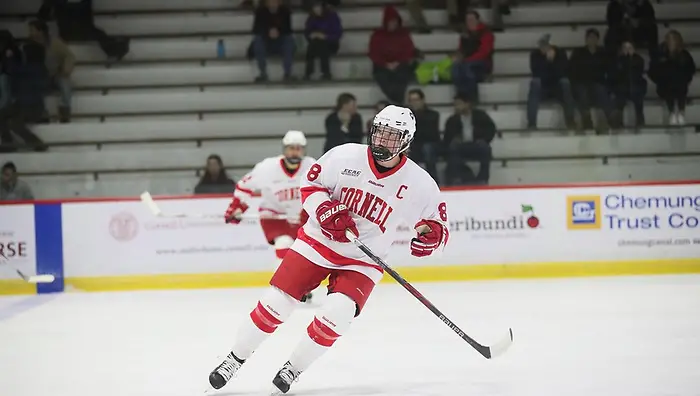 The NCAA Ice Hockey Rules and Interpretations Manual is 174 pages long. The Ivy Manual, an additional handbook for Ivy League school athletic teams, is an additional 179 page of rules and guidelines. 
When Cornell took the ice last weekend for their first games of the competitive season, they and their Ivy League counterparts (Brown, Dartmouth, Harvard, Princeton and Yale) were five weeks and up to eight games behind the rest of the teams in the country. Ivy rules say they can't start practicing until October 15 and their competitive schedule can't start before three Fridays prior to Thanksgiving. 
On October 15, Wisconsin and Minnesota each already had six wins on their resume. Clarkson was 4-0. The three teams that joined them in last season's Frozen Four were well past the early season learning curve and are smoothing out their rough spots before Cornell ever even took the ice. 
There's nothing to be done for it – it is what it is, it's what all the Ivy League teams are faced with and it's all the players know. But it presents a challenge for coach Doug Derraugh and his staff to get his team up to speed as quickly as possible. 
"You hope that you can weather the first period or two and hope that you've done the things in practice to create habits that are going to make you successful in those games," he said.

Cornell did that remarkably well in their opening series, dispatching a Robert Morris team that proved pesky for (2) Minnesota and (4) Clarkson in the weeks prior to visiting Ithaca. Now the Big Red start right into ECAC play, hosting Quinnipiac and (6) Princeton this weekend. 
The short prep time means an accelerated start to the season and little room for mistakes. But a thin margin of error is something the Big Red are more than familiar with. 
It's unlikely that any team in Division I women's hockey is as aware of how important each decision, each pass and each second of a game are as Cornell. Their last few seasons have hinged on the smallest of margins where one single moment over the course of the season had a massive effect. 
In 2018, postseason predictions showed the Big Red missed an at-large bid into the NCAA tournament by a 0.0052 margin. If they'd won just one of their six ties or six losses, they would likely have been in the tournament. Sure, they could also say that if Northeastern hadn't won the Hockey East tournament to earn an auto-bid, they'd also have been in. But that's out of Cornell's control. Ultimately, their season ended because they'd failed to prevent one too many goals or they'd converted on one too few shots. 
There was one pass that went astray or one turnover that went the other way. One shot was off target or one defender was deked. And that's all it took, over the course of 33 games, to send them home early. 
"It's just a play here or a play there that makes the difference in whether you survive and move on or go home for good," said Derraugh.
Cornell made the Frozen Four last season, losing to Minnesota 2-0 off a power play goal and an empty-netter that sealed their defeat. They won three of their seven postseason games in overtime, eking out a victory and surviving until the second-to-last day of the season. They were regular-season ECAC champions despite heading into the final weekend a point behind Princeton. They swept their games while the Tigers were swept and the Big Red won their first regular season title in six years. 
The team would rather have a title, but the consolation prize of the lessons they've learned over the past few seasons puts the team in prime position to succeed this season. 
"Our leadership – not just our captains, but our juniors and seniors – have come close a couple of times and have come to realize just how important your preparation is during the season," said Derraugh. "We've come to understand the importance of playing consistently throughout the year and the importance of the details." 
The past two seasons' results are motivation for this year's team, but Derraugh is careful to make sure his team is only focusing on the present. 
"You can't get stuck in the past, you can't look too far in the future. It's the attention to details on a daily basis, trying to get better each and every day and preparing for the future. That's going to be the key to having success in the future. We just want to make sure we're doing our best on a moment by moment basis to be better. If we do that, in the end we'll be the best team that we can possibly become, wherever that may lead."
To that end, Derraugh doesn't even like setting goals for the end of the season – he sees that as assuming his team will lose games, something he isn't interested in doing. If the team takes care of all of the details, they win every play, every period and every game and things like conference or even a national championship are the natural byproduct – they're inevitable.  
"We want to go into every game with the mindset that we're going to win that hockey game," he said. "That year is over. This is a new year, this is a new day, it's a new moment. We're taking care of each of those moments and doing our best, each and every one of us, to be the best we can be, and wherever that leads us at the end, you've got to be (happy)."