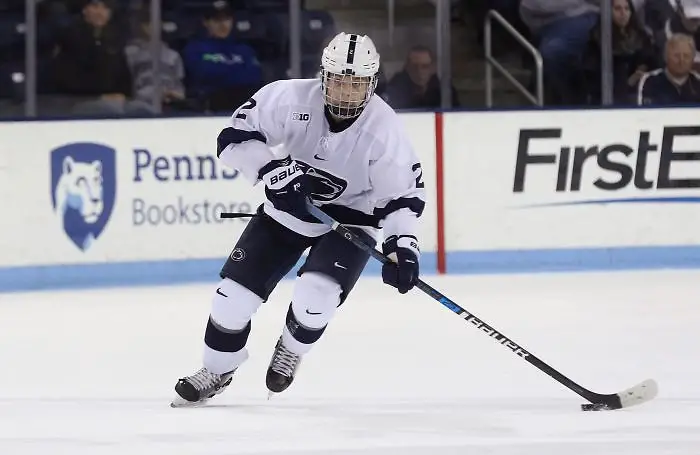 "We're just not who we are yet."
This is how Penn State's Guy Gadowsky describes his team five games into the season and on the eve of the Nittany Lions' Big Ten opener against visiting Wisconsin.
At 4-1-0, Penn State has had a solid start to the year, but Gadowsky is concerned specifically about his team's last two games, a 4-0 loss to Alaska and a 2-1 win over Robert Morris. The two-game two-goal output has created a crisis that can only be described as bordering on existential.
"I don't think we're still where we want to be in terms of where we play, our identity," said Gadowsky.
For Gadowsky and the Penn State coaching staff, that identity includes scoring a lot more than goals, no matter the outcome. The Nittany Lions averaged nearly seven goals in their first three games to open the current season and they finished 2018-19 with the best scoring offense in the nation, averaging 4.54 per game.
On average, though, the Nittany Lions also gave up 3.56 goals per game last season, the fifth-worst team in the country defensively.
"Obviously, our goal at the start of the season was to get better defensively, but that's only half the goal," said Gadowsky. "Our goal, really, was to get better defensively and not give up any of the offense."
Gadowsky said that he and the Penn State coaching staff believe that better defense doesn't have to come at the expense of offense.
"I don't think any of the coaches are happy with how we're playing identity-wise offensively, but that's the area where really we're not quite there yet," he said.
To open B1G conference play, Penn State faces off against another team in flux, a team whose start to the season mirrors that of the Nittany Lions. Wisconsin is 4-2-0 and split a home series last weekend against Clarkson with a 4-0 shutout loss Friday followed by a 4-3 win Saturday. After averaging nearly seven goals per game in their first three starts, too, the Badgers are now scoring 4.50 per game, a hair ahead of Penn State.
The emphasis in Wisconsin is on defense as well, said Tony Granato, especially when facing a team as potentially explosive as Penn State.
"They leave the zone, they make it hard on your 'D,' they try to spread the rink out real fast, so if there's a change of possession, they're taking off," Granato said. "We're going to have to be on our toes and be alert differently than we have the last couple of weekends."
There are significant differences, though, in the ways that each coach sees his team at the start of conference play. While Gadowsky is looking for his team to figure out a way to continue to pour the puck into the net – Penn State's mantra of many goals from many shots – Granato is looking for a little useful variety and a bit of patience.
"I think that to win in college hockey – to win at any level, to win in any league – you have to be flexible on how sometimes you win," said Granato. "I think we have the guns to open it up to be able to score seven or eight if we need to, but I think more importantly, we've got to play a certain way and not get that in our minds that we need to score seven or eight."
In the shutout loss to Clarkson, said Granato, the Badgers ran into a very hot goaltender in Frank Marotte, who had 38 saves in the game. The Badgers "tried to get away from it and open up more," said Granato, but that's not what Wisconsin needed.
"I think if we were more patient and knew to be more patient, we would have been better off in that game, so I think that part of learning [that] we don't have to adjust to the game to try to figure out a win," said Granato.
The top scorers for the Badgers include a trio of talented freshmen, Cole Caufield (7-2-9), Owen Lindmark (4-3-7) and Alex Turcotte (3-5-8). For the Nittany Lions, senior Brandon Biro (4-5-9) and junior Cole Hults (4-1-5) lead the team in goals. A dozen Wisconsin skaters have registered at least a goal so far this season and for the Nittany Lions, 13 players have scored.
Granato said that he thinks the games will be "a different style" and added, "It doesn't mean it's going to be high scoring, but when you put these two teams together, it's a good chance that it could turn into one of those games."
These are familiar foes, too. Penn State has played Wisconsin more than any other opponent with a 17-12-3 edge over the Badgers all-time. Last year, the teams met seven total times: four regular-season games and three in the Big Ten tournament. These will be the sixth and seventh consecutive games the teams have played at Pegula Arena as well.
In late February, the teams split a series with Penn State winning 8-2 and losing 7-3. In the playoffs, Wisconsin won the first game 4-3 before Penn State forced a third game with a 6-2 win. The Nittany Lions won that deciding game 4-3 in overtime when Liam Folkes scored at 10:50 in OT.
Folkes, incidentally, is injured and his status for this series is day-to-day.
"I think there's a rivalry type of mentality going into this series," said Granato. "I think we've played them enough to know them. They knocked us out last year in an overtime game that we played pretty well in that we felt like we deserved a little bit better."
Gadowsky said that facing a team like Wisconsin at the start of the Big Ten schedule may be exactly what the Nittany Lions need to rediscover themselves.
"Right now maybe this is a welcome thing," said Gadowsky. "We haven't been able to quite do it intrinsically, but maybe this is a little bit of a kick from a Big Ten team and maybe we'll get there."
Said Granato: "It's a great way to start the Big Ten. It's what the Big Ten is. The Big Ten's exciting. It's great teams, great players, so this will be a really nice place to kick the season off."
"Be a hockey player"
"At the end of the day, when the puck drops, be a hockey player."
Is there any better advice than this in the world – for any given situation?
This is what Steve Rohlik is telling his players to do this weekend as Ohio State opens conference play at home against arch-rival Michigan.
How big a rivalry is it between the Buckeyes and Wolverines?
"You can ask 35 other sports here on campus," said Rohlik. "I think that's an easy answer."
It's always an emotional series when these two teams meet and Rohlik said that the emotion is great – to a point.
"There's just a fine line and you try to get to that line and you want your guys to be pumped up and emotional and all that, but sometimes when you get above that line, you try to do too much and all of a sudden you start hurting the team," Rohlik said.
Last year, the Wolverines were 2-1-1 against the Buckeyes, with the teams splitting in Columbus. Ohio State is 6-3-1 against Michigan in the last 10 meetings.
A biggish start to the season
As the Big Ten begins conference play, the league as a whole is 24-11-2 against nonconference opponents with the overall best win percentage (.676) in inter-league play, at least for now.
Every B1G team enters this coming weekend with an overall record of at least .500 or above, and while it's super early to consider the PairWise Rankings – super, super early – five of league's seven teams are among the top 13 teams in the PWR, including Michigan State who currently sits at No. 10.
What this will mean in March is anyone's guess, but it's a good overall start for a conference that struggled last season.