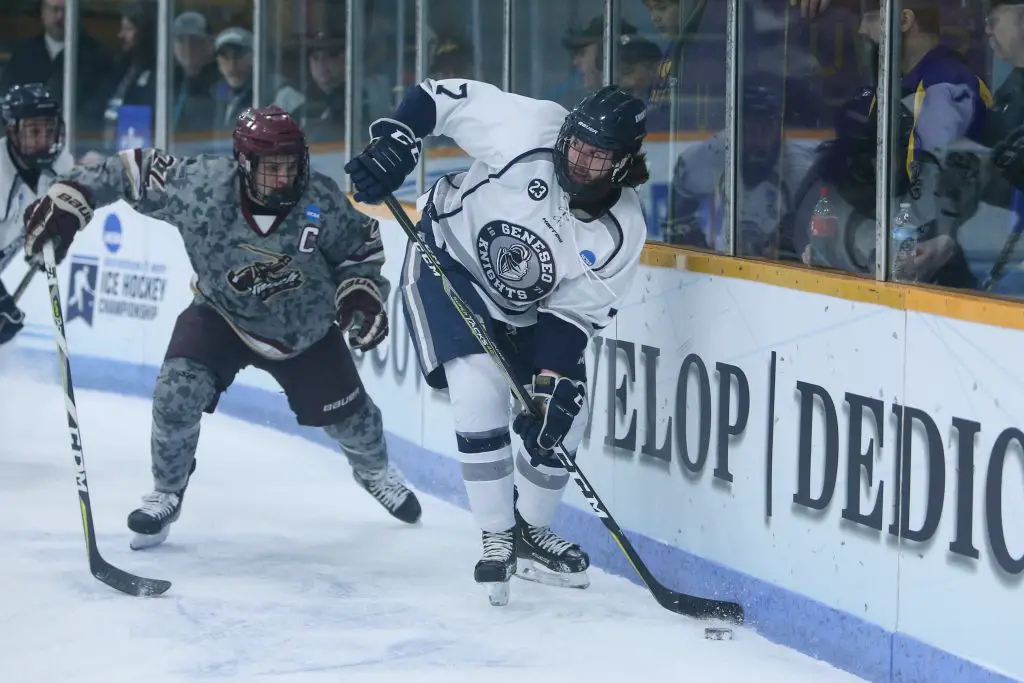 Nothing like starting the season with NCAA tournament contenders from a year ago facing-off to start the 19-20 campaign. Play is just starting, and we are already seeing great match-ups like UNE v. Norwich, Salve Regina v. Plymouth State, and Geneseo v. Plattsburgh just to name three games featuring nationally ranked teams or pre-season favorites in their leagues. If the first weekend is any indication of the level of play to come, then we are in for quite a ride.
CCC
Curry made some noise by knocking off not one, but two ranked opponents from the NEHC this weekend. On Friday, the Colonels stifled the high-powered offense of the Massachusetts-Boston Beacons and stunned the hosts with a three-goal third period to erase a one-goal deficit and earn the 3-1 road win. On Saturday the formula was almost identical as the Colonels spotted Babson a 1-0 lead before responding with four unanswered goals to post a 4-2 win over the Beavers. Goalie Justin Ketola picked up the win and stopped 61 of 64 shots in the upset wins.
Independents
Anna Maria opened their second season at home with two games against Chatham. Friday saw the AmCats pick up a 4-1 win while Gavin Proeh's two goals paced a 5-3 win on Saturday to help coach Dave MacCauley's team off to a 2-0-0 start.
Albertus Magnus are the new kids on the block, and they opened their inaugural season on the road at St. Michael's. It looked like opening night would finish in a 1-1 tie but with just 15 seconds remaining in regulation time, Brandon Mitchell scored for the Purple Knights to give the home team a 2-1 win. On Saturday, another hard-fought battle resulted in a 2-2 tie between the two teams. Matt Schreiner's power play goal late in the second period tied the game for St. Michael's and neither team break open the game in the third period or overtime.
MASCAC
The marque game for a MASCAC team saw Plymouth State hosting Salve Regina on Saturday night. The Seahawks had too much for the Panthers with five different goal scorers contributing to a 5-0 win on the road. Louis-Felix St. jean made 30 saves to earn the shutout and 12 different Seahawks picked up at least a point on offense.
NE-10
The preseason favorites in the league both split their weekend games and needed bounce back games on Saturday to erase the results from an unproductive opening night.
Southern New Hampshire dropped the first game to Bryn Athyn by a 6-3 score. On Saturday, the Penmen rallied back for a 3-2 win where they held the visiting Lions scoreless in the third period to capture the win. JT Kossakowski made 33 saves to pick up the win for SNHU.
St. Anselm also struggled on opening night dropping a 3-1 decision to Lebanon Valley. On Saturday, the Hawks downed Worcester State 4-2 behind two goals from Chris Lemay. Goalie Nick Howard made 15 saves to earn the win.
NEHC
In a battle of ranked teams on Saturday in Northfield, Norwich leveraged great goaltending from Tom Aubrun and a great power play to down the University of New England, 4-0. Forward Felix Brassard scored two power play goals to pace the offense for the Cadets.
Hobart opened with a non-league series against Elmira and skated away with a win and a tie in the two- game set. On Friday, Hobart's Dan Sliney scored two goals in a 5-2 win. On Saturday, the Statesmen needed a shorthanded goal in the third period by Alec Robitaille to tie the score at 1-1 and neither team could capitalize for the win through the overtime session.
SUNYAC
Oswego opened their season against Cortland and showed off a complete game in the 6-3 win. Max Novick and Mitch Emerson each had three-point nights as a four-goal second period broke open a 1-1 tie for the home team.
Brockport opened league play going 2-0-0 with a win over Plattsburgh, 3-1 and a 3-2 win over Potsdam. Goalie Matt Schneider made 61 saves in the two wins.
Geneseo played a hard-fought 2-2 tie with Potsdam on Friday night and needed some bonus hockey on Saturday to knock off Plattsburgh. Tyson Empey picked up the game-winning goal at 2:35 of the overtime session to give the Knights their first win of the season,
UCHC
Manhattanville made some noise in the Buffalo State Invitational tournament by knocking off the host school on Friday, 5-2 behind two goals from Jarod Lavallee. In the championship game, the Valiants skated to a 3-3 overtime tie with nationally-ranked Adrian before losing the shootout in two rounds.
Utica opened its season with a 3-3 tie of their own against Canton. The Pioneers and Kangaroos exchanged leads a couple of times before Donovan Ott leveled the game with just under seven minutes remaining in the third period. Michael Cerasuolo stopped 45 shots for Canton in the tie, including 18 saves in the first period and 14 in the third period.
Three Biscuits
Tyson Araujo – Wilkes – provided all the offense for Wilkes with his hat trick in a 5-3 loss to Canton. Araujo scored all his goals on special teams potting two power play goals and one shorthanded.
Nick Albano – Massachusetts-Boston – the junior defenseman scored a goal and added three assists in the beacons' 9-2 win over Wentworth on Saturday
Tom Aubrun – Norwich – stopped all 25 shots he faced in earning the win and a shutout in Norwich's 4-0 victory over the University of New England on Saturday night.
Some teams are clearly off to great starts and will look to build on that momentum while others that are a little slow out of the gate will be looking to rebound quickly.