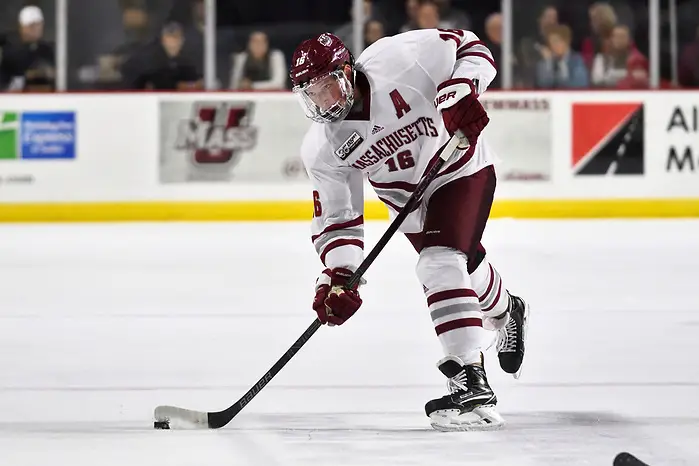 Massachusetts will recognize two of the program's all-time greats when the squad hosts Maine on Dec. 6-7, raising a Hobey Baker Award banner in honor of 2019 winner Cale Makar before the Friday contest against the Black Bears and the following night, will retire the jersey of the program's all-time leading scorer, two-time All-American Pat Keenan.
Keenan's No. 4 will be the first jersey retired in the history of the UMass hockey program. The No. 4 will be officially retired at the conclusion of the 2019-20 season as freshman Matthew Kessel is currently wearing the number.
"Our weekend series versus Maine in early December is going to be fantastic," said UMass coach Greg Carvel in a statement. "Our fans will enjoy two great hockey games against a strong Hockey East rival and will also witness the recognition of two of the greatest players to ever wear the UMass jersey. That weekend will also serve as our hockey alumni Weekend, providing a tremendous opportunity for many former players to return to campus and reunite as one hockey family.
"Recognizing Pat Keenan from the great teams of the 1970s and Cale Makar from recent team success will serve as a great bridge for all former UMass hockey players. All past and current players and coaches have great pride in our hockey program and these two deserve special recognition for their contributions to UMass hockey."
Currently a standout rookie defenseman with the Colorado Avalanche, Makar was named the winner of the 2019 Hobey Baker Award, the first-ever winner from UMass this past April after helping elevate Massachusetts hockey to unprecedented success in 2018-19 with the program's first-ever Frozen Four appearance.
He finished his collegiate career with 70 points on 21 goals and 49 assists over 75 career contests and as the record holder for career plus-minus at +41, signing with the Colorado Avalanche at the conclusion of the 2018-19 campaign.
The only two-time All-American in program history, Keenan played three seasons at UMass under coach Jack Canniff from 1970 to 1973. He helped lead UMass to the 1972 ECAC Division II title, as the squad finished with a then-school record 19-7 overall mark.
Keenan still ranks as the all-time leading scorer in school history with 180 points. He also holds school records for goals scored (105) and ranks fourth in assists (75), which he accomplished in just three seasons since freshmen were not eligible for varsity competition during that era.
Keenan also holds the top three single-season marks for points and goals (65 points, 43 goals in 1972-73, 59 points and 28 goals in 1971-72 and 56 points and 34 goals in 1970-71). He also still holds the UMass single-game record for points (nine) and goals (seven).
After completing his career at UMass, Keenan went on to play one season for the Cape Cod Cubs of the North American Hockey League. He was inducted into the UMass Athletics Hall of Fame in 2001.